Google rumored to open first retail store near Apple's SoHo spot in Manhattan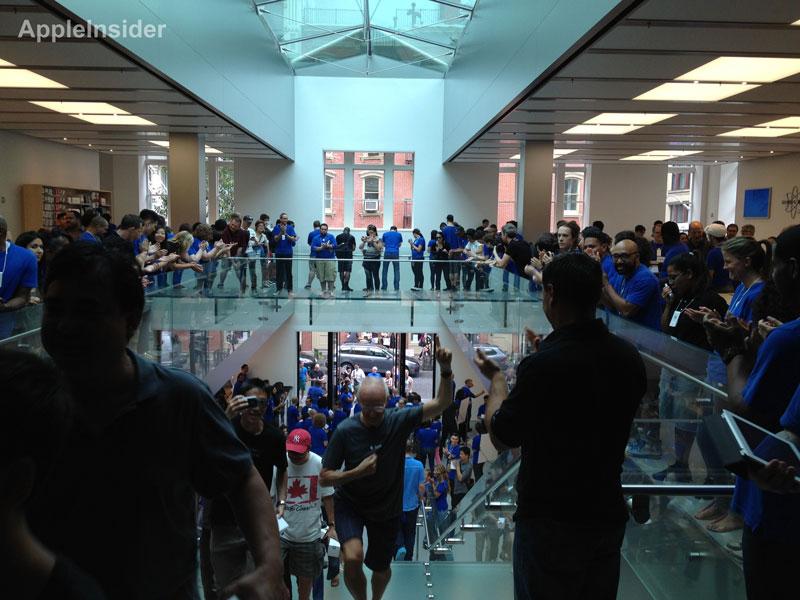 Google is said to be close to signing a lease to open a retail store on Greene Street in New York City's SoHo neighborhood — just steps away from Apple's heavily trafficked location on Prince Street.
Apple's current SoHo store reopened after renovations in 2012.
The search giant is said to be in talks to lease property at 131 Greene St., a report published by Crain's revealed this week. If the plans come to pass, it would be the first-ever retail store for Google, which is generally known as a services company but has increasingly stepped into the hardware business.
The location reportedly being eyed by Google is less than 300 feet from the entrance to the SoHo Apple Store, located at 103 Prince St. That location has been open since July of 2002, and underwent major renovations in 2012 to bring it up to speed with Apple's other large flagship stores around New York City.
Google apparently hopes it will be able to cash in on the booming neighborhood to make a splash with its own retail debut. The rumored plans call for Google to open an 8,000-square-foot store on the section of Greene Street between Prince and Houston streets.
While the company doesn't make very much of its own hardware, and even took a step back in the hardware space by selling off Motorola Mobility, an official Google store could be a place for the company to push its own Google Glass initiative once it becomes available to consumers. Google could also highlight its Nexus-branded phones and tablets, which are created through partnerships with third-party manufacturers like LG, Asus and Samsung.
Google is also rumored to be expanding its Nexus lineup with a new smart watch the company is said to be planning to unveil at this year's I/O developer conference in June. The new device is said to be the result of a partnership between LG and Google, and it is expected to run a new operating system intended for wearable electronics.
Placing fledgling retail efforts within proximity of existing Apple Store locations is not a new strategy — Â Microsoft employed the same tactic years ago, though it focused largely on competing with Apple's mall locations rather than flagship standalone stores.
Google has also made waves with four mysterious floating barges that are rumored to be utilized as a way to introduce its Google Glass headset to the public, once the product is ready to be launched. The floating structures have been docked at major ports on both the east and west coasts of the U.S., specifically San Francisco, Portland, Connecticut, and New England.