Adoption of Apple's iOS 7 continues to rise, now at 85%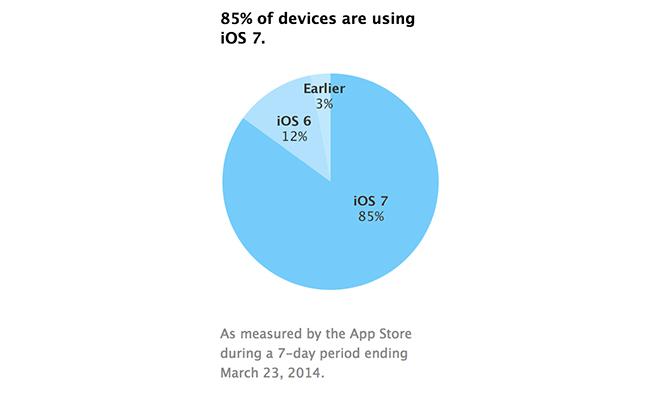 In a change to Apple's developer website on Monday, the company announced adoption of iOS 7 is now at 85 percent while the share of devices running iOS 6 has fallen to 12 percent.
For the week ending on Mar. 23, Apple logged iOS distribution at 85 percent, which represents a two-percent uptick from the week ending Mar. 9.
Adoption of Apple's iOS 7 has been growing steadily after it launched in September of 2013. One week after its debut, the version accounted for 52 percent of iOS web share, a statistic that jumped to 74 percent in early December. Later that month, Apple announced iOS 7 was on 78 percent of compatible devices.
During Apple's quarterly conference call for the first fiscal quarter of 2014 in January, CFO Phil Schiller reported 80 percent of compatible iOS devices had switched over to the company's latest operating system. That number jumped to 83 percent in February, according to ad network Chitika and Apple's own developer webpage.
As iOS 7 adoption steadily grows, share of the last-generation iOS 6 shrinks and now stands at 12 percent. Hardware running earlier operating systems combine to represent the remaining 3 percent share.