Amazon takes on Apple TV with new $99 fireTV streaming & gaming set-top box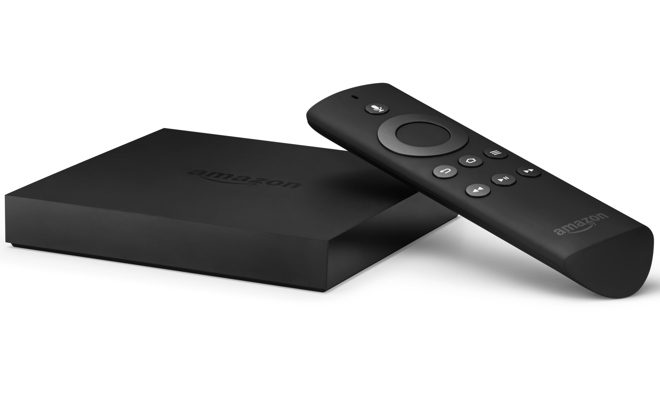 Already a content creator and seller, Amazon will now enter the set-top box business with the new $99 fireTV, launching today with video streaming and gaming capabilities, taking on the likes of the Apple TV, Roku, and Chromecast.
Amazon unveiled the fireTV, its new 1080p HDTV accessory at a media event in New York City on Wednesday, boasting that with a quad-core CPU and 2 gigabytes of RAM, it's three times as powerful as existing devices on the market, all while being about as tall as a "piece of popped corn," the company said. And at $99, it's the same price as Apple TV.
"Tiny box, huge specs, tons of content, incredible price— people are going to love Fire TV," said Jeff Bezos, Amazon.com Founder and CEO. "Voice search that actually works means no more typing on an alphabet grid. Our exclusive new ASAP feature predicts the shows you'll want to watch and gets them ready to stream instantly. And our open approach gives you not just Amazon Instant Video and Prime Instant Video, but also Netflix, Hulu Plus, and more. On Fire TV you can watch Alpha House and House of Cards."
Unsurprisingly, the device will tie into Amazon's ecosystem, with Prime Instant Video content available to stream, as well as any content purchased through the online retailer. Amazon has 10 original shows coming exclusively to Prime Instant Video, featuring stars such as Jeffrey Tambor in "Transparent" and John Goodman in a second season of "Alpha House."
Compatibility will also be available at launch with Netflix, Hulu Plus, Showtime Anytime, and WatchESPN and more, with other video providers are planned to be added in the future. Also included is music support from Pandora, iHeartRadio and TuneIn.
The fireTV will support third-party apps, as its custom operating system is based on Android and HTML.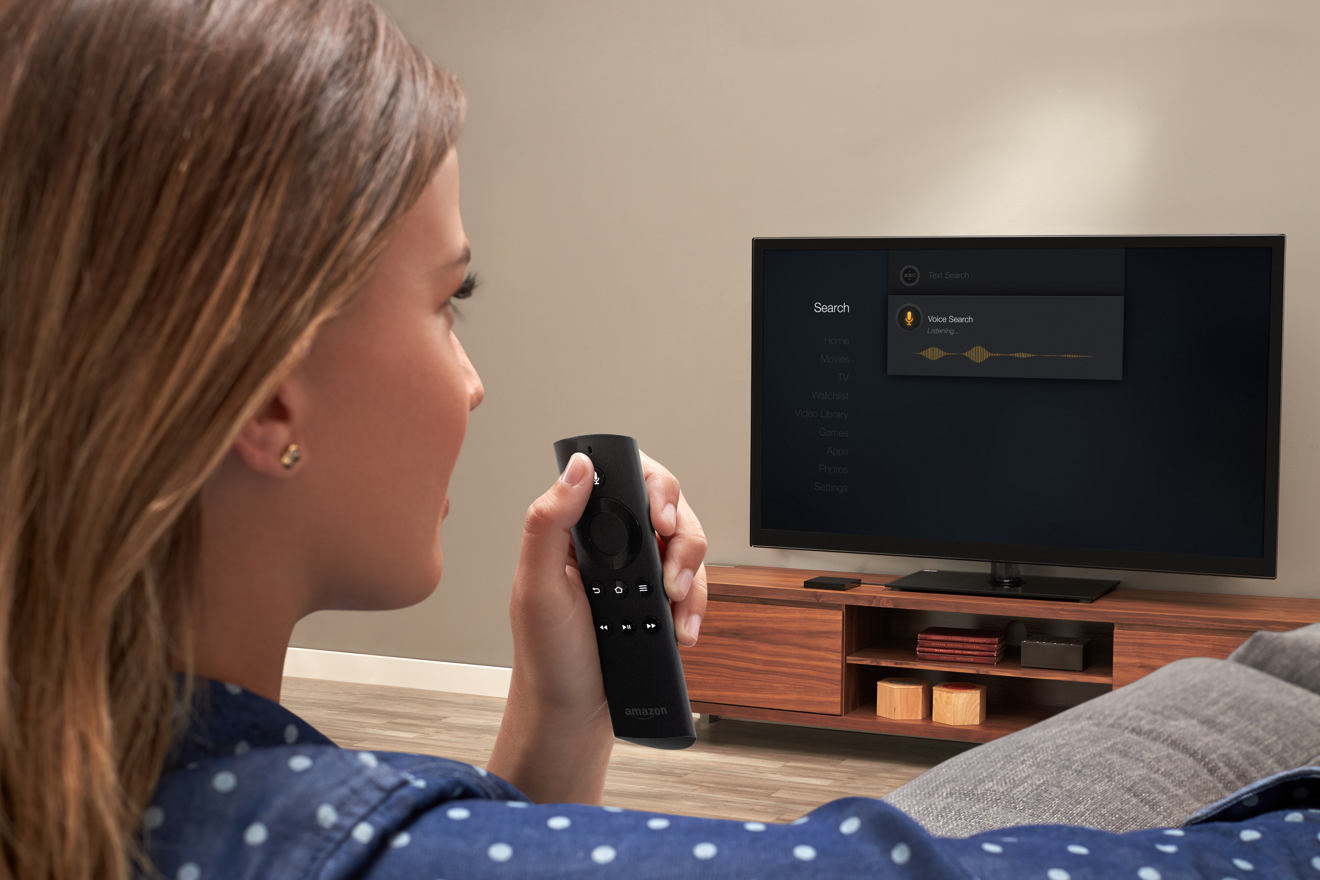 The fireTV comes with a remote control that has an integrated microphone that allows users to search with their voice, allowing users to find content based on actors' names, programming titles and more.
The set-top box also integrates with Amazon Cloud Drive, allowing users to push content such as photos to their television set. And established Amazon features from the Kindle Fire and Kindle lineups, such as X-Ray for content information and Free Time for parental controls, are also part of the fireTV.
fireTV will serve as a game console as well, featuring a dedicated controller with a typical dual-joystick design that is now available for $39.99.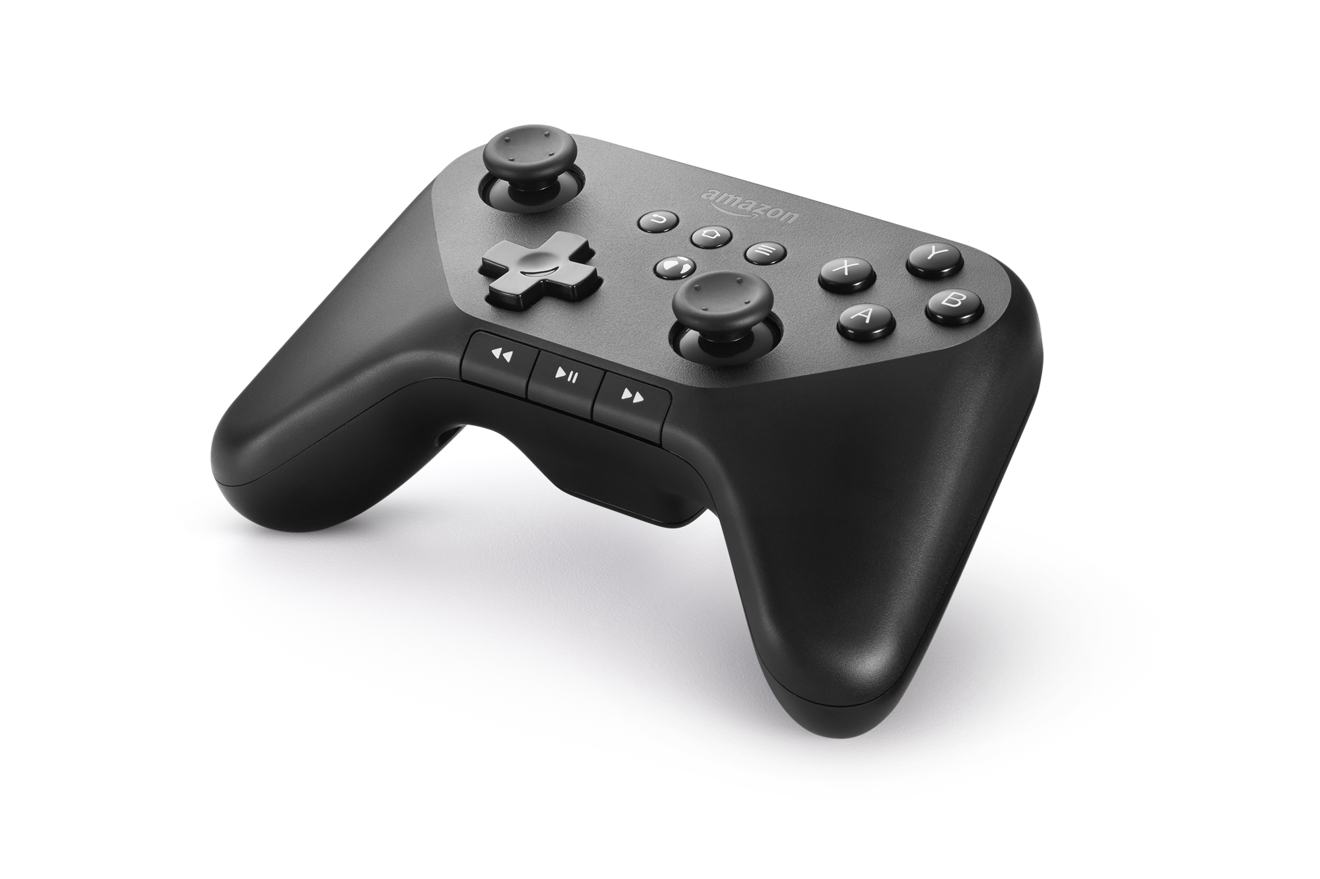 In its presentation, Amazon called out the Apple TV, citing a customer review who was disappointed by the AirPlay Mirroring functionality offered by racing title Asphalt 8. A fireTV version of Apshalt 8 was later shown, using the dedicated controller rather than an iPad or iPhone.
Other titles showcased for fireTV included Minecraft and Monsters Inc., while Amazon also showed off its own custom third-person shooter titled Sev Zero. The company said the average price of a paid game on its storefront is $1.85, while over a thousand games are free to download.
Connectivity on the fireTV includes HDMI, optical audio out, Ethernet, and USB. The system is based on a Qualcomm Snapdragon 8064 with a 1.7-gigahertz quad-core processor, along with a Qualcomm Adreno 320 GPU. It includes 8 gigabytes of internal storage, and features dual-antenna 802.11n Wi-Fi and Bluetooth 4.0.