Mac sales slump in Q1 as PC market faces 8th straight quarterly decline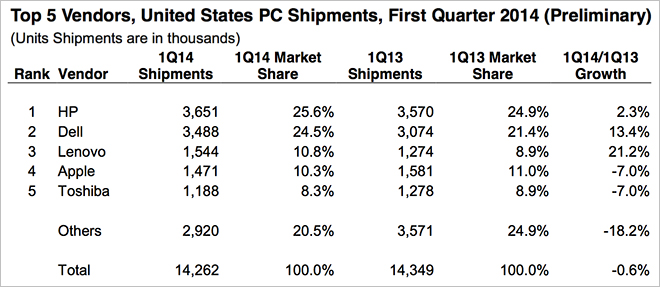 Apple's share of the U.S. computer hardware market slipped during the first quarter of 2014, with both IDC and Gartner seeing a year-over-year decline in worldwide PC shipments as consumers trend toward mobile.
Unlike last quarter's stellar performance, which saw Apple's Mac buck the declining PC sales trend with a 30 percent year-to-year increase, the quarter ending in March proved to be more of a struggle for the company, according to market research firms IDC and Gartner.
According to IDC, Apple sold about 1.5 million Mac for the three month period ending in March, accounting for a 10.3 percent share of the U.S. market, down from 11 percent in 2013. Year-over-year growth dropped 7 percent, putting the Cupertino, Calif. company in fourth place behind HP, Dell and Lenovo. Gartner also pegged Apple's shipments at 1.5 million for the quarter, which amounted to a 10.8 percent share of the market in its breakdown. That number is down 3.8 percent year-to-year.
IDC found HP retained its lead with 25.6 percent of the market on 3.65 million units shipped, up 2.3 percent from last year's 24.9 percent share on 3.57 million shipments. Dell is quickly approaching the No. 1 spot and took a 24.5 percent marketshare for the first quarter. Shipments stood at 3.5 million units, up 13.4 percent. Chinese manufacturer Lenovo rocketed up the U.S. chart with a year-over-year gain of 21.2 percent on 1.54 million units shipped. The company leapfrogged Apple, which was ahead by over two points in the first quarter of 2013. Toshiba rounded out the top 5 with 7 percent drop in marketshare on 1.2 million shipped units.
Researchers at Gartner found similar results for the first quarter, with HP and Dell ahead of Apple, while Lenovo and Toshiba trailed in fourth and fifth place. HP was seen to hold one fourth of the market on 3.5 million units shipped, while Dell was right behind with a 23.8 percent share on 3.3 million units. Interestingly, Lenovo came in just behind Apple with 8.4 percent of the market on 1.46 million shipments, but exhibited the highest growth rate of 16.8 percent from last year. Toshiba was once again in fifth after shipping 1.2 million PCs to take 8.4 percent of the U.S. market.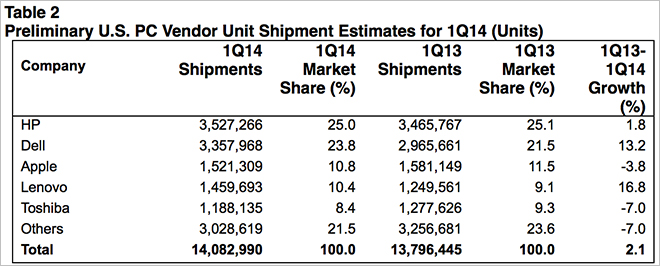 "In terms of the major structural shift of the PC market, the U.S. market is ahead of other regions," said Gartner principal analyst Mikako Kitagawa. "The installed base of PCs started declining in 2013, while the worldwide installed base still grew. The U.S. PC market has been highly saturated with devices: 99 percent of households own at least one or more desktops or laptops, and more than half of them own both. While tablet penetration is expected to reach 50 percent in 2014, some consumer spending could return to PCs."
Depending on the source, the U.S. PC market either stabilized or grew over the first quarter compared to the same period in 2013. Gartner notes an uptick of 2.1 percent, while IDC's estimates show a 0.6 percent decline in domestic sales.
Worldwide shipments, however, continue to shrink as tablets and other "smart" devices take over. Gartner and IDC both estimated drops of 1.7 percent and 4.4 percent, respectively, with total shipments hovering between 73.4 and 76.6 million units.