Consumer interest in Apple's 'iPhone 6' at record levels, as new sketches show rumored big-screen design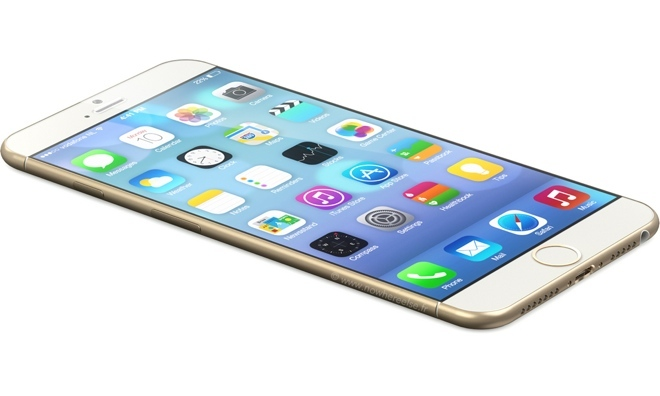 With leaks and alleged information about Apple's next-generation iPhone picking up steam, a new report shows that consumer interest for the so-called "iPhone 6" expected to debut later this year is already at record levels.
451 Research on Thursday published the results of its latest survey, which suggests that rumors of a new iPhone with a bigger display are of great interest to consumers. Potential smartphone buyers were asked how interested they would be in an "iPhone 6" with a larger display, "gesture control," a faster processor, and updated iOS mobile operating system starting at $199 for 16 gigabytes.
Among those polled, 14 percent said they are "very likely" to buy the rumored device, while another 26 percent characterized themselves as "somewhat likely" to purchase one. Similar surveys related to the iPhone 5s and iPhone 5 before those products' official announcements showed considerably less interest: 26 percent total were interested in an iPhone 5s as of March 2013, while 33 percent said they were likely to buy a rumored iPhone 5 in March of 2012.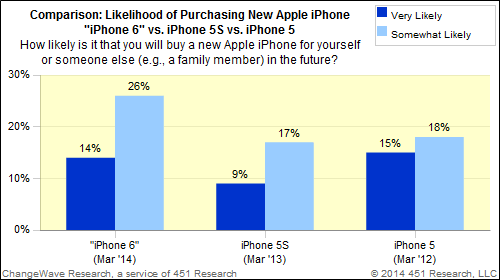 Of course, the survey is based on speculation about what exactly Apple might release later this year. But expectations are growing that the next iPhone will sport a bigger display — aided by rumored design specifications leaked out of the Far East.
The latest such leak comes from Chinese smartphone case maker Elam, which apparently believes Apple's next iPhone will be based on the rough design mockup included below: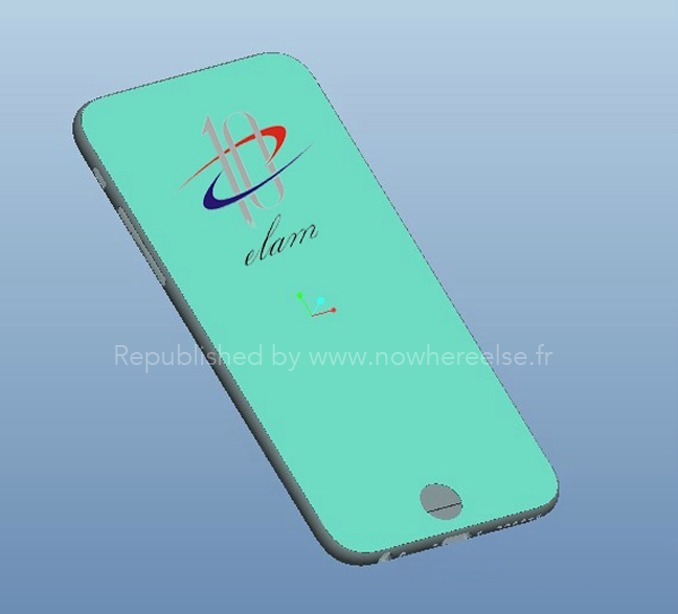 The design shown in the latest alleged leak is similar to earlier leaked designs, which inspired the following mockups created by designer Martin Hajek for Nowhereelse.fr. They show a thinner, larger iPhone that borrows some design elements from the iPhone 5c and iPod touch, including larger circular speaker and microphone holes at the bottom of the device, and elongated "pill" shaped volume buttons on the left of the handset.
Apple is expected to introduce a larger-screened iPhone as consumer demand for such devices continues to grow. The latest survey from 451 Research and ChangeWave found that as of March, demand for larger smartphones hit an all-time high of 47 percent, up from 40 percent in December 2013, and 27 percent in December 2012.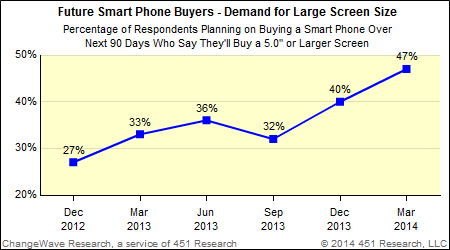 Noted insider Ming-Chi Kuo of KGI Securities said in his latest research note this week that he expects Apple to meet this consumer demand with the launch of two larger iPhones this year. Specifically, he believes the company will debut a model with a higher-resolution 5.5-inch display, in addition to a new 4.7-inch size.
Apple's latest handsets, the iPhone 5s and iPhone 5c, all sport 4-inch displays, which are among the smallest smartphone screens on the market today. Prior to the launch of the iPhone 5 in 2012, all of Apple's previous handsets had smaller 3.5-inch displays.
Apple has been reluctant to quickly embrace the trend toward larger phones as the company has been focused on allowing ease of use of the device with just one hand. According to Kuo, while the 5.5-inch model will require two hands to use properly, Apple apparently plans to reduce the bezel on the 4.7-inch model to keep it within the company's guidelines for one-handed operation.