Apple's Mac Pro ship times drop to 2-3 weeks, shortest wait since launch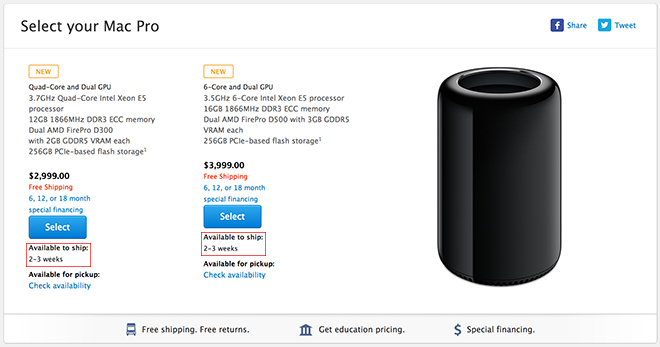 For the third week in a row, Apple has lowered ship-by times for its flagship Mac Pro desktop, with the latest two to three week estimates suggesting the company is quickly catching up with demand.
As of Thursday, however, the Online Apple Store is showing shipping availability at 2-3 weeks, a vast improvement over the more than month-long waits some customers experienced in January and February. Last week, ship-by dates dropped to below one month for the first time since launch.
The new shipping estimates apply to all Mac Pro configurations, including fully maxed-out models that go for more than $13,000.
Historically, ship-by dates have steadily improved over the first quarter, with checks in April showing estimates at 5-6 weeks, which moved up to 4-6 weeks on Apr. 11, 4-5 weeks on Apr. 18 and 3-5 weeks on Apr. 24.
Due to constrained supply, in-store models are non-existent. In January, Apple said it didn't expect to have models available at brick-and-mortar Apple Stores until at least March.
As Apple builds its inventory, authorized resellers like MacMall and Adorama have limited supplies of select Mac Pro configurations, which can be seen in AppleInsider's live Price Guides.