Every new iPhone and iPad expected to ship with Touch ID in 2014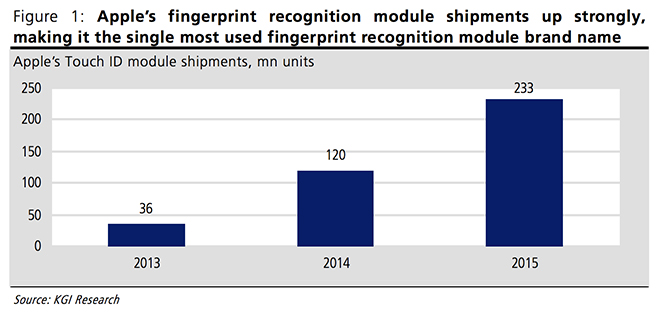 Apple is expected to include its Touch ID fingerprint sensor technology in all new iPhone and iPad devices introduced this year, one analyst says, which will grow shipments of the package to some 120 million in 2014.
According to noted KGI Securities analyst Ming-Chi Kuo, Apple is planning to embed Touch ID in every non-iPod iOS device launched this year, including both iPhone 6 versions, the second-generation iPad Air and refreshed iPad mini with Retina display.
In a research note obtained by AppleInsider, Kuo goes on to say that Apple will switch up chemicals used in Touch ID module production to boost durability, possibly moving to tin as applied with Japan Unix's laser welding equipment.
As for manufacturing, Apple partner Taiwan Semiconductor Manufacturing Co. is said to be the go-to foundry for Touch ID production, with redistribution layer services covered by XinTec and WLCSP and packaging going to ASE. ASE and Sharp will be responsible for the module itself, while welding equipment is to be furnished by Japan Unix through Taiwanese agent Sunnic.
Overall, strong iOS device sales are estimated to grow Touch ID module shipments from 36 million in 2013 to 120 million and 233 million in 2014 and 2015, respectively. The numbers represent respective year-over-year increases in production of 233 percent and 94 percent.
The analyst's prediction comes one month after code discovered in iOS 7.1 pointed to an as yet unannounced iPad implementation of Touch ID. Apple's fingerprint scanning tech was first introduced last year alongside the iPhone 5s, which remains the only product to use the advanced biometric security hardware.
While it has been widely speculated that Apple will implement sapphire displays in its upcoming iPhone lineup, Touch ID has been overlooked as a major component that requires the hard material. Sapphire yields from the company's Arizona plant, operated in partnership with GT Advanced Technologies, are unknown, though it can be speculated that a large amount of output will be earmarked for fingerprint sensor cover glass.