Microsoft offers MacBook Air owners up to $650 in store credit to 'trade up' to Surface Pro 3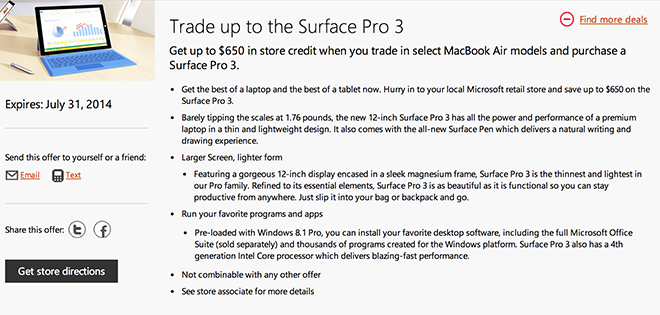 In a trade-in program launched on Monday, Microsoft is again luring Apple device owners to make the switch to Windows by offering Surface Pro 3 buyers up to $650 in store credit for certain MacBook Air models.
The new initiative is nearly identical to Microsoft's iPad trade-in program from September, which paid out at least $200 for Apple's tablet when customers came in to buy a Surface Pro or Surface RT.
With its latest incentive, Microsoft is clearly saying it perceives the new Surface hardware to be in direct competition with Apple's popular thin-and-light laptop lineup, not the iPad.
Priced at $799, the low end Intel Core i3 Surface Pro 3 is $100 less than an entry-level 11-inch MacBook Air and $200 less than the 13-inch Air. Considering a maximum trade-in value, customers could cut the Surface's price of entry down to $150. However, the only Surface Pro 3 models currently available are Intel Core i5 configurations priced at $999 and $1,299. It is not clear if the trade-in offer applies to the other models, which are currently up for pre-order.
When Microsoft unveiled the Surface Pro 3 in May, CEO Panos Panay said the hybrid device is an all-in-one answer to tablet users who also own a laptop, which apparently describes 96 percent of iPad owners.
Compared to the 13-inch MacBook Air, the Surface Pro 3 is much lighter at just 800 grams, but makes concessions with a smaller 12-inch screen and snap-on keyboard cover. Microsoft's machine does, however, tout a higher-resolution display, touch input, a pressure-sensitive stylus and the ability to run a full version of Windows 8.1 Pro.
The MacBook Air offer is only good at select brick-and-mortar Microsoft Store outlets in the U.S. and Canada and is limited to one trade-in per purchase. Currently, the offer runs through July 31, though Microsoft has previously extended successful trade-in promotions.
Microsoft notes trade-in values may vary depending on MacBook Air model and condition. MacBooks with cracked screens or water damage will not be accepted.