Adoption of Apple's iOS 7 hits 90% ahead of next-gen iOS 8 release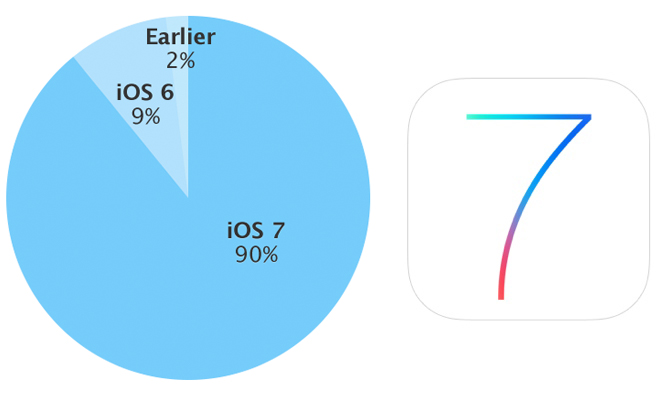 After being available for ten months, Apple's iOS 7 is still growing and is now running on 90 percent of iPhones, iPads and iPods visiting the App Store, up from 87 percent in April.
In an update to its developer webpage, Apple revealed 90 percent of devices visiting the iOS App Store over the seven-day period ending on July 13 were running a version of the latest iOS 7 mobile operating system.
The figures compare positively to results from April, with the uptick from 87 percent representing gains of about one percent per month.
The boost in iOS 7 adoption came at the expense of devices running Apple's last-generation iOS 6, the share of which dropped from 11 percent to 9 percent. As with April's results, iOS versions equal to or older than iOS 5 accounted for two percent of total devices in use.
While iOS 7's adoption rate has slowed since December, which saw 78 percent of active iPhones, iPads and iPods using the "flattened" OS, any growth is impressive considering the company is scheduled to release the next-generation iOS 8 this fall.
Apple is expected to debut iOS 8 alongside a redesigned iPhone lineup sometime in September with bigger 4.7-inch and 5.5-inch form factor handsets. According to KGI analyst Ming-Chi Kuo, the larger 5.5-inch version may not be ready to launch with the 4.7-inch variant due to complications with in-cell touch panels and the smartphones' metal casing.