Shares of Apple hit $100 as Morgan Stanley provides strong endorsement to investors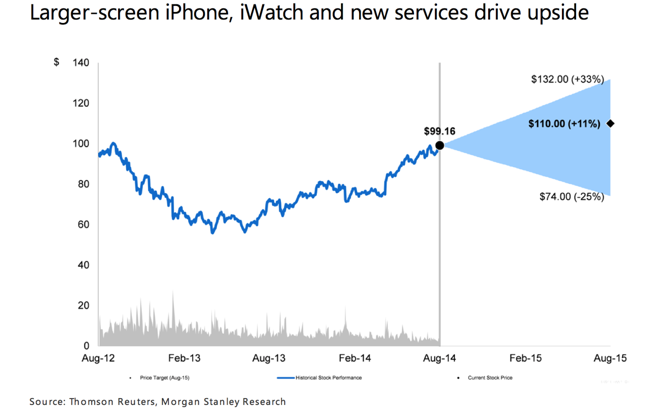 AppleInsider may earn an affiliate commission on purchases made through links on our site.
Apple is on the verge of a major new iPhone product cycle, but this one will be unlike any other launch before it, making it an ideal time for investors to buy in to the company's stock, Morgan Stanley said on Tuesday, helping shares to touch $100 in mid-day trading.
Analyst Katy Huberty issued a strong recommendation for shares of AAPL in a new note to investors, a copy of which was provided to AppleInsider. In it she gave a list of reasons why she believes this fall's product cycle refresh will be "different" from years past for investors.
For starters, Huberty believes shares of Apple are set to grow with currently low institutional ownership rates. She noted that the top 100 institutional holders of AAPL shares have a 2.3 percent stake in their portfolios, much lower than the 4.5 percent share the company held at its peak position in 2012.
Apple's current institutional ownership is also well below the S&P 500's rating of 3.4 percent.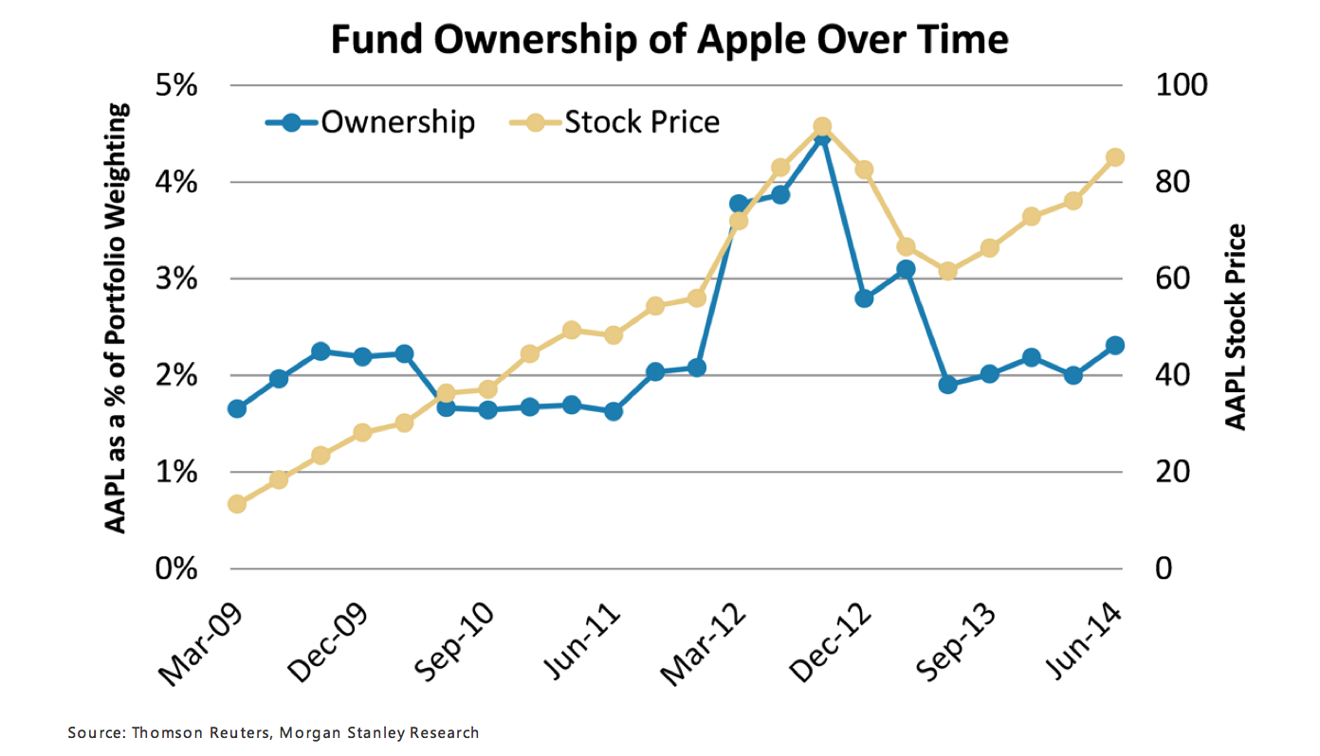 She also believes that the market should pay more attention to the leadership and product investments that Apple has made in recent years, brining on key new personnel and putting huge sums of cash into research and development, along with acquisitions.
Specifically, Apple's spending on manufacturing and parts is at the company's highest level since 2007, prior to the launch of the first-generation iPhone. For the June quarter, Apple's commitments for third-party manufacturing and components grew 22 percent sequentially to $15.4 billion.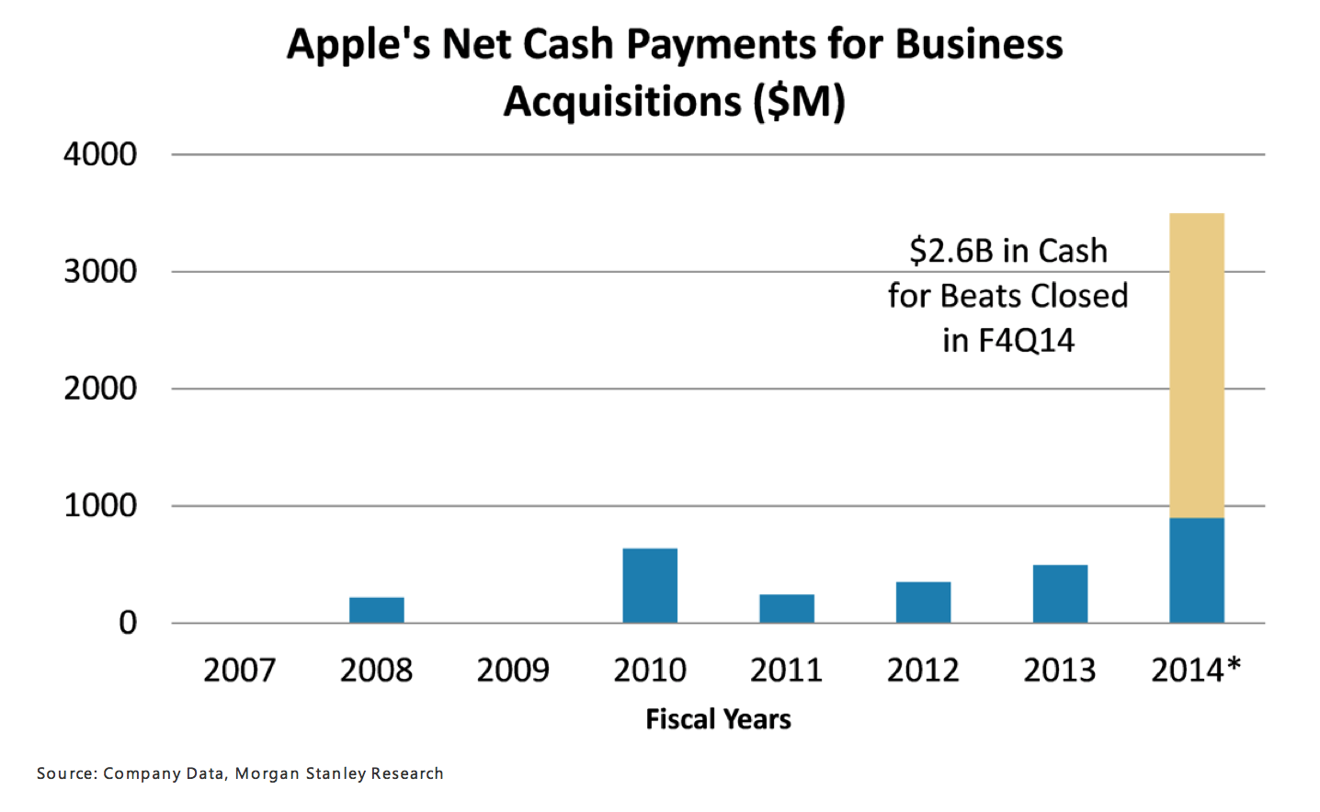 Huberty also expects the "iPhone 6" launch window to have more favorable margins than the debut of the iPhone 5 carried for Apple in 2012. In particular, she expects that the anticipated "iWatch" will post strong margins, which would stand in contrast to the margin erosion that Apple saw in 2012 with the debut of the first iPad mini.
The analyst also noted that Apple's online services, particularly the App Store, are improving overall margins and represent a greater portion of the company's revenue. And warranty expenses as a percent of revenue are declining year over year — another trend she predicts will continue.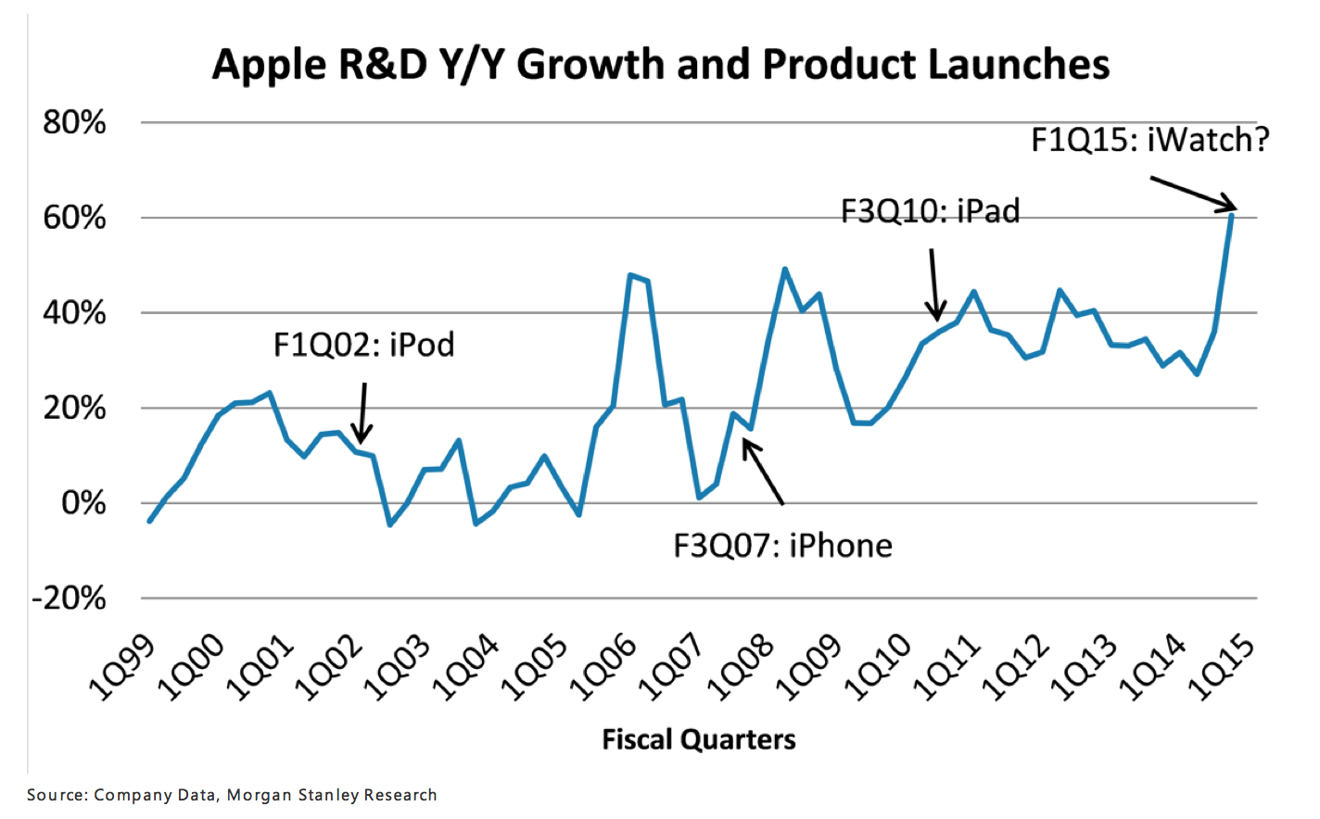 And Huberty has high hopes for this year's product launches, predicting that the "iWatch" in particular could see up to 60 million shipments in its first year alone. Her "base case" prediction calls for Apple to ship 41 million "iWatch" units, while she also believes that larger form factors for the "iPhone 6" will help drive year over year sales growth.
Though Huberty pushed a strongly for investors to own Apple stock on Tuesday, her price target of $110 remains unchanged from when she initially updated it in mid-July. She has also maintained her "overweight" rating.