Apple's next product splash slated for second half of October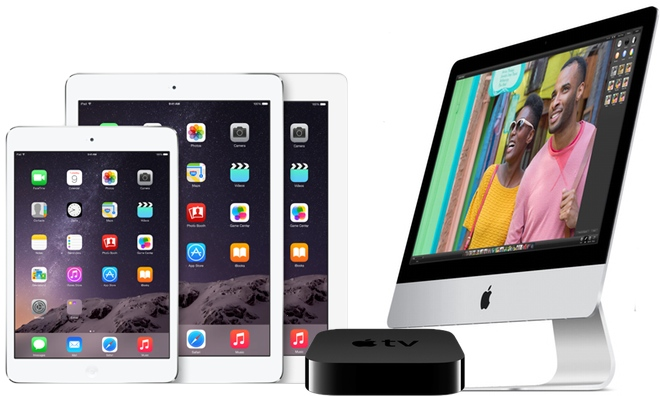 Though the iPhone 6 and Apple Watch have been formally introduced, Apple is far from calling it quits on 2014, with the company's next major product unveiling expected to take place around mid-to-late October, AppleInsider has learned.
A person familiar with the company's pre-launch logistics says Apple has set internal project and marketing deadlines of mid-October, ahead of the planned unveiling of major new products during the second half of the month. That would align with an anticipated media event previously rumored to be held at some point during October. The same source who spoke to AppleInsider has shared reliable information on product introduction and timing in the past.
Of course, Apple has used the latter month of October to introduce new products in years past, including the unveiling of the iPad Air and iPad mini with Retina display last year. Both of those products were introduced at a media event on Oct. 22, 2013, before they went on sale to consumers in early November.
This year, Apple is widely expected to unveil its latest iPads at an October media event, with both the next-generation iPad Air and iPad mini rumored to feature the company's secure Touch ID fingerprint sensor. It's also likely that the new models will boast the same A8 processor found in the iPhone 6 and iPhone 6 Plus.
New iPads with Touch ID are expected this year, and Apple has already revealed that OS X Yosemite will launch this fall. Beyond that, though, is anyone's guess.
Also on tap for debut later this year is Yosemite, the latest free OS X update. Yosemite will tie closely into Apple's iOS 8 mobile operating system update for iPhone and iPad, scheduled to be released to the public on Wednesday.
The company has also revealed that Apple Pay, its NFC-based secure mobile payment service for iPhone 6 and iPhone 6 Plus, will launch with a forthcoming iOS 8 update in October.
Less certain is an anticipated MacBook Air redesign with a high-resolution Retina display and an all-new ultra-thin form factor. The existing 11- and 13-inch MacBook Air models without Retina displays were updated in April with modest upgrades and price cuts, while the newly redesigned version was originally claimed to debut this year.
However, recent rumors have suggested the launch of a new MacBook Air with Retina display may be pushed back to 2015. The new model is expected to come in one screen size of 12 inches, and is rumored to feature a fan-less quiet design, click-less trackpad, and fewer inputs and outputs on its shrunken frame.
Retina displays are also rumored to come to Apple's iMac lineup, but there has been even less concrete evidence for a 2014 debut for a high-resolution all-in-one Mac desktop. Also a candidate for a Retina display would be Apple's premium Thunderbolt Display, something fans have hoped for since the new cylindrical Mac Pro debuted in late 2013.
Finally, the company is also rumored to be working on an update to its Apple TV set-top box, potentially with new input methods and support for downloadable third-party applications. But the latest claims suggest Apple remains held up by talks with cable companies and content owners, suggesting that such negotiations could push the launch of a hardware refresh back to 2015.
In short, with Apple gearing up for an anticipated October event, there's a lot believed to be in the company's pipeline that could be introduced for a fall launch. But aside from new iPads and the launch of OS X Yosemite, very little is certain about the remainder of Apple's 2014.