Apple stops iOS 7.1.2 code signing, restricts downgrading from iOS 8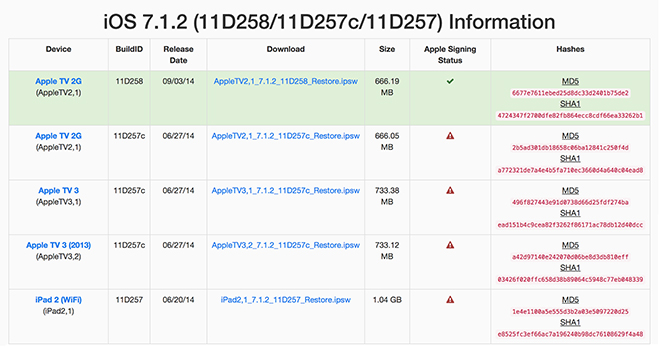 After rolling out two point updates for iOS 8 earlier this week, Apple on Friday stopped signing iOS 7.1.2 firmware, meaning users who migrated to the new mobile operating system no longer have the option of downgrading.
Apple's decision to halt iOS 7 firmware signing is part of the natural progression toward a wider iOS 8 rollout for compatible devices, which include the iPhone 4S and above, iPad 2 and above and both iPad mini models. The change was noted by developer Steven Troughton-Smith via Twitter earlier today and confirmed by multiple sources, including popular third-party iOS firmware database IPSW Downloads.
With Apple no longer performing iOS 7 code signing, users who previously upgraded to the latest iOS 8 version can no longer revert to the last-generation OS. As noted above, owners of non-compatible devices like the iPhone 4 and original iPad still have access to the firmware.
The last iOS 7 version to see release came in June with iOS 7.1.2, which brought fixes for issues found in Mail, iBeacon and barcode scanner accessories.
Apple released the latest iOS 8 operating system for public consumption last week, bringing a slew of new features to iPhones and iPads, including app extensibility, support for Continuity, new messaging options and more. The launch also came with a HealthKit bug, however, prompting Apple to pull apps that connect to the framework as it researched a fix.
The company promised a patch and subsequently pushed out the iOS 8.0.1 maintenance update on Tuesday, but that release also contained bugs. Limited to the iPhone 6 and 6 Plus, iOS 8.0.1 disabled cellular connectivity and Touch ID drivers for many users. Apple's most recent iOS 8.0.2 version appears to fix the aforementioned problems, though some iPhone 6 users in Australia are still reporting trouble with cell networks.