Surging Mac sales put Apple among top five global PC vendors for first time, IDC says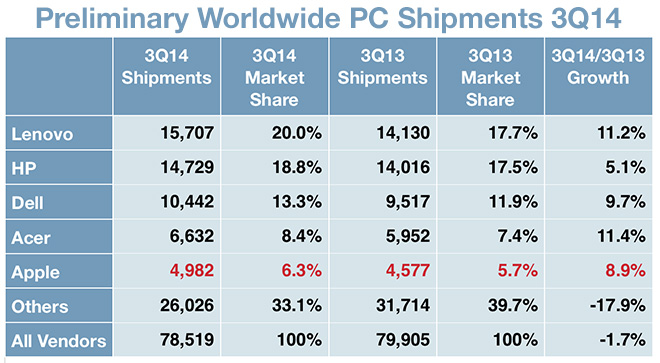 The Macintosh may have posted its strongest worldwide market share yet last quarter, according to the latest estimates from IDC, which place Apple among the top five global PC vendors for the first time.
Mac shipments were up an estimated 8.9 percent in the third quarter of calendar 2014, IDC reported on Wednesday, to nearly 5 million total units. That was enough to overtake Asus and place Apple in the No. 5 position with a 6.3 percent share of the total worldwide market.
While Apple has consistently remained among the top five computer makers in America, it has not gained that status worldwide, where cheaper Windows-based PCs have continuously dominated. But a particularly strong back-to-school quarter for Apple, led by refreshed MacBook Air and MacBook Pro models, appears to have propelled the Mac into the elite class.
Updates to Apple's Mac lineup thus far this year have focused on value, and the efforts appear to have been paying off. With a lack of significant chip upgrades available from partner Intel, Apple has opted to add more memory and RAM, or slash prices, across its product lineup.
Most notably, the MacBook Air lineup now starts at just $899, making them the most affordable mass-market notebooks Apple has ever sold.
IDC said on Wednesday that Apple's price cuts, along with improved demand in mature markets, has allowed the company's Mac lineup to consistently outgrow the PC market.
Total worldwide PC shipments are estimated by IDC to have dropped 1.7 percent, but the top five vendors all saw year over year increases. Lenovo was in first place with 15.7 million units shipped, followed by HP (14.7 million), Dell (10.4 million), and Acer (6.6 million) before Apple rounded out the top five.
The results were slightly different from competing estimates published by Gartner on Wednesday, showing Asus retaining the No. 5 worldwide PC position. Gartner believes that Asus shipped 5.8 million units in the third quarter of 2014.
Domestically, IDC pegs Apple's shipments at 2.2 million units, good for 13 percent of its home market. If the estimate proves accurate, U.S. sales would be up 9.3 percent year over year.
Gartner, meanwhile, believes Apple shipped slightly more Macs in the U.S. last quarter — 2.4 million units, good for an estimated 14.3 percent American market share. Gartner predicts that Apple increased Mac shipments by 14.4 percent year over year.
The actual numbers will be revealed by Apple on Oct. 20, when the company reports the results of its fourth fiscal quarter of 2014. In the same three-month period a year ago, Apple sold 4.6 million Macs, down slightly from the 4.9 million it sold in the same period in 2012.