Alleged iPad Air 2 benchmark shows A8X CPU has three cores, 2GB of RAM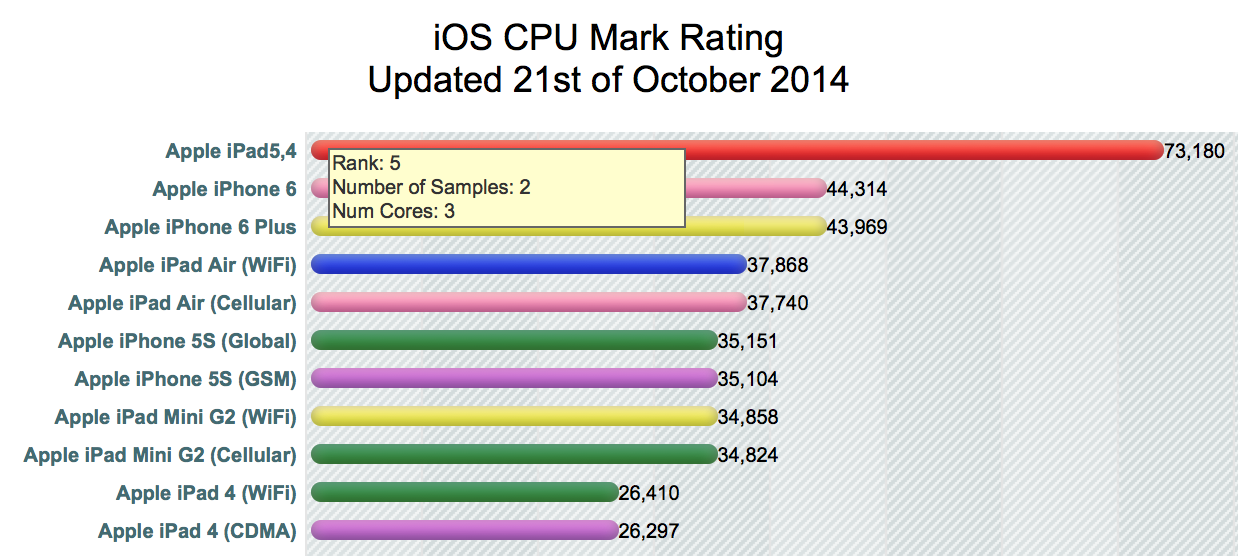 Though Apple hasn't revealed the exact specifications of the beefed-up A8X processor that powers the iPad Air 2, a new benchmark purports to show the horsepower of the CPU, revealing a triple-core processor with 2 gigabytes of RAM.
The purported details on the A8X chip were published to iphonebenchmark.net, claiming to show a new "iPad5,4" model. Based on Apple's IPSW files available to developers, that model would be a LTE-capable iPad Air 2.
A separate test published to the same site focused on RAM speed also appears to show that the iPad Air 2 has a full 2 gigabytes of RAM. In contrast, the A8 CPU found in the iPhone 6 and iPhone 6 Plus is a dual-core processor with 1 gigabyte of RAM.
Update: Benchmarks of another "iPad5,4" also showed up via GeekBench with similar information, but also revealed a 1.5-gigahertz clock speed.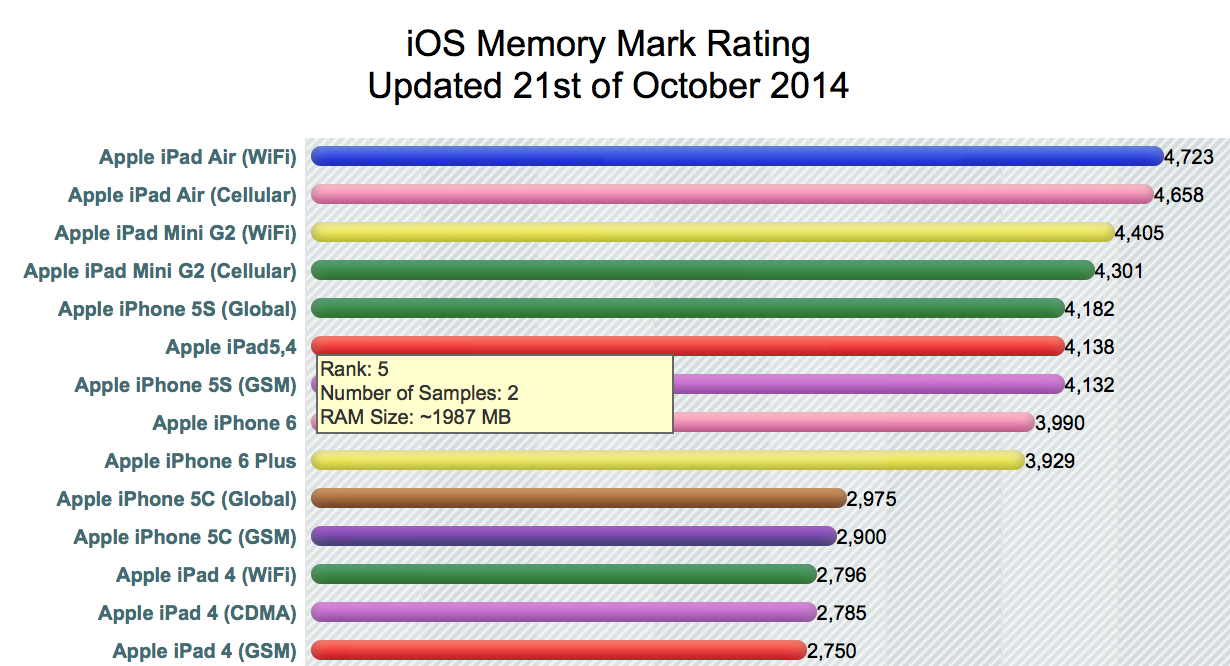 The benchmarks published represent an out-of-date testing tool not optimized for assessing the performance of Apple's latest hardware, which may explain why the iPad Air 2 performs poorly in some of the tests. The benchmarks were first spotted by Gizmobic.
If true, the details would be in line with a purported iPad Air 2 logic board that leaked earlier this month, just days before Apple took the wraps off its latest flagship tablet. That picture showed an A8X chip with 2 gigabytes of memory from an Elpida RAM module.
Apple opts not to reveal the specific technical specifications of its hardware, instead focusing on performance improvements that are of more value to prospective buyers. Regarding the A8X chip, Apple has simply said that it's 40 percent faster than the A7 processor found in the first iPad Air.
The integrated graphics processing of the A8X is also said to be 2.5 times faster than the A7. And even with those power increases, Apple says the iPad Air 2 still boasts up to 10 hours of battery life.
And while the iPad Air 2 receives a significant processor upgrade, the new iPad mini 3 still runs the same A7 chip as last year.
AppleInsider readers began to receive word from Apple on Tuesday that their iPad Air 2 purchases have shipped. The tablets are advertised to deliver this Thursday.