Microsoft's own Office apps much better on iPhone than Windows Phone 8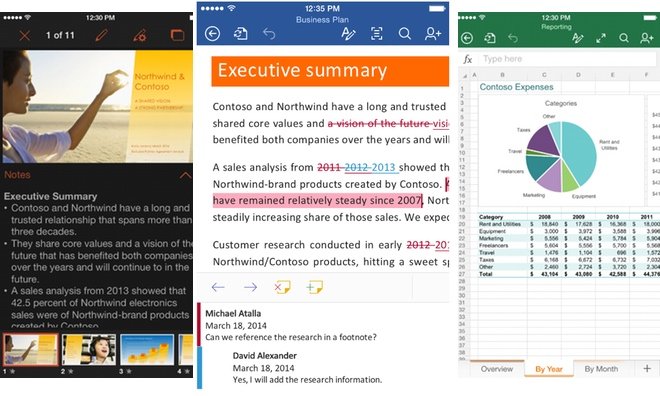 In keeping with the growing importance of Apple's iOS platform, Microsoft's new Word, Excel and PowerPoint apps for iPhone are now far superior than those Microsoft offers for its own Windows Phone 8 platform.
Microsoft just released enhanced versions of its Office apps for iPhone (or iPod touch), using the same unified codebase as the company's tablet-optimized version for iPads, now allowing document creation and editing without a paid Office 365 subscription.
In March, when Microsoft initially released its iPad editions of Office, we noted that despite Android's reported 62 percent majority tablet market share in unit shipments, Microsoft decided to bring its Office apps to iPad first, even though iPads were only credited with about 36 percent global tablet share by market research firms.
Seven months later, Microsoft still hasn't released a tablet-optimized version of Office for Android. But even more though provokingly, Microsoft also hasn't bothered to update its own Windows Phone version of the apps, which Tom Warren of The Verge just referred to as "shit."
Warren also tweeted out a comparison photo of an iPhone 6 Plus and a Nokia-branded Windows Phone device each running Office, showing iOS presenting a superior interface and accurate document rendering, while the Windows Phone was just a big mess.
Microsoft is no doubt focusing on its next Office release for the upcoming Windows 10, but that isn't expected to be released for another year. Its tablet-optimized version of Office for Android is tentatively planned to ship in the first quarter of 2015, about one year after the iPad version.
That means Apple will sell at least another 70 million iPads before Microsoft has a mobile version of Office for its own platforms that isn't embarrassing. That won't do much to convince buyers over the next year to try out Windows Phone.
Meanwhile, figures from Good Technology show that Apple is cleaning up in the enterprise space, with iPads making up 90 percent of the new tablet activations it sees in use among its more than 5,000 client companies. Overall, iOS powered 67 percent of all mobile enterprise devices.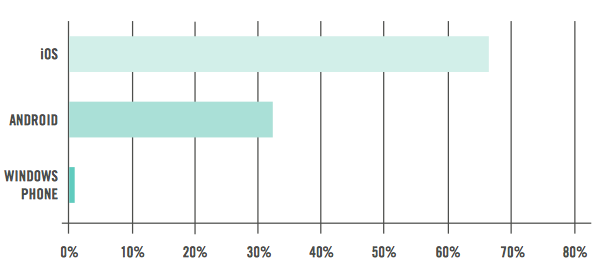 Microsoft faces stiff competition in the basic productivity apps market, ranging from a variety of specialized iOS offerings to web-based Google Docs and Apple's own iWork suite of Pages, Keynote and Numbers, apps the company now bundles for free on new iOS devices (and Macs).
Microsoft is now giving its iOS Office apps away for free use along with an option to unlock some additional features for paid subscribers, a sea change from just a decade ago when using Office involved a $500 per user license outside of educational or site license deals.
Not too long ago, the general perception was that Apple's sales of premium hardware would be impossible to sustain as commodity hardware makers shipped large volumes of low priced alternatives. Over the past year, Apple's iPads sales have beat the combined shipments of the rest of the top five tablet producers,while the company has seen significant growth in sales of iPhones and Macs.
Meanwhile, on the software side Microsoft must be feeling competitive pain to induce it to give away its mobile Office apps for iOS while also delivering its best versions of Office for iPhone and iPad.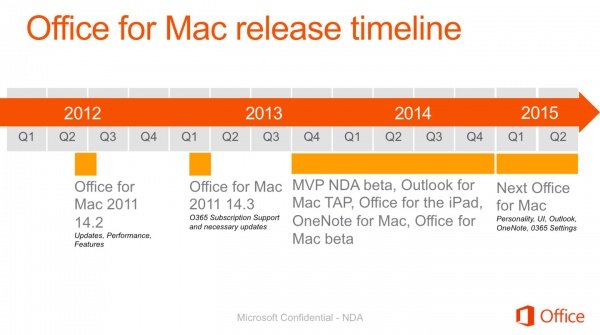 Microsoft is also rumored to be preparing an update for its Mac Office suite next year, with a public beta planned for the first half of the year, followed by a full launch in the second half of 2015.
Recent leaks suggest the next version of Office for Mac will be revamped to take full advantage of high-resolution Retina Display Macs, and to get full feature parity with its Windows counterpart, including Excel features, easier sharing of files between platforms and enhanced integration with Office 365, SkyDrive and SharePoint.