Leading Android fansite recommends Apple Inc iPad Air 2 as best tablet in holiday gift guide

Android Police named Apple's iPad Air 2 as its top tablet pick among "Android devices" for the 2014 holiday season, calling it "reliable, predictable, and very fast."
The site, which bills itself as "looking after all things Android," is listed among the top three Android news outlets in Google's search results and appears to have earned a "Like" from every Google+ user.
However, despite the thousands of Android tablets offered by a wide range of licensees— including the newly released Google-branded Nexus 9, built by HTC— Android Police prominently named iPad Air 2 as its top tablet among "Android devices." David Ruddock wrote that iPad Air 2 "doesn't run Android and I don't really care that it doesn't run Android."
"Yes, I am breaking the gift guide by putting this here," Ruddock stated. "Why? Because as you'll notice, none of us recommended the Nexus 9, because it's not exactly great. In fact, I'd argue no Android tablet is."
He noted that Nvidia's gaming-oriented Shield Tablet "is a lot of bang for your buck, but the screen kind of sucks and the battery life isn't spectacular (standby is bad in particular) and it's heavy, thick, and kinda ugly."
After noting that iPad Air 2 doesn't run Android, Ruddock added, "as far as I'm concerned, it's either this or a Galaxy Tab S if you're in the market for a premium tablet at this point, and I'm not too hot on the Exynos processor / 16GB of storage / Samsung's update track record that you get with the Tab S 8.4. The 10.5 is also just too big, and I'm not sure I want an 8.4" tablet, either, it's a hair too small. The Nexus 9 is the right size, but pretty much the wrong everything else."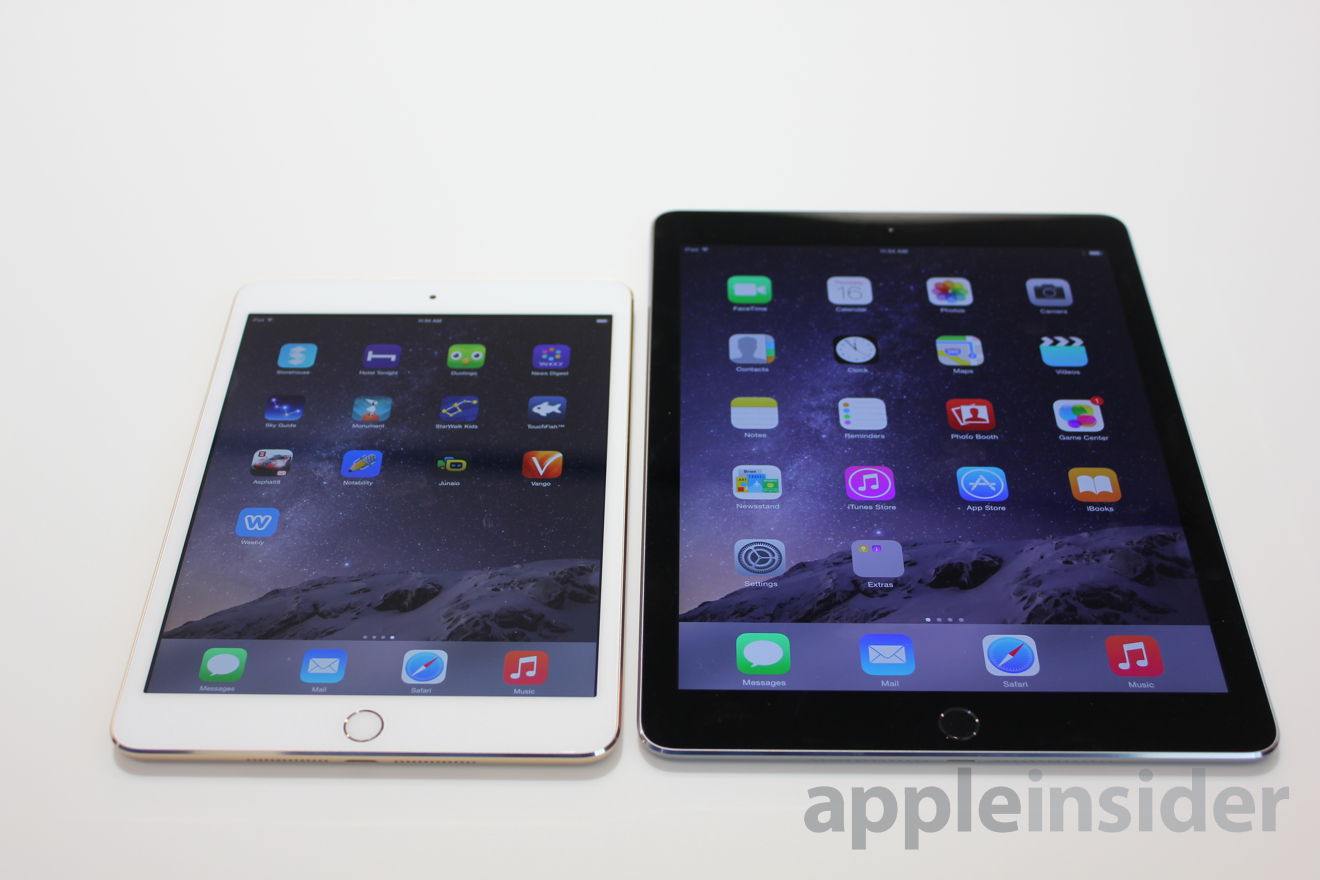 Ruddock called attention to Android's tablet app gap, stating that "iOS still has some tablet experience apps lacking Android equivalents," adding that "while Android tablets do have some advantages (like a better Gmail app BY FAR), the iPad remains a no-brainer for me. If it's my money being spent on a tablet, I'm going to buy the one I know is going to live up to a standard of quality."
He called Apple's iPad lineup the "the gold standard in tablets since it was unveiled," adding, "that hasn't changed. I don't see it changing any time soon, either."
Further down in the site's gift guide, another editor listed Nvidia's Shield Tablet as "an excellent mid-sized tablet," adding, "And yes, I think it's better than the Nexus 9." A third listed Samsung's Galaxy Tab S 8.4 as "the single best Android."
Under "Other Stuff," a fourth staff writer Cameron Summerson listed an Acer Chromebook (which also does not run Android) along with the Nexus 9, stating "I basically love everything about it" and calling it "definitely my top pick for best Android tablet, though Shield Tablet is a very close second." The site also recommended a variety of accessories and devices not directly related to Android.
In the gift guide's comments, Summerson protested Ruddock's statement that "none of us recommended the Nexus 9," posting, "David's a liar. I recommended the Nexus 9. I love mine." In response, Ruddock added the comment, "Cameron recommended it, but don't listen to him."
Google's Nexus 9 has received mixed reviews, with particular criticism targeting weaknesses in its build quality and fit-and-finish, despite being priced higher than previous generations of the Nexus tablet line.
Primate Lab's Geekbench indicated that the triple core, 64-bit A8X Application Processor in Apple's iPad Air enables it to trounce the Shield Tablet, Galaxy Tab S and Nexus 9 in CPU functions, while Kishonti Informatics' GFXBench outlined a similarly large advantage in graphics power over a variety of Android tablets powered by Nvidia's Tegra K1 (Nexus 9), Qualcomm Snapdragon and Samsung Exynos (both used in variants of the Galaxy Tab S) as well as Intel's heavily subsidized Atom Bay Trail chip (used in Lenovo Yoga Tab 2 Pro).
Last year, Strategy Analytics publicized the retroactive discovery of millions of Android tablets in an attempt to rewrite history, even as IDC and Gartner tallied up falling tablet "market share" for Apple based on vast numbers of low priced, tablet-shaped devices.
San Francisco security firm Bluebox Labs recently warned that after testing a dozen Black Friday bargain Android tablets from major retailers including Amazon, Best Buy, Kmart, Kohl's, Staples, Target and Walmart, it found "shocking" security flaws, malware and active backdoors installed on the new devices.