Apple Inc. stock leaps nearly 4 percent in first surge of 2015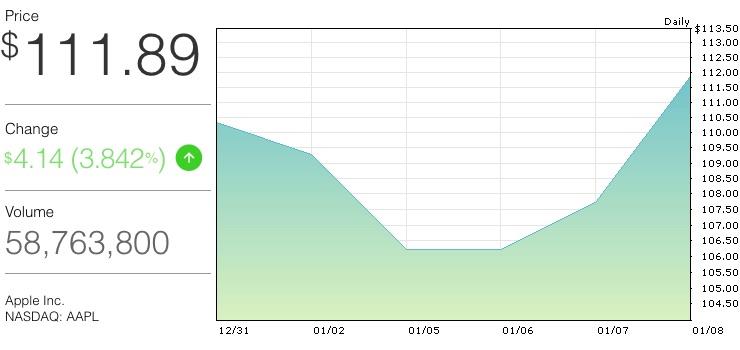 After being pushed downward across the first week of 2015, Apple's stock surged $4.14 today to close at $111.89, adding over $24.27 billion to the company's market capitalization.
After gaining nearly 40 percent in 2014, Apple's shares dropped from nearly $112 down to almost $105 in the new year's first week of trading, despite strong sales data and virtually nonexistent competition from its main rivals throughout the holiday quarter and into the first week of CES.
However, those losses were dramatically reversed today as the company's stock rapidly changed course, gaining back all negative ground for the year and netting a slight positive from 2015's opening day last Friday.
Apple is expected to make new gains in 2015 on continued strong sales of iPhone 6 and 6 Plus, an expansion of iPads into the enterprise supported by the company's partnership with IBM, a global rollout of Apple Pay and continued growth in Mac sales.
Apple will release its December quarterly earnings results later this month on January 27. The company's earnings will particularly be compared against hardware rival Samsung, which experienced a collapse in its mobile profits over the second half of 2014, and Google, which lost ground through 2014 (falling more than 5 percent) and has continued into negative territory in the new year.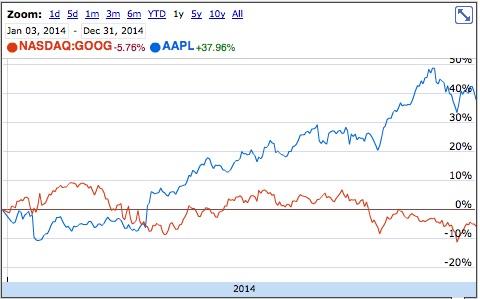 Compared to Apple's pre-split figures from last year, today's surge would have amounted to a leap of $28.98, resulting in a pre-split stock price of $783.23.