Apple sharpens focus on art, harmony with Chongqing Apple Store mural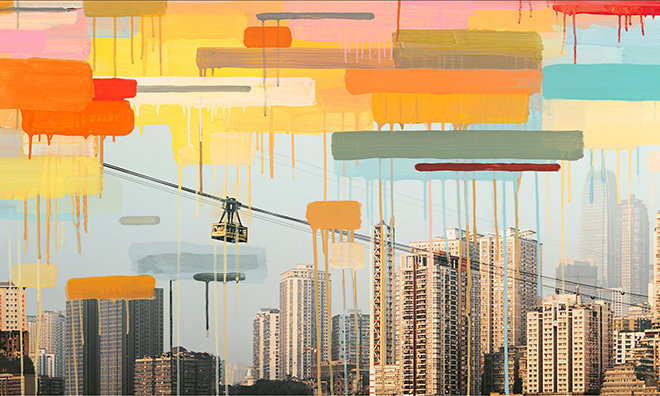 A week after Apple used a work of calligraphy to promote its latest Chinese Apple Store in Hangzhou, the company is again turning to art to tout a soon to open outlet, this time wrapping a mural around the new Chongqing location's iconic glass cylinder entryway.
Over the weekend, Apple China installed at its upcoming Chongqing retail outlet a huge mural depicting a stylized view of the surrounding metropolis. The store, which is the second China location to feature a glass cylinder after Pudong, is set to open on Saturday.
Created through a collaboration by photographer Navid Baraty and artist Yangyang Pan, the piece features a panoramic photo of the city painted over in broad single strokes of color and now wraps around the store's cylindrical glass structure. Like other glass Apple Store monuments, the cylinder houses a spiral staircase leading down to an underground showroom.
The new mural replaces scaffolding and protective covers removed from the structure earlier this month.
Chongqing is the second Apple Store in China to prominently feature a work of art just prior to opening, the first being Apple's West Lake location in Hangzhou that donned an ancient Chinese poem painted by renowned calligrapher Wang Dongling. As it did with West Lake, which opened to massive crowds on Saturday, Apple filmed a behind the scenes look at Chongqing's mural and uploaded the video to its Chinese website.
In the short clip, Baraty and Pan describe their respective roles in the project highlighted by a spirit of collaboration and harmony that seemingly mirrors Apple's ambitions for the region. Instead of jolting Chinese customers with Western consumer ideologies, the company is looking to meld with and enhance a culture centuries in the making, a wise tactic for a country so steeped in history.
In a tweet linking to the video on Monday, Baraty said Apple flew him up to Chongqing especially for the project. While unconfirmed, the company likely did the same for Pan, who immigrated to Canada in 2006.
Apple is in the midst of an aggressive retail expansion into mainland China that is expected to see 25 new stores open by 2016. Retail chief Angela Ahrendts recently revealed plans to activate five Apple Stores in China before the Chinese New Year on Feb. 19, and Chongqing is the second to open in as many weeks.
Apple's Chongqing location will open its doors on Jan. 31 at 10 a.m. local time.