RBC says Apple could fund $65B+ annual capital return program, raises target to $140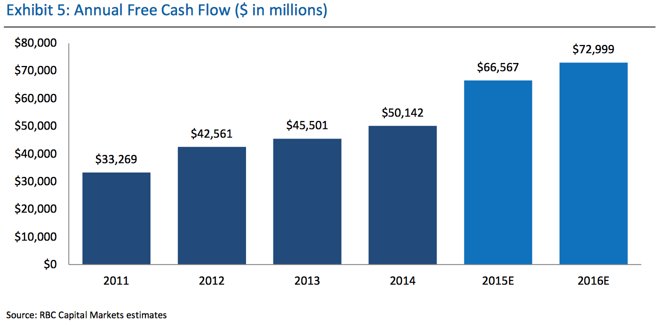 AppleInsider may earn an affiliate commission on purchases made through links on our site.
Apple is set to announce an update to its capital return program in April, and investment firm RBC Capital Markets believes the company could return some $65 billion to investors annually, creating yet another reason to buy into the company's stock.
Analyst Amit Daryanani issued a new research note on Thursday, a copy of which was provided to AppleInsider, announcing that he has raised his price target on shares of AAPL to $140, up from his previous prediction of $130.
Daryanani believes the company could "comfortably" announce a $65-billion-plus capital return program for fiscal year 2016. He sees increases in both dividends and buybacks as a use for the company's massive cash hoard.
Apple generated $34 billion in cash in its last quarter alone, and RBC models that it will accrue a total of $66.6 billion in fiscal 2015. That would be in addition to the $179 billion in cash the company had at the end of the December quarter.
Daryanani's expectation is that Apple will return 100 percent of its free cash flow to investors, helping to finance a 50 percent increase in its quarterly dividend to a 2 percent yield.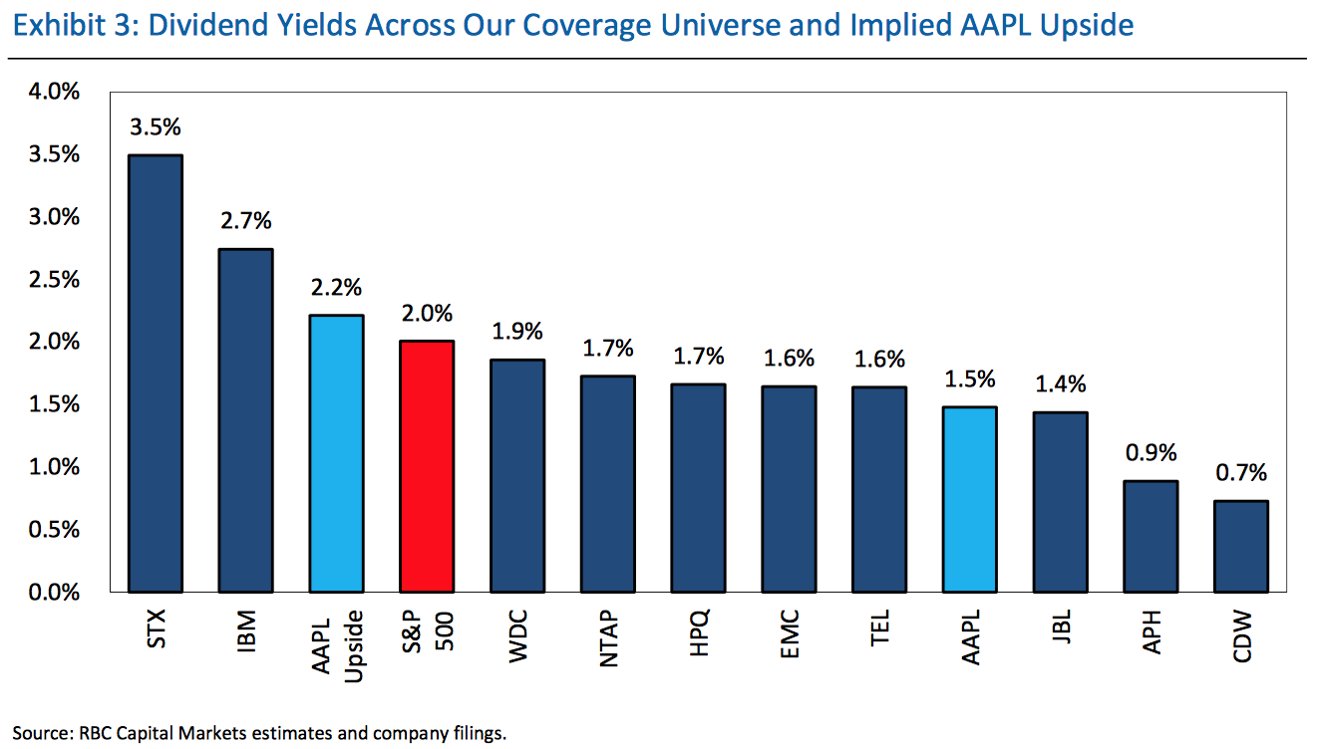 The analyst was encouraged by recent comments from Apple Chief Executive Tim Cook, who said that the company is looking to return its excess capital to shareholders. Cook also said that Apple are not interested in being "hoarders" with their massive pile of cash.
Apple first announced a $45 billion capital reinvestment program in March of 2012, funding a quarterly dividend and share repurchases. The company increased its plan to $100 billion in April of 2013.
Beyond revisiting its capital return program, Apple has a number of other catalysts on the horizon that could help drive the company's stock price higher, Daryanani believes. Specifically, he cited the forthcoming launch of the Apple Watch in April, as well as sustained growth in Apple Pay and increases in service revenues.
RBC Capital Markets has maintained its "outperform" rating on Apple stock. The company's projections also include an "upside scenario," where it believes shares of AAPL could reach $150, while its "downside scenario" could see shares slide to $100.