Tim Cook commemorates Steve Jobs's birthday on trip to Germany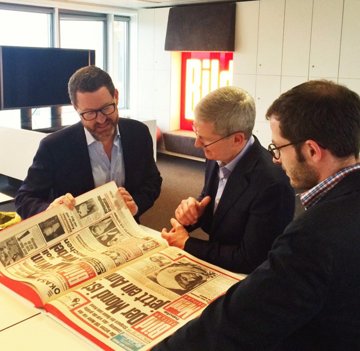 AppleInsider may earn an affiliate commission on purchases made through links on our site.
Apple's chief executive was spotted on Tuesday in Germany, where he took the time to tweet a short remembrance of late colleague Steve Jobs before visiting the offices of infamous German tabloid Bild.
"Remembering Steve, who would have turned 60 today," Cook wrote on Twitter. "The only way to do great work is to love what you do," he added, quoting one of Jobs's most famous phrases.
Jobs was born on this day in 1955, and died of complications related to pancreatic cancer in 2011. He brought Cook to Apple in 1998 and was responsible for anointing the former Compaq executive as his successor.
Cook spent a portion of the day meeting with the editors of German tabloid Bild, though the reason for the face-to-face is unknown. Bild boasts one of the largest circulations in the world, but it is not a publication one would normally associate with Apple — the paper published nude girls on its front page for over a quarter century, and was described by its more serious rival Der Spiegel as "a daily dose of high-resolution soft porn."
The stop in Germany comes as Cook is rumored to be headed for the inauguration of a new Apple research and development center in Israel. The new facility will house nearly 1,000 workers, many of whom came on board with the acquisitions of flash memory maker Anobit and motion sensing company PrimeSense.