Apple removes Nike FuelBand, Jawbone UP from stores ahead of Apple Watch debut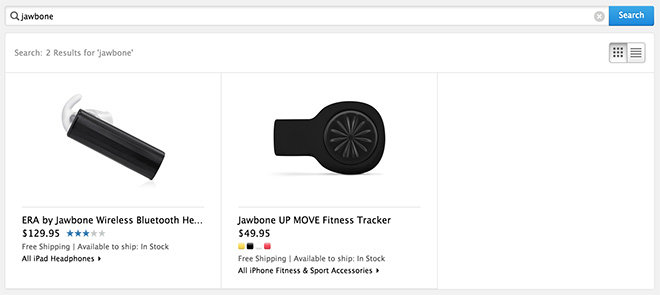 AppleInsider may earn an affiliate commission on purchases made through links on our site.
Apple has phased out fitness bands like Nike's FuelBand and Jawbone's UP from its retail store offerings as the company prepares to enter the wearables market with Apple Watch.
As of Wednesday, the Online Apple Store and physical Apple Store locations have pared down their fitness device offerings to products not in competition with the upcoming Apple Watch. Previously, Apple sold a wide variety of fitness trackers, including devices from Fitbit, Nike, Jawbone, Wahoo and more, but those products have lost shelf space over the past year.
The move comes a little over one month before Apple's first foray into wearables debuts with its own fitness tracking capabilities. Re/code reported the change earlier today.
AppleInsider confirmed that both Nike and Jawbone products have been taken down from the Online Apple Store and are no longer available at multiple brick-and-mortar Apple Store locations across the U.S. A store representative said no band-like fitness devices are for sale, with the closest model being Jawbone's clip-on UP Move, though Apple's online storefront does show current availability of the $199 MIO Alpha Heart Rate Monitor Watch.
Other fitness trackers still for sale include Wahoo's TICKR around-the-body heart rate monitor and a similar offering from Polar.
According to Re/code, MIO CEO Liz Dickinson said Apple notified her of an impending Apple Store removal months ago. It is unclear if the smart fitness watch will ultimately share the same fate as similar devices from Jawbone, Nike and Fitbit.
Apple Watch starts at $349 for the 38mm Apple Watch Sport, while the stainless steel Apple Watch is priced from $549. The high-end solid gold Apple Edition, meanwhile, starts at $10,000.
Preorders and in-store previews start on April 10, with shipments set to begin on April 24.