Apple Inc CEO Tim Cook calls CNBC's Jim Cramer on 10th anniversary special of "Mad Money" TV show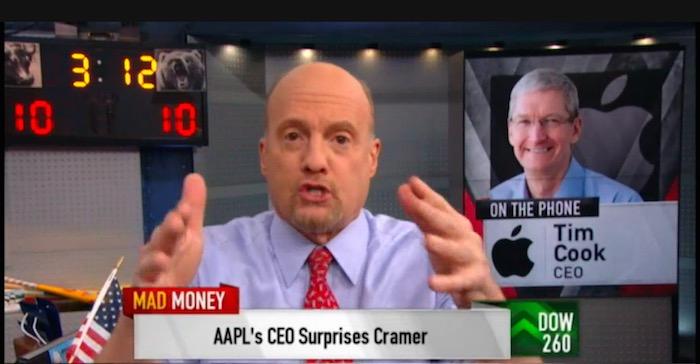 Apple's chief executive Tim Cook telephoned CNBC financial entertainment star Jim Cramer to congratulate him on ten years of performing his "Mad Money" high energy cable TV show, which injects wild hysterics and physical comedy rage into the generally buttoned down world of financial news.
The two exchanged compliments, with Cramer replying, "I want to congratulate you for running the greatest company on earth, and for creating such amazing wealth, and the best products on earth for everybody. You have done a remarkable job, Tim. I am honored that you're calling in."
Cook in turn called Cramer "a champion for American innovation" and said at Apple, "we love the fact that you highlight innovation as a centerpiece of your show."
Cook used his ostensibly "surprise" appearance to tout the company's new Research Kit initiative and Apple Pay payments, which he noted that Cramer had earlier predicted would "take the country by storm."
Cook said "and it is doing it!" adding that he hoped Cramer's own Bar San Miguel would soon begin accepting Apple Pay, to which Cramer shouted "Done! Done!"
The two discussed global currency fluctuations ("Currency's clearly a problem," Cook said, "but frankly the best companies will figure out a way to manage it"); the legacy of Steve Jobs ("there's not a day that goes by that I don't think about Steve," Cook said. "And he is still... the core part of Apple. His DNA is deep in the company. And his office is still next to mine, with his name on the door. And the values that he placed in here, and sort of the spirit that we are here to make the very best products in the world that enrich peoples' lives, that is still the centerpiece of this company"); as well as the future of technology in the car, the home and in healthcare.
After trading more compliments with Cook, Cramer told his audience, "I revere Tim Cook. And I revere Apple. I am so proud that they are an American company. I am proud to be an American. Happy Anniversary, everybody! Ten years of making you money continues. That was Tim Cook on the phone! Holy cow! We're just getting started! 'Mad Money' tonight!"
Cramer hasn't always been bullish on Apple
In 2007 Cramer detailed how easy it was to foment fear of the iPhone by inventing false rumors to manipulate the company's stock while taking advantage of Apple's tight lipped security, writing that this "is very easy, because the people who write about Apple want that story. And you can claim that it is credible because you spoke to someone at Apple, because Apple isn't in [a position to comment on unannounced products]. It is an ideal short."
Cramer floated a false story immediately after the iPhone's launch that Apple's wireless partner Cingular (later renamed as today's AT&T) would provide a year and a half of free mobile service for the iPhone. The story was picked up by blogs and widely publicized on syndication sites like Kevin Rose's once successful Digg website.
The next year Cramer proclaimed in video interview that "Without Steve Jobs, There is No Apple," where he stated that "the innovation [at Apple] is all being driven by one man."
In 2009, Jon Stewart of the Daily Show skewered Cramer for stating how easy it was to profit from misinformation targeting Apple, calling the practice "disingenuous at best and criminal at worst."
Just last year, Cramer endorsed "Fibonacci analyst" Carolyn Boroden, who had performed a numerology chart reading and determined that Apple was in retrograde while IBM was ascendent. "Avoid Apple, embrace IBM say charts," implored CNBC's "Mad Money" headline.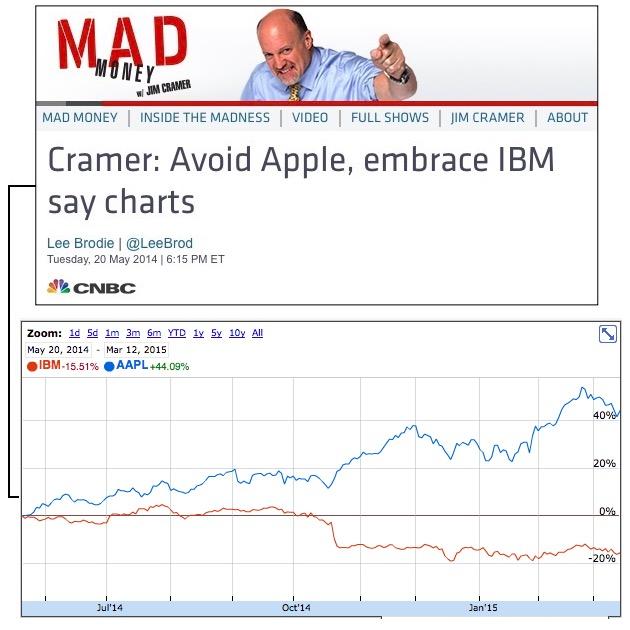 "Sometimes the forecasts of these professional chart-watchers are so accurate that it's staggering," Cramer stated at the time. Since that advice was given, Apple stock has increased by more than 44 percent, while IBM is down 15.51 percent.