Chess grandmaster hid an iPod touch in the bathroom to cheat during tournaments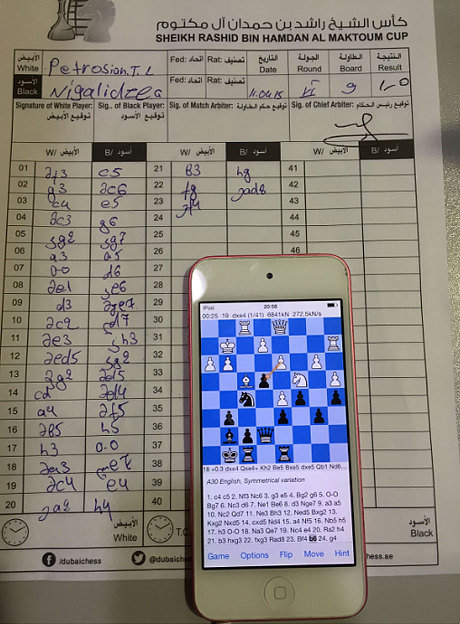 Georgian chess champion Gaioz Nigalidze has been accused of using Apple's iOS devices to gain a competitive advantage during tournaments, hiding an iPod touch — Â which was used to analyze the game being played — in the bathroom during at least one such event.
Nigalidze was expelled from the Dubai Open Chess Tournament after organizers discovered an iPod touch, wrapped in toilet paper, stored in a bathroom stall that he visited after each move. Though Nigalidze denied that the device belonged to him, it was logged in to a social networking site under his name and an iOS chess app was found with one of his games on screen.
The search was conducted following an inquiry from Armenian opponent Tigran Petrosian, according to the Telegraph.
"I noticed that he would always visit the same toilet partition, which was strange, since two other partitions weren't occupied," Petrosion said. He notified the tournament's chief arbiter, and officials tossed the stall soon after.
"What they found was the mobile phone with headphones; the device was hidden behind the pan and covered with toilet paper," Petrosion added.
Electronic cheating has long been a concern for chess tournament organizers, and well-known grandmasters have become increasingly vocal about the need for more stringent regulations regarding the use of electronic devices at tournaments.
British grandmaster Daniel Gormally said last month that there are "a few players in English chess whose 'improvement' [he has] found a bit suspicious, to say the least."
"The problem is that computers are so powerful," he added. "It's just a shame because now when you see someone have a significant improvement you think 'hang on, wait a minute' and it shouldn't be that way."
"Of course, you can't prove it. If somebody wants to go to the toilet once or twice in a match you wouldn't be suspicious, but they could easily look at their phone and gain a significant improvement."