Apple's dwindling iPod lineup to see long-awaited refresh this year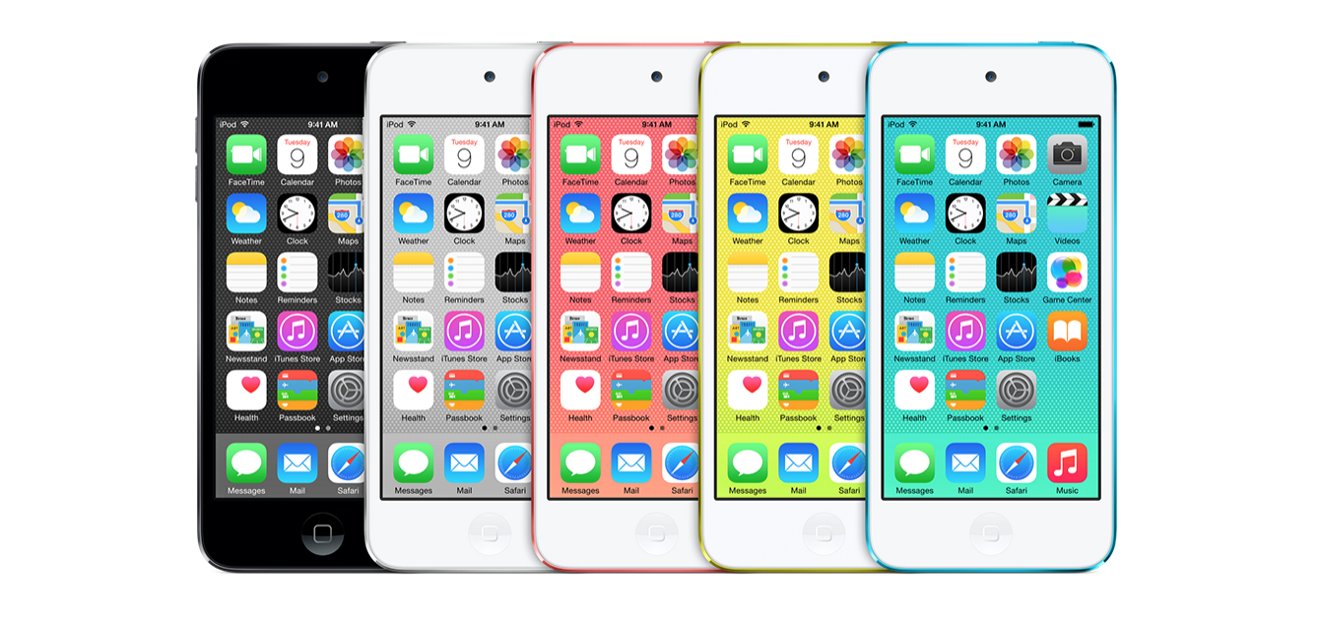 Though the iPod lineup has not seen any significant changes since late 2012, Apple will revisit its media players this year with an anticipated update to at least one model, a source has told AppleInsider.
A source familiar with Apple's future product plans indicated that Apple's iPods — specifically the largest-screened model, the iPod touch — are expected to see an update later this year.
The source suggested that Apple could retain the same 4-inch screen size as the current iPod touch model, though they didn't offer any certainty on that front.
Though the iPod lineup has been neglected for years, this year could be an opportune time for an update, as Apple works to further integrates Beats products into its ecosystem. The popular headphone maker was acquired for $3 billion last year.
The last meaningful update for the iPod touch came in 2012, but Apple's acquisition of Beats could play a role in a long-awaited refresh.
If previous iPod touch updates are any indication, it's likely that Apple will recycle parts from previous-generation iPhones. Given that the current iPod touch lineup features the A5 chip that was used in the iPhone 4S Apple released in 2012, there are plenty of newer — Â and more powerful — Â options for the company to turn to.
The A6 processor introduced in the iPhone 5 continues to be produced for the iPhone 5c, making it a potential candidate for an iPod touch refresh. There's also the A7 processor from the iPhone 5s, which would make the device the first iPod touch with a 64-bit processor.
Another area where the iPod touch could see an upgrade is storage: Apple currently offers its media player in capacities of 16, 32, and 64 gigabytes. But the iPhone 6 and iPhone 6 Plus come with a higher-capacity option of 128 gigabytes that could make its way down to the iPod lineup.

The cameras in the iPod touch could also see an upgrade, as current models feature a 5-megapixel iSight camera capable of 1080p video with image stabilization. The device's forward facing FaceTime Camera is capable of 720p video.
iPods have become less of a focus for Apple as sales have declined. The company no longer reports unit sales for iPods, lumping them in with services and the upcoming Apple Watch.
But in the last period when iPod sales were reported, which was the fourth quarter of fiscal 2014, sales were just 2.6 million units, earning the company a mere $410 million in revenue.
As sales have slid, Apple has made a few tweaks to its entry-level iPod touch over the last few years, revising components and adjusting its price. But the base fifth-generation iPod touch has not been updated since September of 2012.
Given dwindling sales for the iPod lineup, it would not be surprising if a next-generation iPod touch were to keep the same general design as the existing model.
For the last two and a half years, the iPod touch has had a 6.1-millimeter thick design with a 4-inch Retina display. It has support for the Siri voice-driven personal assistant, Apple's Lightning connector for charging and syncing, and it comes in six colors.
A unique aspect of the iPod touch not found with other Apple devices is the Loop accessory, a lanyard that allows the portable device to be securely attached to a user's wrist.