Developers may not receive special Apple Watch orders early as promised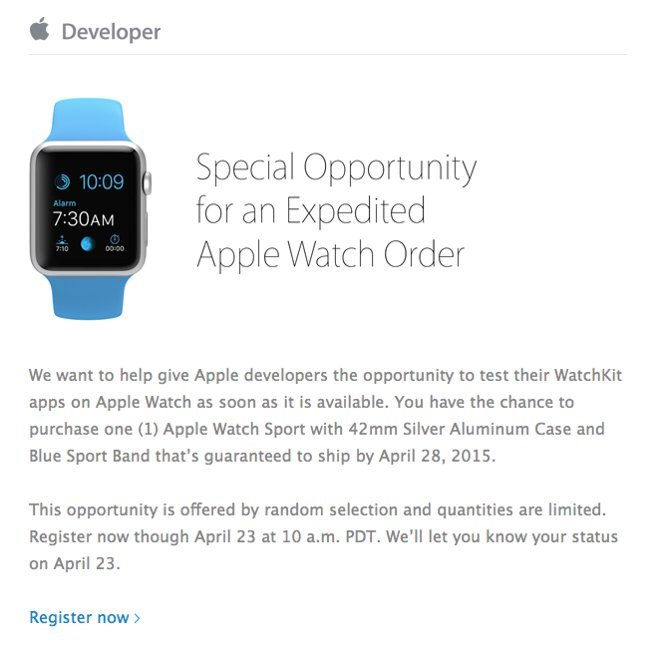 A number of developers selected to receive a special batch of Apple Watch units promised to ship on Tuesday are still seeing their orders as "processing," suggesting Apple is falling behind on "developer special" orders.
Apple last week announced it would mete out a small supply of Apple Watch units to developers in hopes of kickstarting software development for the device. Developers were selected at random and offered a chance to buy a 42mm Apple Watch Sport with blue Sport Band, with orders promised to ship by April 28.
According to developer of short-term social communications app Dancetron Richard Bottoms, who was accepted into Apple's program, his Watch order is still being processed with an estimated shipping date in June. Other developers reported on Twitter that they are seeing identical ship-by times.
Prior to launch, Apple allowed only a handful of companies access to Watch hardware, meaning smaller developers had to make do with virtual machines or code by guesswork. As a result of restricted access and extremely constrained launch supply, some developers have yet to lay hands on Watch.
With only a few hours left to prepare orders and ship them out, it is not clear if Apple will meet its self-imposed shipping deadline. The number of developers affected by the potential delay is unknown.
Apple launched Apple Watch with a robust App Store offering of more than 3,000 titles, each specifically designed to take advantage of the wearable's hardware. During Apple's quarterly earnings conference call on Monday, CEO Tim Cook said the number of apps tailored for Watch now stands at more than 3,500.