Carl Icahn sets new Apple target of $240 per share, valuing company at $1.4 trillion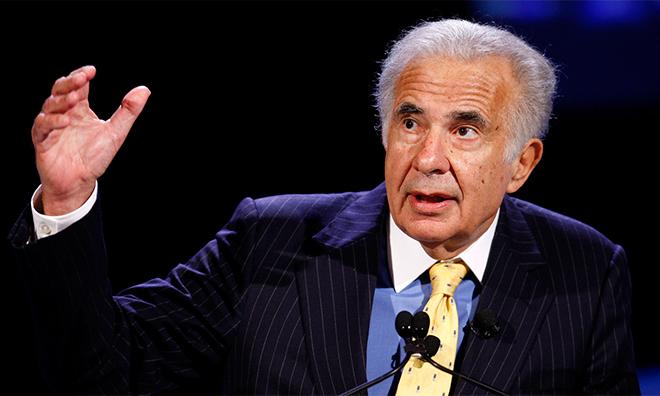 In his latest open letter to Apple Chief Executive Tim Cook, billionaire activist investor Carl Icahn has said he believes shares of the company should currently be trading at more than $100 higher than their current valuation.
Icahn's $240 price target for Apple is what he believes the company should be trading at today, not in 12 months. At a value more than 80 percent higher than the company's current stock price, his assessment would push Apple's market capitalization to nearly $1.4 trillion.
The Apple shareholder's take was published on his website, Shareholders' Square Table, on Monday. In the letter, Icahn praised Cook and Apple's management team for the company's continued growth.
His valuation of $240 per share forecasts fiscal year 2016 earnings per share of $12.00, plus net cash of $24.44 per share.
Icahn believes Apple will enter the television market next year, and will sell an automobile by the year 2020. His predictions call for the company to "dominate" those product categories.
The investor also commended Apple for repurchasing $80 billion worth of shares, but once again pushed the company to buy back even more. While he welcomed the recent $50 billion buyback increase announced in April, Icahn also believes Apple could do more to return value to shareholders and invest in itself.
"It is our belief," Icahn wrote, "that large institutional investors, Wall Street analysts and the news media alike continue to misunderstand Apple and generally fail to value Apple's net cash separately from its business, fail to adjust earnings to reflect Apple's real cash tax rate, fail to recognize the growth prospects of Apple entering new categories, and fail to recognize that Apple will maintain pricing and margins, despite significant evidence to the contrary Collectively, these failures have caused Apple's earnings multiple to stay irrationally discounted, in our view."

Back in February, Icahn had publicly set a $216 price target for shares of AAPL, again a value he said the company was worth at the time, not in the future.
In the past, Icahn called Apple's cash position an "excessive liquidity," which he believes should spur the company to adopt a "more aggressive pace" in buying back its own shares. While Icahn has praised Cook and Apple's management team for making blockbuster products, he has taken issue with their financial management.
But the relationship between Icahn and Apple is far less contentious than in late 2013, when Icahn attempted to file a shareholder proxy vote to push Apple to repurchase more of its own shares. Icahn eventually dropped that initiative after Apple bought some $14 billion worth of its own shares in a matter of weeks in early 2014.
As of August 2014, Icahn had some 45 million shares in AAPL stock, making him a considerable investor in the iPhone maker. His position in the company, and stature on Wall Street, earned him a private meeting with Cook in 2013.