Apple Music ad blitz moves to Times Square with Beats 1 billboard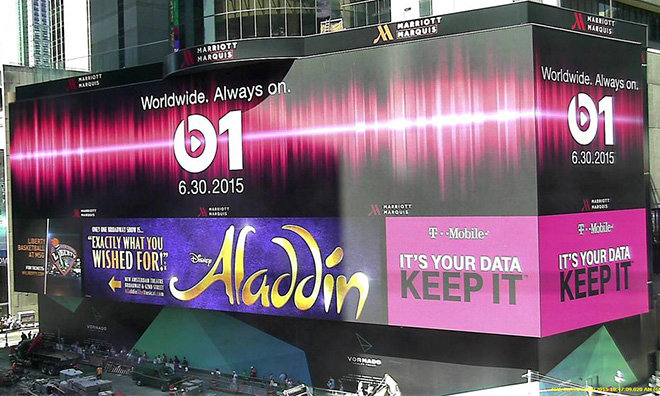 In preparation of the upcoming Apple Music launch on June 30, Apple installed a gigantic billboard in Times Square this week advertising its unique live-streaming Beats 1 radio service.
Posted to Twitter by Beats 1 DJ Zane Lowe, the banner, sporting the catch phrase "Worldwide. Always on," dominates a billboard adorning the facade of the Marriott Marquis hotel. Apple shares ad space with T-Mobile, Disney's Aladdin Broadway musical and Liberty Basketball.
Located one block from Times Square, the Marriott Marquis New York is an impressive building popular among companies looking to enhance brand awareness on its block-wide billboard. Ironically, the most recent Google Maps Street View photo of the area shows that same ad space occupied by Android's "be together. not the same." campaign.
The physical ad is one of the first to promote Beats 1 separately from its host service Apple Music, which itself has enjoyed a huge media presence. Announced at WWDC earlier this month, Beats 1 is a live, always-on Internet radio station helmed by Lowe, who will DJ from Beats' headquarters in Los Angeles. DJs Ebro Darden in New York, Julie Adenuga in London, celebrity guest DJs and others will provide broadcasts to listeners in more than 100 countries.
Apple's upcoming subscription-based streaming service launches on June 30 priced at $9.99 for single users and $14.99 for families up to six people. Beats 1 radio is available without a subscription.