Option for high-quality Apple Music streaming over cellular shows up in iOS 9 beta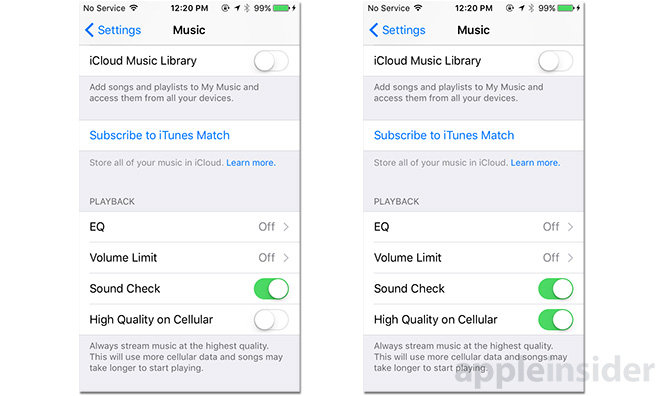 It appears Apple is planning to give on-the-go Apple Music users the option to stream tunes at high bitrates when iOS 9 debuts later this year, as the latest beta released Wednesday includes a toggle switch for high quality audio streaming over cellular networks.
Currently, Apple Music automatically adjusts streaming bitrates based on a determination of whether an iPhone or iPad is connected to Wi-Fi or a cellular data network. Through a Settings menu option in iOS 9 beta 3, however, users can force Apple Music into streaming high quality audio at all times.
Shortly after Apple Music launched with iOS 8.4, Apple SVP of Internet Software and Service Eddy Cue confirmed the service varies bit rates depending on whether a device is connected to Wi-Fi or cellular. The measure is commonly instituted by streaming music services to offer customers an acceptable listening experience, while saving them money on costly mobile data plans.
Competitors in the space are already fielding similar options, including companies like Jay-Z's Tidal which actively tout high-bitrate streaming as part of their marketing strategy.
With iOS 9 beta 3, Apple includes a brief warning to users not familiar with high bitrate streaming, saying, "This will use more cellular data and songs may take longer to start playing."
Exact Apple Music bitrates remain undisclosed, though previous reports claimed streams max out at 256kbps, lower than offerings from Spotify and the erstwhile Beats Music. Debate rages on over whether bitrates are an accurate indicator of audio quality, however. Since higher bitrates carry more information, some argue that higher quality audio logically follows, while others contend efficient file formats like AAC can achieve equivalent or better sound with lower overhead.
In any case, the iOS 9 streaming option is a welcome addition for those with a penchant for high-quality sound and who also have large or unlimited data allotments.