Apple's new iPod touch debuts underclocked but powerful A8 SoC, Bluetooth 4.1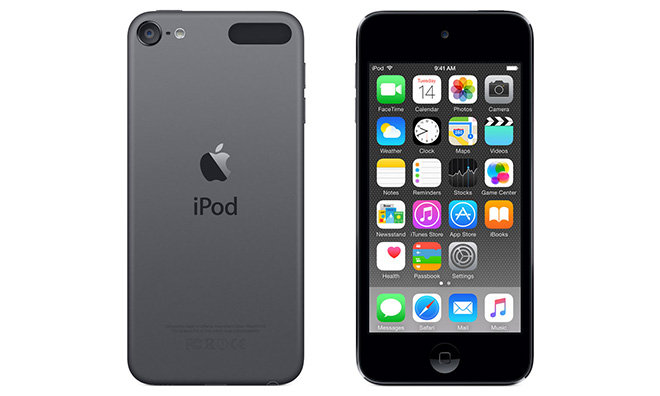 AppleInsider is supported by its audience and may earn commission as an Amazon Associate and affiliate partner on qualifying purchases. These affiliate partnerships do not influence our editorial content.
Wednesday's iPod touch release marked a number of firsts for Apple, including two major modifications to existing technologies in an underclocked A8 system-on-chip silicon and a communications package boasting the Bluetooth 4.1 Core Specification.
Although the A8 system-on-chip incorporated into Apple's latest iPod touch models are clocked at lower speeds compared to other A8-toting devices, the silicon is plenty fast for what is essentially a stripped-down 4-inch version of the iPhone 6. Any perceived loss in speed is likely more than made up for in power savings, as the iPod touch must pack its internals into a chassis 0.6mm thinner than Apple's current iPhone.
At 1.1GHz, the iPod touch's A8 is clocked well below the same component on iPhone 6, which runs its SoC at 1.39GHz. Still, according to benchmarks snagged by TechCrunch, iPod touch is no slouch when it comes to performance and turned in a Geekbench single core score of 1,379 and a multi-core score of 2,440. The results match up with iPhone 6 scores submitted to Geekebench Browser, which showed rough single- and multi-core score averages of about 1,600 and 2,900, respectively.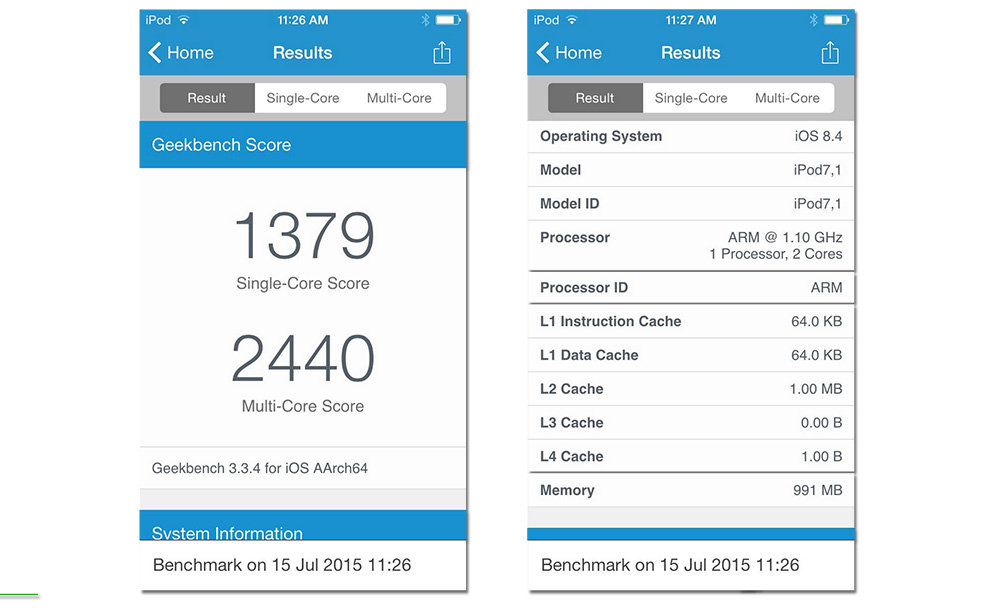 A more thorough test will reveal to what extent the underclocked A8 affects iPod touch battery life.
Apple also chose to include the Bluetooth 4.1 Core Specification in today's iPod touch release, an evolutionary change over the 4.0 version currently deployed in all current iOS products. According to a press release put out by the Bluetooth Special Interest Group (SIG) in 2013, the 4.1 specification offers expected gains in speed and reliability. In addition to improvements to data transfer and connection capabilities, the Core Specification is able to better coexist with cellular technologies like LTE.
Perhaps more importantly for Apple, Bluetooth 4.1 offers the potential of a dedicated channel for IPv6 connectivity which, in conjunction with Bluetooth Smart, is one way to power so-called Internet of Things devices. Apple is pushing hard to get third-party HomeKit products out the door, but so far reviews have been mixed. Pundits are excited about the smart home solution's potential, especially considering Apple's aptitude for creating cottage industries built around flagship products, but some have commented on unstable inter-device connectivity and a sometimes squirrelly Siri interface.