New video gives clearer look at display assembly purportedly for Apple's 'iPhone 6s'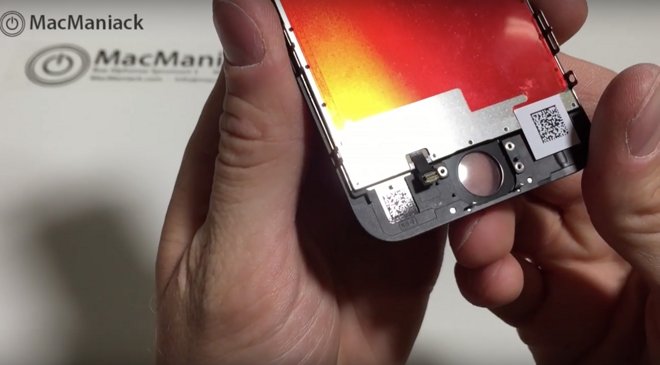 AppleInsider may earn an affiliate commission on purchases made through links on our site.
With Apple expected to unveil its next-generation iPhone in less than a month, parts leaks continue to plague the company's massive supply chain, as a display assembly supposedly headed for the updated handset has been examined in detail in a new video.
The assembly in the video is superficially identical to parts that have shown up from China in recent weeks, with a slightly different configuration than the iPhone 6 but a similar overall design. According to European repair firm MacManiack, which acquired the assembly from a supplier, the dimensions are identical to the iPhone 6 version.
The locations of the FaceTime camera and proximity sensor also mirror the current model, but the ribbon connectors have been slightly altered. Additionally, the shielding on the back of the LCD is glued into place, another variation from the iPhone 6.
Apple has apparently chosen to integrate the home button — Â and accompanying Touch ID sensor — Â with the LCD and digitizer connectors, possibly in a bid to save space or make assembly simpler. The firm believes that a new connector on the display assembly's rear points to Force Touch, but this is conjecture and other rumors have painted different pictures of that connector's purpose.
Apple is expected to announce the new iPhone, alongside an updated Apple TV, at an event on Sept. 9. Technological improvements headed for the so-called "iPhone 6s" likely include a new A9 processor, Force Touch, and an expansion to 2 gigabytes of onboard RAM.