Second Apple v. Samsung damages retrial set for March or April 2016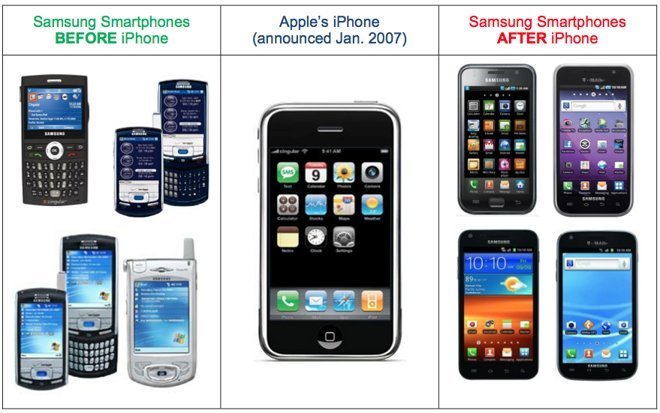 A California federal judge presiding over the ongoing Apple v. Samsung legal spat on Tuesday set a March or April 2016 start date for the case's second damages retrial, an action that could see Samsung pay out some of the $548 million it owes for infringing on Apple's patents.
In her case management order, U.S. District Court Judge Lucy Koh said she is moving forward with retrial proceedings after receiving an official mandate from the Court of Appeals for the Federal Circuit. Last month, the CAFC denied Samsung's petition for an en banc rehearing of a prior decision that left the company saddled with $399 million in damages ruling, kicking the case back down to district court.
It appears that Judge Koh is looking to expedite an outcome, as she is not allowing either party to float new theories in the upcoming retrial. As it stands, the trial will calculate correct damages for five — long discontinued — Samsung products found to have infringed upon six Apple patents. Given the limited scope compared to 2013's partial retrial Judge Koh is allowing seven days for trial proceedings, including opening statements and closing arguments.
The retrial will be the third jury trial in the original Apple v. Samsung court case, which initially left Samsung on the hook for $1.05 billion, and the forth such action to come before Judge Koh's court as part of the companies' wider patent struggle. Subsequent retrials and CAFC decisions successfully argued by Samsung whittled Apple's award down to $548 million.
Last week both parties filed a flurry of documents including requests for a partial final judgment from Apple and a Samsung motion to stay trial proceedings on grounds of patent invalidity findings. After Samsung lodged an objection to Apple's proposal last week, the fifth back-and-forth filing in four days, Judge Koh banned both sides from entering briefs.
With the CAFC mandate handed down, Judge Koh ordered Apple to issue responses to Samsung's prior objection and motion for judgment as a matter of law by Sept. 8 and Sept. 9, respectively. The jurist took time to note in her order that Apple is still limited in its filing capacity.
Apple and Samsung have to file joint case management statements by Sept. 11 before meeting at the San Jose Courthouse on Sept. 16 for a case management conference.