Rumor: Apple acquires real-time motion capture firm Faceshift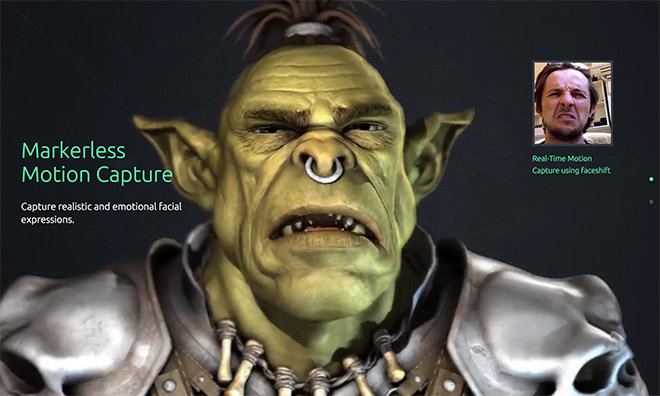 A report on Friday claims Apple has potentially purchased Faceshift, a Swiss firm working on real-time facial motion capture animation through proprietary markerless technology.
Unlike traditional motion capture technology, which uses stick-on markers as reference points to track facial expressions, Faceshift's solution relies on powerful facial recognition software and 3D sensors to drive animations. The company's previous offerings included Faceshift Studio, a piece of software that featured animation plugins for Maya and Unity. Various consumer iterations were in development, including a Skype plugin for real-time animated chats.
Citing a Swiss company registry filing from August, MacRumors notes Faceshift was recently acquired by an outside company, with three corporate directors replaced by Baker & McKenzie attorney Martin Frey. While Frey does not appear to have prior connections to Apple, the Cupertino company has been known to conduct legal operations through Baker & McKenzie.
Further, key employees like Doug Griffin, a veteran in the computer graphics industry, and Steve Macdonald are seemingly no longer with the company, as seen in their respective LInkedIn bios. Apple is staying mum on the subject, however, as are former employees.
Apple does not comment on rumor or speculation, a company representative said.
If Apple did indeed purchase Faceshift, it wouldn't be the first time the company expressed interest in facial recognition technology with its wallet. In 2010, Apple bought Polar Rose, a Swedish firm that developed software capable of recognizing users based on facial characteristics. Apple also acquired Israeli PrimeSense in 2013, a company best known for its collaboration on Microsoft's Kinect system for Xbox.
Apple's interest in facial recognition and 3D rendering technology is well documented in the company's patent portfolio. Not much has been seen in the way of shipping products outside of the Photos app, which recognizes faces for automatic image sorting.