Apple Stores show off 3D Touch on iPhone 6s with interactive LCD display tables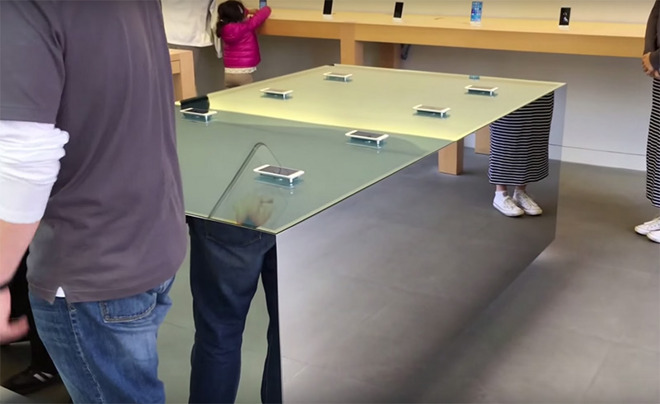 AppleInsider may earn an affiliate commission on purchases made through links on our site.
To expose a wider audience to the new 3D Touch capabilities of iPhone 6s, Apple installed massive display tables outfitted with interactive screen surfaces at two flagship U.S. Apple Stores this week.
As seen in the video below, furnished by YouTube channel Grate App, the large metal-clad installations are basically oversized LCD panels made into tabletops, onto which are attached eight iPhone 6s handsets.
Each iPhone displays an animated Betta fish — stars of the new 3D Touch-enabled wallpaper included in iOS 9 — that react to a customer's taps and deep presses. When 3D Touch is invoked, a ripple animation on iPhone's screen propagates outward from a user's finger and onto the display table. While the video's narrator refers to the installation as a "Force Touch table," the hardware does not appear to have touchscreen functionality built in, instead relying on input from what looks to be custom iPhone mounts.
In both stores, the iPhone demo tables are attended by at least two employees tasked with demonstrating 3D Touch functionality and helping customers try out the feature for themselves. They are also armed with microfiber cloths to keep things clean, as evidenced by one attendant who can be seen frenetically wiping down the large screen and its shiny metal encasing in the video below.
According to Apple Store staff, only two of these iPhone 6s display tables exist, one located in New York and another in San Francisco. It is not known if Apple intends to roll out additional units at other Apple Store locations, make the tables permanent fixtures or extend the concept to other product lines like MacBook.
Apple introduced 3D Touch as a tentpole iPhone 6s feature in September. Integrating the technology required substantial internal changes compared to last year's iPhone 6, including the addition of an all-new pressure-sensing layer to iPhone's display assembly, a new flexible cover glass material and the inclusion of Apple's Taptic Engine.
The company is focusing on 3D Touch in this year's iPhone ad campaign, touting the tech as a completely new mode of user interaction. The latest spot aired yesterday showing off "Peek and Pop" features for first- and third-party apps.