Swiss watch sales decline 2-3x faster than predicted for September as Apple Watch expands its reach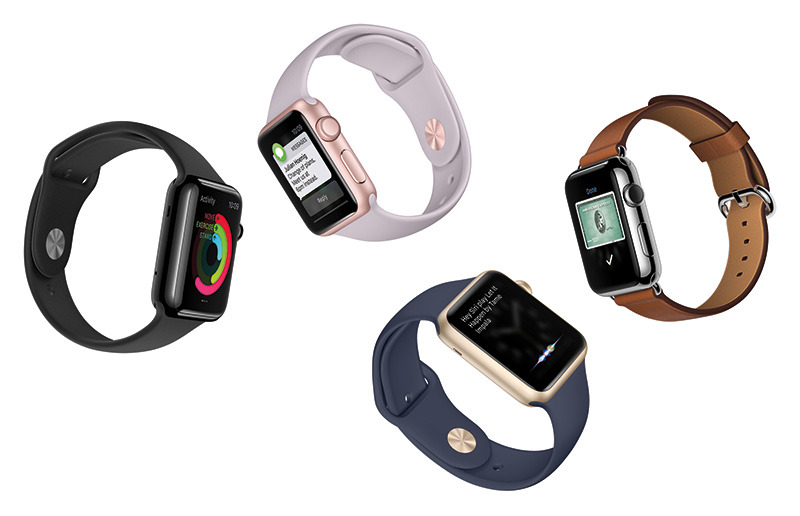 Swiss watch exports suffered their largest quarterly drop since 2009 during Q3, with "plummeting sales" in Hong Kong and China, as well as major declines Singapore, Taiwan, the Emirates and South Korea, all previously "robust Asian markets."
Apple Watch a prime suspect in the case of the missing Swiss watch exports
The Federation of the Swiss Watch Industry, according to a report by Reuters, stated that a "marked decline" in exports for the month of September (falling 9.9 percent) contributed to an overall drop of 8.5 percent for the quarter.
"This negative change has spread to other, hitherto more robust Asian markets, and casts something of a shadow over prospects for the year 2015," the Federation stated.
Swiss watch sales in Asia were down 12.7 percent, leading Reuters to note that "September watch sales abroad significantly undershot analysts' expectations, posting declines that were double to triple what analysts had forecast."
While the report stated that all "all price segments were impacted," the biggest drop occured within the $200-$500 segment, where sales fell by 14.5 percent, "igniting concerns that the Apple Watch could finally be taking a bite out of the Swiss industry's stake."
Although many Swiss watchmakers have gone on the record as dismissing Apple Watch as a threat, Swatch co-inventor Elmar Mock predicted this spring that Apple Watch would "put a lot of pressure on the traditional watch industry and jobs in Switzerland," noting that "anything in the price range of 500 francs to 1,000 francs ($500-$1,000) is really in danger."
During the first calendar quarter of 2015, the Swiss National Bank increased its holding of Apple stock by 60 percent to 8.90 million shares.
In May, we noted in a visit to Switzerland that even prior to its official launch, Apple Watch was already being promoted in the company's heavily trafficked retail stores (below, Zurich), generating significant interest in the country famous for its own watch making industry.
Apple's sales are primarily targeted at the same markets as Swiss watchmakers, in particular China, where third party retailers were similarly promoting Apple Watch this spring even before it went on sale.
Swatch follows the Nokia playbook
Swiss watchmaker Swatch was noted in the report as being "the only Swiss player which also has a strong position in low to mid-end segments," as detailed in a sector report by Bank Vontobel, with a 60-65 percent share of those markets.
Despite Swatch having the most exposure to Apple Watch, the bank's analysts "remained optimistic that, due to the group's technology know-how, it would offer its own smartwach [sic] offerings to compete with the Apple Watch and its likes," Reuters stated.
Swatch recently introduced a watch in China (below) with electronic payment features, a feature comparable to Apple Pay. Apple hasn't yet brokered deals with banks to enable Apple Pay outside of the U.S. and U.K.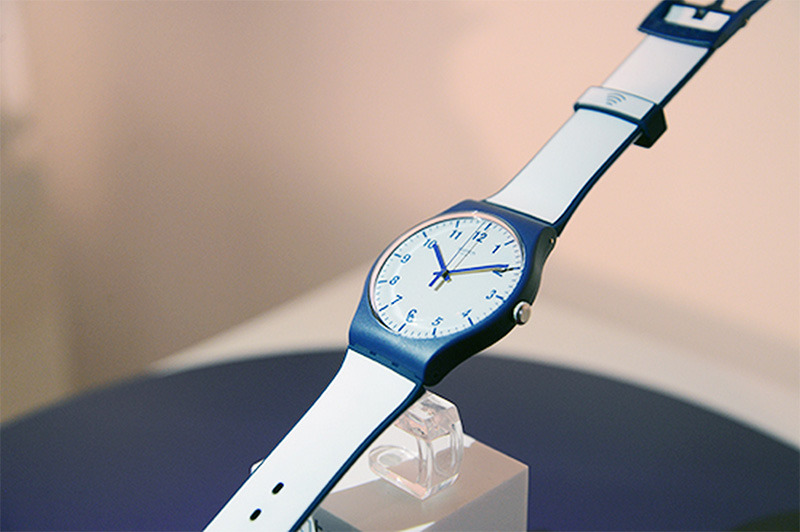 Swatch's Bellamy watch launched in China on Wednesday with support for NFC mobile payments. Source: Sina Weibo
Apart from wrist payments and telling time, Swatch CEO Nick Hayek doesn't expect to compete against Apple Watch in more sophisticated phone calling features, or in introducing a software app platform.
"We are not a consumer technology company," Hayek stated. "We don't want to produce a reduced, minimized mobile phone on your wrist."
In August, Hayek dismissed Apple Watch as being "an interesting toy" and implied that Apple collected "blood pressure and blood sugar values" and stored them on its own servers, revealing either a gross ignorance about his competition or a willingness to knowingly spread false information about rivals.
Hayek's status quo defense strategy sounds reminiscent of Nokia's 2007-2010 doubling down on simple phones in competition with Apple's iPhone, which was more of an advanced handheld computer platform than another basic cell phone with PDA features.
Once Nokia realized the need to compete with Apple as a technology company— rather than just making more of the same phones it had been making to maintain its market share prior to iPhone— the window of opportunity had closed.
Outsmarting the Smartphone and smartwatch vendors
Blackberry similarly focused on selling simple JavaME-based phones with keyboards, a strategy that failed alongside Nokia. Google also initially planned for its Android project to release a Java button phone.
However, Google was fastest to drop its own basic phone work to copy Apple's much more sophisticated iPhone design instead, enabling it to stay relevant in the iPhone era, even if its open software giveaway strategy couldn't manage to approach Apple in profitability.
Among watches, Google pushed out multiple Android-based efforts to beat Apple to market, but none of them have achieved any success. That's particularly clear in comparison to Apple Watch, which steamrolled the minor sales of Android Wear right out of the gate and has largely extinguished any remaining interest in the platform.
Samsung, Google's largest licensee, introduced its own Tizen-based smartwatch platform years before Apple Watch, but similarly failed to convince many users to adopt any one of its variety of wrist based devices.
At the corner of Technology and the Liberal Arts
A major aspect of Apple's success with Apple Watch has been its attention to fashion, with a broad selection of watchband types, finishes and colors to make the technology of the device relatable and relevant to a broad selection of users, not just computing enthusiasts.
Outside of Apple, other "smartwatch" vendors have almost entirely focused on selling to budget-minded, spec-salivating tech audiences, while existing watch makers (including Swatch) have primarily targeted fashion alone, without investing in advanced technology capable of integrating wrist-worn devices with smartphones, tablets, desktop computers, Bluetooth peripherals and devices and WiFi networking.
That's the same set of conditions that enabled Apple to beat both larger tech industry competitors such as Microsoft and consumer electronics manufacturers such as Sony in one market after another, from iPods to iPhone to iPad, over the past decade.
This year, Apple has focused on expanding Apple Watch while also introducing a new, more powerful Apple TV into the similarly-aligned market for home entertainment.