Apple features 'amazing' apps and games for iPad Pro in iOS App Store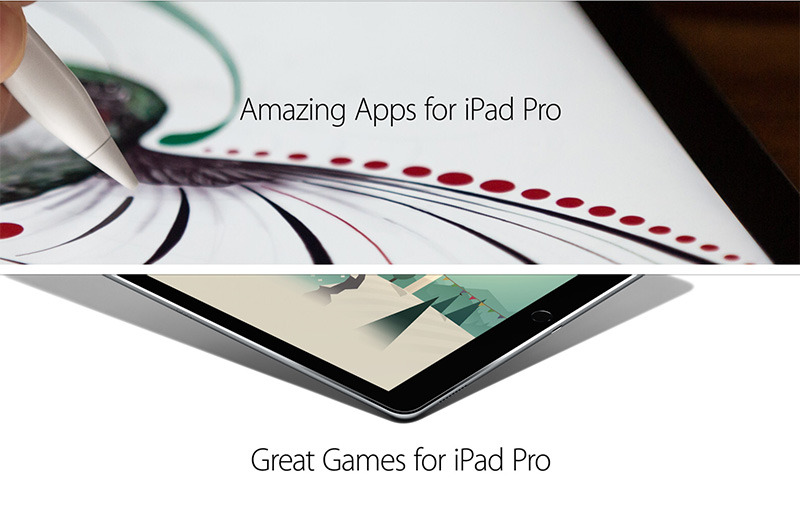 One day after launching its extra large iPad Pro, Apple is throwing a spotlight on apps that take advantage of the tablet's massive 12.9-inch Retina display, titles compatible with Apple Pencil, "desktop-class" software, games and more.
Apple introduced two new iPad Pro-centric categories to the iOS App Store's carousel on Thursday. "Amazing Apps for iPad Pro" covers general app genres like productivity, art and utilities, while a smaller selection of "Great Games for iPad Pro" highlights titles that put an emphasis on presentation.
At the top of "Amazing Apps" is a list of software boasting built-in support for the — currently unavailable — Apple Pencil including uMake, Procreate and Paper. Apple's own iWork suite sits next to Microsoft's productivity apps in the desktop-class apps section, while "Powerful Multitasking" offers a variety of choices including popular titles Curator and Todoist.
Of particular interest to artistic users is a selection of photography and videography apps like iMovie, Adobe Photoshop Fix and Enlight, all well-suited to for editing on iPad Pro's large canvas. "Better with a Bigger Screen" and "Immersive Experiences" include a smattering of miscellaneous titles like Netflix, iTunes U and Sky Guide, the latter of which was recently featured in Apple's first iPad Pro ad.
Apple splits "Great Games" into three subcategories, one for visually impressive games, another touting those with "Fantastic Sounds" and a third catchall list mainly comprised of former Editors' Choice titles and App Store chart toppers. Most of these curated games — Shadowmatic, The Room Three, Badland, among others — were previously featured as standout iPhone titles.
The iPad Pro launched shortly after midnight on Wednesday alongside the new Apple Pencil stylus and Smart Keyboard. While all tablet models were available for same-day in-store pickup, estimated delivery times for both accessories started out at one week. Apple has since sold through most of its launch day allotment of 128GB iPad Pros, though 32GB models can be found at many brick-and-mortar Apple Store locations nationwide. Apple Pencil and Smart Keyboard orders continue to pile up, with current ship-by dates pegged at 4 to 5 weeks.