Silicon Valley bracing for severe El Nino flooding; Apple, Campus 2 outside primary flood zone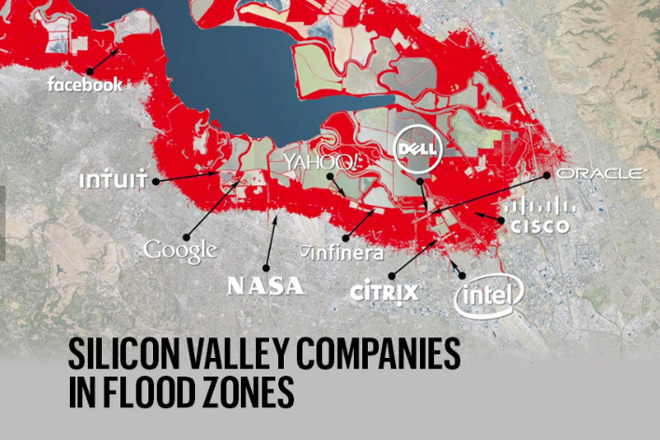 AppleInsider may earn an affiliate commission on purchases made through links on our site.
After years of crippling drought, California is now entering a powerfully wet El Niño weather pattern that is predicted to bring record precipitation. Flooding in coastal areas along San Francisco Bay poses risks of devastating economic impacts for the region, although Apple's principal offices centered in Cupertino should help it avoid much of the impact.
According to a report by San Francisco Business Times, flood plain data from the U.S. Federal Emergency Management Agency paints a dire prospect of flooding risk for many Silicon Valley firms, including Facebook and Google, both of which have their headquarters located along the South Bay shoreline, north of Highway 101.
Facebook's headquarters Menlo Park are literally surrounded by a Bay slough, while the Googleplex in Mountain View campus lies next to the waterfront Shoreline golf course, straddling Permanente Creek.
This winter's El Niño is expected to hit with a vengeance later this month or into December. California and Nevada have already received record levels snow in the Sierra Nevada mountains, marking the wettest start to the rainy season since records began in 1893. Unusually wet weather is also causing mudslides further south in Los Angeles.
"We have about 200 square miles of land which is going to be vulnerable to flooding," reported Jeremy Lowe, senior geomorphologist with the San Francisco Estuary Institute.
Mike Mielke, the senior vice president of Environment & Energy for The Silicon Valley Leadership Group— which represents hundreds of businesses in the region— noted that "many of the companies that power the Bay Area's economy are built right along the shoreline. That means flooding from the next severe storm could devastate the region and have lasting impact on our region's-and the state's-economy"
Apple's facility planning incorporates climate change
Apple's primary facilities located inside the red flood zone about appear to be its original Newark Data Center, acquired in 2006 (located at the top center of the map, above).
However, most of Apple's active iCloud data center facilities are located in other states, including facilities in Maiden N.C., Reno, Nev., Prineville, Ore. and other locations overseas (including new sites planned for Europe).
All of those locations were built after Newark was acquired in 2006, and all have expanded rapidly. In locating, building and expanding its data centers, Apple is giving particular attention not only to sustainable energy use, but also external risks posed by natural disasters, including flooding and other issues raised by global climate change.
Apple's current primary Infinite Loop Campus, along with a series of satellite offices nearby, are located about 9 miles (or 14 km) south of the Bay waterfront, along Interstate 280. Apple's Campus 2 (including Phase 2, both now under construction, are a mile east along 280 (approximately where the "Y" in "Silicon Valley" is on the map above).
In the video above, you can just barely make out the shoreline of the San Francisco Bay on the horizon, about 9 miles to the north of Campus 2. Many other Silicon Valley firms are located directly on the waterfront. That makes both of Apple's primary campus locations much less susceptible to short term El Niño flooding and longer term risks associated with rising ocean levels posed by climate change.
Apple could still be aversely affected by unusually heavy rains, potentially including interruptions of its ambitious construction projects now underway. Employee transportation and other issues could also incur complications, although the company would appear to be one of the least affected, major tech companies operating in Silicon Valley by major flooding.
Outside of Cupertino, the company does have a series of smaller office locations scattered across Sunnyvale (within this same 9 miles of land), just south of Moffatt Field airport and the NASA Ames Exploration Center (labeled as "NASA" in the map above). These too would all appear to be outside of the red area at greatest risk for flooding, however.
These facilities include Sunnyvale Crossing and an adjacent new campus project, currently in planning, that could include another 770,000 square feet of new office space.
Apple has also leased the 101 Tech, a 202,000-square-foot office development in San Jose, just north of the Mineta International SJC Airport. It has plans for building another massive complex on the 86 acres around the site.
This site, too, is south of the red flood zone. SJC airport is just visible in the lower right corner of the map above, and Apple's campus there would be south and east of Intel, one of the firms located on the edge of flood risk.