Apple Music racked up more than 54.5M monthly users in 2015, study says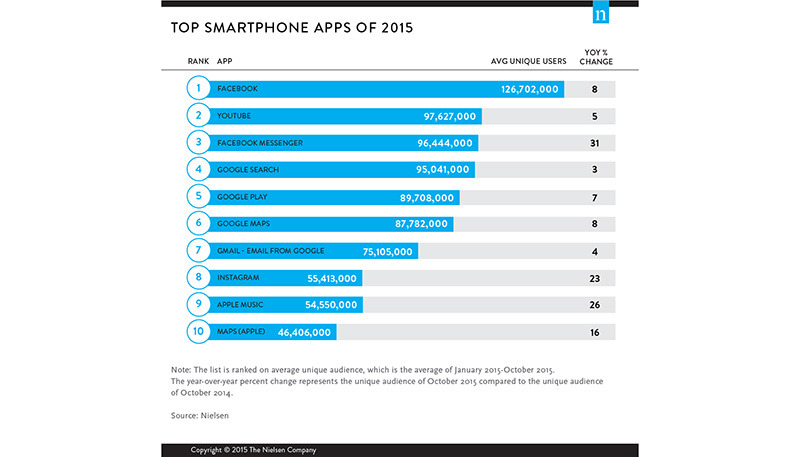 AppleInsider is supported by its audience and may earn commission as an Amazon Associate and affiliate partner on qualifying purchases. These affiliate partnerships do not influence our editorial content.
According to a year end report from consumer research firm Nielsen, Apple Music was one of the most popular smartphone apps of 2015, and with more than 54.5 million monthly users ranked among offerings from Facebook and Google.
Apple's streaming music service came in at No. 9 on Nielsen's Top Smartphone Apps of 2015 chart, notching over 54.5 million average monthly users in the U.S. from January to October. That number is up 26 percent compared to the same time last year, a growth rate second only to Facebook Messenger.
It should be noted that Nielsen's metrics represent average monthly users and do not reflect actual subscriber numbers. The most recent statistics came in October when Apple CEO Tim Cook revealed some 15 million people were using the streaming service, 6.5 million of whom as paying subscribers. Those numbers likely changed when Apple Music launched in beta on Google's Android operating system less than a month later.
Facebook Messenger enjoyed the highest growth rate of 2015 with a 31 percent year-over-year change to end October with 96.4 million users per month. Instagram gained 23 percent from last year with just over 55.4 million monthly users, while Apple Maps managed a 16 percent boost with 46.4 million users.
Overall, Facebook was this year's top smartphone app with 126.7 million users, followed by YouTube's 97.6 million users and Facebook Messenger. Google's branded apps dominated the top 10, going fourth through seventh place with Google Search netting 95 million users, Google Play at 89.7 million, Google Maps at 87.8 million and Gmail with 75.1 million users.
Google's strong showing is in part thanks to Android's command over the U.S. smartphone market. Nielsen notes 53 percent of users polled accessed apps from an Android device, compared to 43 percent for Apple's iPhone.