Apple TV, Apple Watch hottest holiday gifts for AppleInsider readers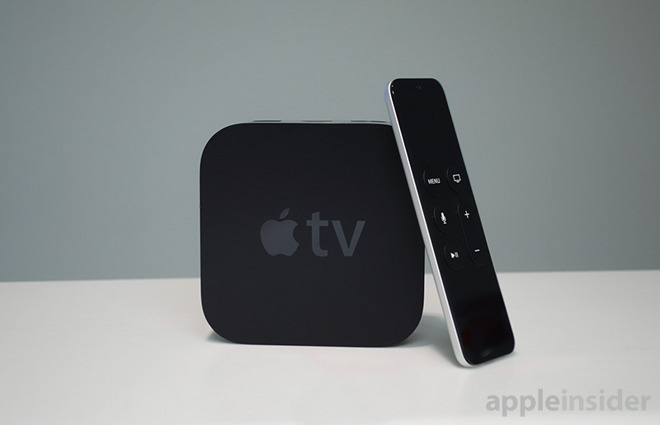 The results of AppleInsider's holiday survey are in, and the hottest Apple gifts for the 2015 holiday season, as selected by you the reader, were Apple TV, Apple Watch and Apple accessories.
Of the more than 13,500 respondents to our poll, over 2,200, or nearly 17 percent, said they received an Apple TV this holiday season, followed by Apple Watch, iPhone 6s and iPad Pro.
Launched in November and priced at $149 equipped with 32GB of storage, and $199 for 64GB, Apple's fourth-generation set-top streamer is one of the latest gadgets to come out of Cupertino. The box features the all-new tvOS operating system with support for a dedicated app store, Siri integration and a revamped touchpad remote control.
Apple Watch was the second most popular device with 12.6 percent, just 70 votes shy of surpassing the catchall "Apple accessories" category. Aside from being a good stocking stuffer, Apple Watch adoption was likely driven by deep holiday discounts offered by Apple resellers like Best Buy, which priced the wearable as low as $249 in the weeks leading up to Christmas.
As Apple's revenue driver, iPhone expectedly ranked among the top gifted items this year, with iPhone 6s and 6s Plus accounting for 8.9 percent of responses. Last year's iPhone 6 and 6 Plus managed a 1.8 percent share in our survey, putting it ahead of iPod, which pulled up in last place with less than 1 percent.
Surprisingly, Apple's jumbo 12.9-inch iPad Pro ended up in fifth place, far outpacing both iPad Air and iPad mini combined with nearly 8 percent of responses. In fact, more respondents received an iPad Pro this year than iPad Air and iPad mini, combined. Industry analysts and pundits have labeled the large-screen tablet as a niche product, citing its high price tag and ungainly form factor. It seems, however, that Apple's biggest iPad is faring well with Apple devotees and early adopters.
A substantial number of readers, specifically 26.6 percent, did not receive an Apple product this year.
Final results
2. Apple accessories (13.12%)
4. iPhone 6s/6s Plus (8.87%)
10. iPhone 6/6 Plus (1.78%)