Photos of purported MacBook Pro chassis surface with OLED touch bar slot, four USB ports, no MagSafe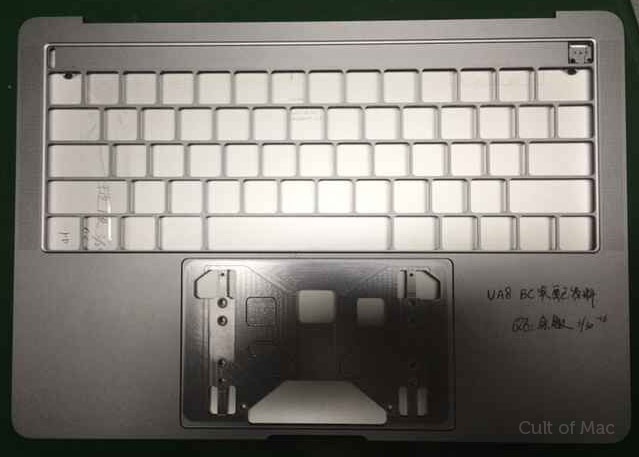 Photos of a supposed next-generation MacBook Pro chassis that surfaced Tuesday appear to support recent predictions that Apple is planning to drastically revamp the laptop's design by adding an OLED touch bar and winnowing down external connections to four USB format ports.
The images, sent to Cult of Mac by an anonymous source said to be within Apple's Chinese supply chain, claim to be the first "spy shots" of a heretofore unknown MacBook Pro. As seen in the picture above, the aluminum laptop chassis follows traditional MacBook design, but lacks a top row of function key cutouts normally found on all Apple keyboards. In their place is a solid groove and what looks to be space for a connector or controller module, suggesting the niche will be used to seat an OLED touch bar forecast by KGI analyst Ming-Chi Kuo last week.
Side views of the purported MacBook Pro part show what seems to be four rounded portholes matching the size and shape of the USB-C standard. Apple is rumored to include USB-C into its upcoming Pro laptop, though initial reports did not mention whether the company plans to use the protocol to also charge the device. This might be the case, however, as a MagSafe power adapter notch is notably absent. MagSafe has long been Apple's standard means of recharging, but the format was deleted in favor of USB-C when the 12-inch MacBook with Retina display launched.
The headphone jack has also been relocated to the right side of the chassis, while speaker grilles flank both ends of the keyboard. Apple's current 13-inch MacBook Pro hides its speakers underneath the keyboard.
Interestingly, the unit does not appear to be much thinner than existing Pro models. In his report, Kuo specifically notes both 13- and 15-inch MacBook Pro variants would be thinner and lighter than current offerings, changes that come part and parcel with keyboard and external connectivity port modifications. While the analyst failed to elaborate on aesthetics, it has been speculated that Apple will borrow liberally from the design language introduced with last year's Retina MacBook.
Today's "leak" is the first to be associated with this year's MacBook revamp, which Kuo says is shaping up to be the most substantial in four years. Apple is rumored to be eyeing a fourth quarter release for the redesigned MacBook Pro, to be preceded by a new 13-inch model for the MacBook with Retina display line.