Apple Pay transactions totaled $10.9B in 2015, suffers growing pains, report says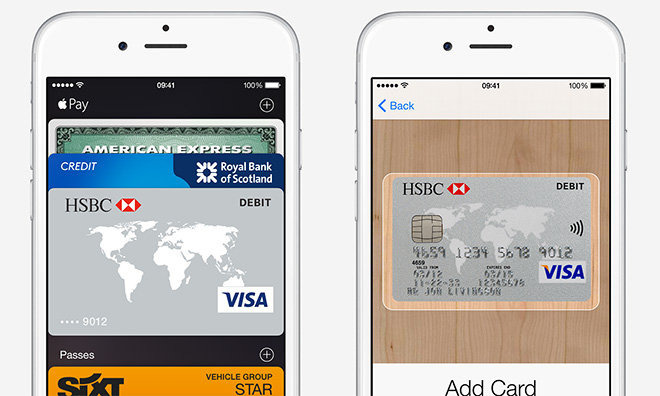 Apple customers who provisioned credit and debit cards with Apple Pay made $10.9 billion in purchases in 2015, a report said Wednesday, suggesting the nascent payments service is — slowly — gaining momentum as the company expands beyond core markets.
Citing statistics from research firm Timetric, Reuters reports U.S. transactions accounted for most of the $10.9 billion sum, characterizing the figure as a "small dent" in the overall global payments market. The publication goes on to claim Apple Pay faces a tough climb internationally, saying resistance from banks and technical issues stand in the way of mass adoption.
Uptake appears to be relatively high with "core Apple followers," but the report lists a number of potential hinderances to wider acceptance by both consumers and banks. For example, Bendigo Bank, a mid-size Australian institution, experienced technical difficulties deploying Apple Pay at certain merchant terminals. A bank representative blamed the issues in part on short lead times for testing.
Apple Pay chief Jennifer Bailey reminded Reuters that problems are likely to arise with the launch of any new technology.
"Like any set of major technology changes, it takes time," she said. "We want to move as quickly as possible, we push it as quickly as possible."
The report went on to cite an anonymous Australian retailer as saying uptake has been slow, while unnamed users of a likewise unnamed Chinese online forum said Apple Pay usability compared poorly to local solutions like WeChat. Reasons for the slow-burn launch include pushback from banks over transaction fees, consumer apathy and technical hurdles tied to rolling out support for backend network technology, among other impediments. Little evidence was offered in support of these assertions, however.
Despite Reuters' classification as a revenue driver, Apple Pay is viewed in a somewhat different light by tech industry watchers. In particular, the initiative is less of a money maker than it is a value added iOS feature designed to increase platform stickiness. In this way Apple Pay is similar to the App Store and iCloud, both important cogs in a larger iPhone sales machine.
Unlike Apple's multi-region hardware product launches, Apple Pay was initially limited to the domestic market after its debut in 2014, and only recently has support been expanded to other major economies.
China is viewed as the most important of these secondary markets given the country's booming consumer base and mature payments infrastructure. Reports claim Apple went so far as to halve its normal going rate, thought to be 15 cents for every $100 in transactions, to get Apple Pay into China. Some 3 million cards were provisioned over the first two days of availability.
Apple Pay is currently live in Australia, Canada, China, Singapore, the U.S. and the UK. In the near term, Apple is focused on expansions into Asia and Europe, with an ultimate goal of serving all major markets in which its products are sold.
Apple has yet to break out official numbers for its Apple Pay business.