Siri response raises hopes for 'dark mode' in iOS 10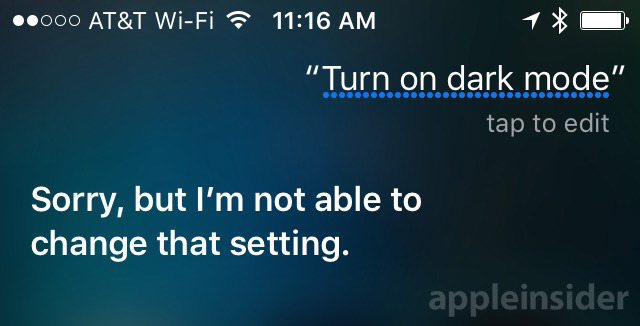 A curious response from Apple's Siri indicates the virtual assistant will soon support "dark mode" settings, suggesting forthcoming integration with OS X, or a highly anticipated introduction of dark mode functionality on iOS.
Spotted by a number of intrepid AppleInsider readers, commanding Siri to enable "dark mode" on an iOS device elicits the response, "Sorry, but I'm not able to change that setting," an unexpected result considering the operating system contains no reference to such features.
Siri normally falls back on a generic "I don't understand" answer when asked to modify an unsupported function. Further, if Siri is unable to customize an existing user option, like powering down an iPhone, she will inform a user of the limitation and apologize.
Apple's iOS does not currently support dark mode, the closest facsimile being Night Shift in iOS 9. Mac users, however, can access a special system setting that changes the menu bar and application dock from light gray to black. The option for "dark" graphics debuted with OS X 10.10 Yosemite in 2014.
Apple in the past dabbled with low-light viewing options, including a nighttime mode for Maps, but has fallen short of introducing system-wide appearance customizations.
The discovery comes one day prior to Apple's Worldwide Developers Conference, where the company is expected to show off the future of its core software platforms, iOS, OS X, watchOS and tvOS. Siri might have already spilled the beans on forthcoming Mac integration, as the virtual assistant was caught responding to queries referencing OS X file management app Finder on Saturday.
WWDC 2016 kicks off with a keynote presentation on Monday at 10 a.m. Pacific. AppleInsider will be covering the event live from San Francisco.