Beijing patent ruling unlikely to hurt Apple in China, RBC & Piper Jaffray say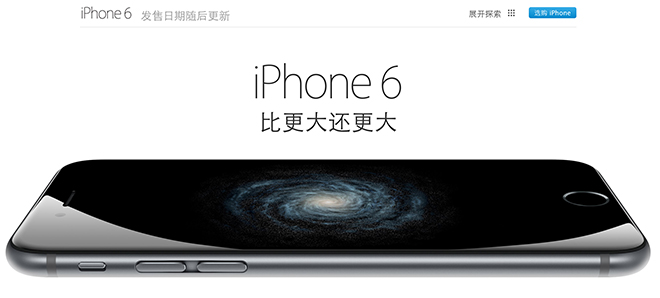 A new patent decision accusing Apple of copying the design of a Chinese-made smartphone will not have a negative effect on Apple's revenue or margins in China, two major investment firms said on Friday.
Following the news that the Beijing Intellectual Property Office ruled against Apple, determining the iPhone 6 and iPhone 6 Plus are too similar to the 100C phone from Shenzhen Baili, both RBC Capital Markets and Piper Jaffray weighed in with notes to investors, and neither of them expressed any concern.
RBC analyst Amit Daryanani said he expects "business as usual" for Apple in China, with "no impact" from the Beijing case. He noted that China intellectual property laws allow Apple to continue selling both the iPhone 6 and iPhone 6 Plus during the appeal phase.
In addition, if the court ultimately rules against Apple in its final decision, it will only apply in the city of Beijing — iPhone sales across the rest of China would be unaffected.
Gene Munster of Piper Jaffray is also unconcerned, and noted that Apple will likely discontinue both the iPhone 6 and iPhone 6 Plus models in September, alongside the launch of the anticipated "iPhone 7." With the newly launched iPhone SE occupying the entry level of Apple's lineup, he believes the two-year-old iPhone 6 series is on the way out.
"Even if the device were banned through all of China for the (September quarter), it would likely be no more than a 2-3% iPhone headwind, or a 1-2% revenue headwind, just for the September quarter," Munster wrote.
Daryanani does expect that the average selling price of the iPhone will trend lower in China, but that has nothing to do with the new ruling. Instead, he believes traction being gained by the iPhone SE could push ASPs lower in calendar year 2016, down from $642 last year toward $633 this year.
With Apple still struggling to keep up with demand for the iPhone SE, Daryanani estimates that the 4-inch handset could account for as much as 25 percent of total iPhone shipments for the June and September quarters.
RBC has maintained a price target of $115 for AAPL stock with an "outperform" rating, while Piper Jaffray is more bullish, with a $153 target and "overweight" rating.