Apple Maps adds 29 Flyover locations, expands traffic and transit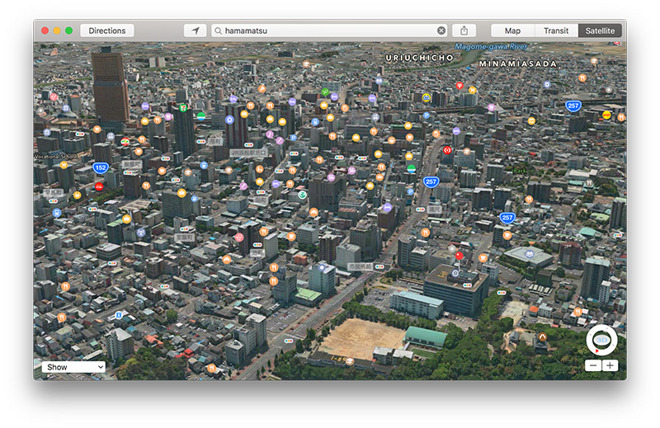 AppleInsider may earn an affiliate commission on purchases made through links on our site.
Continuing its perpetual Apple Maps feature rollout, Apple on Thursday activated Flyover imagery for 29 new locations, while adding traffic and transit data for multiple international locales including Chile and Vatican City.
Posted to Apple's iOS 9 feature availability webpage, today's Maps additions bring 3D Flyover coverage to a number of U.S. cities and popular tourist destinations in Italy, Japan, Mexico and Spain. As noted by Apple, Flyover is now available in the following areas:
Acapulco, Mexico
Akita, Japan
Allentown, PA
Catalina Island, CA
Columbia, SC
Cuernavaca, Mexico
Gijon, Spain
Hagi, Japan
Hakodate, Japan
Hamamatsu, Japan
Hermosillo, Mexico
Kumamoto, Japan
La Paz, Mexico
Leipzig, Germany
Martha's Vineyard, MA
Naples, Italy
Oaxaca, Mexico
Omaha, NE
Pinnacles National Park, CA
Porterville, CA
Poughkeepsie, NY
Puebla, Mexico
Rochester, NY
Springfield, MA
Stoke-on-Trent, UK
Tallahassee, FL
Tsunoshima, Japan
Vigo, Spain
Visalia, CA
Flyover combines high-resolution photos with three-dimensional models to render a virtual bird's eye view of a given city. A competitor to Google's Street View, Flyover lets users quickly scan areas of interest for landmarks, buildings and other hot spots.
In addition to Flyover, traffic data went live in Chile, Hungary and Vatican City.
Apple also added Atlanta, Ga., Denver, Colo., and Miami, Fla. to its running list of Maps locations with public transit information integration. The feature has been available in the Atlanta and Miami markets since early June, arriving in Denver a few days later.
Introduced as part of iOS 9, Transit aggregates data from over 250 transit agencies to offer route information and departure times for a variety of transportation services including buses, trains and ferries. While competing products provide similar functionality, Apple's in-house solution incorporates top-down views of underground subway and train stations, complete with entrances and exits, to help users plan their commute.
Transit is in the process of being built out, with more locations added monthly. Most recently, Apple hinted at plans to introduce the feature in Japan when iOS 10 debuts this fall.
Apple last updated its iOS 9 feature availability webpage in April.