Apple Music's curated music discovery feature goes live for iOS 10 beta users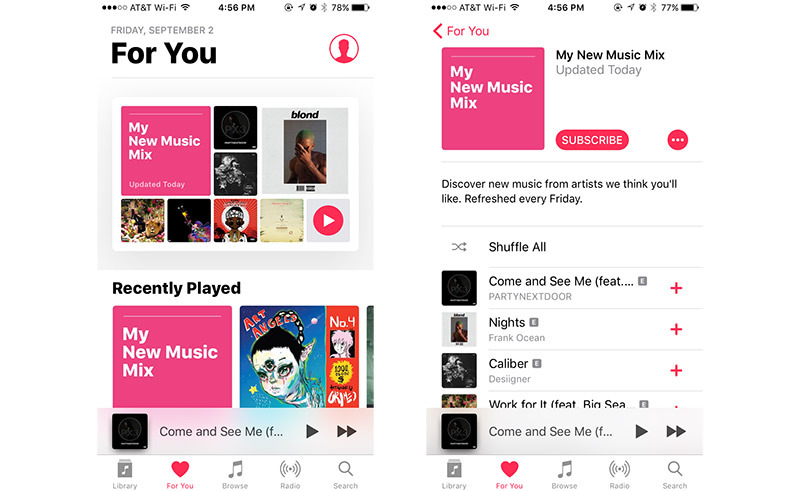 Apple on Friday activated "My New Music Mix" for iOS 10 beta testers, an upcoming Apple Music feature that suggests curated tunes based on previously played music.
When it was first announced at this year's Worldwide Developers Conference in June, the My New Music Mix curated playlist was initially dubbed "Discovery Mix," but Apple has apparently decided to rebrand the offering.
Available in the For You section of the iOS Music app, My New Music Mix features 25 tracks selected every Friday based on a user's constantly changing sonic tastes. According to Apple Music global marketing chief Bozoma Saint John, the curated playlist lets users discover new artists and music from Apple Music's vast content library.
Apple Music competitor Spotify fields a similar service called "Discover Weekly," which provides listeners with a fresh tracklist generated each Monday. Like Apple Music, Spotify touts an advanced music curation protocol as one of its service's key features.
Alongside My New Music Mix, Apple rolled out an accompanying playlist called "My Favorites Mix," which appears to surface previously played songs mixed in with related tracks. My Favorites Mix updates every Wednesday.
In iOS 10 beta, users can choose to subscribe to both My New Music Mix and My Favorites Mix with an option to automatically download new tracks when they become available. The two mixes join a selection of human-curated song and album playlists that are updated daily.
Apple is expected to detail new iOS 10 additions like My New Music Mix at a special event next week. Set for Wednesday, Sept. 7, the media bash is also anticipated to bring word of new iPhone, Apple Watch and Beats headphone models. AppleInsider will be on the scene with full live coverage of the keynote starting at 10 a.m. Pacific.