Samsung Galaxy fire blamed in evacuation of Southwest flight [u]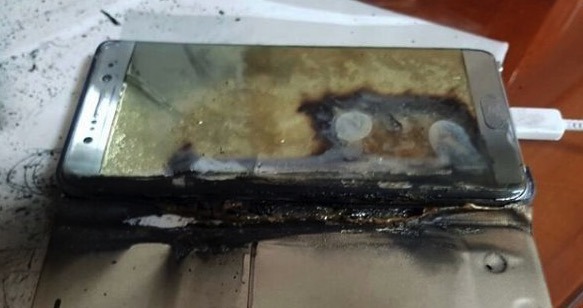 Southwest Airlines evacuated 75 passengers from a flight preparing to take off from Louisville Airport in Kentucky after smoke from a Samsung Galaxy phone filled the cabin. The phone was a replacement Galaxy Note 7 that had been powered down for takeoff.
A report by NBC Bay Area News noted that all passengers and flight crew were safely removed from the 737 aircraft without injury, and that the airline worked to rebook customers on other flights.
According to a report by the Verge, the Galaxy Note 7 owner, Brian Green, said that his phone had been replaced by AT&T a week earlier as part of Samsung's recall. The replacement model featured the distinctive green battery icon indicating it was a fixed model deemed "safe" by Samsung.
The Samsung Galaxy fire occured ten minutes before the aircraft was scheduled to depart for Baltimore, the U.S. Federal Aviation Administration noted. The plane had already taxied across the tarmac and was preparing to take off, but returned to the gate after smoke was reported. The FAA has issued guidelines that specifically name Samsung Galaxy phones as a fire hazard that should not be plugged in or charged during flight.
Green reported that he had powered down the Samsung Galaxy phone when requested by flight crew, but that the device began smoking while in his pocket. He dropped the phone to the ground and said that it began emitting "thick gray-green angry smoke."
The report cited passenger Misty Whitaker stating, "I was sitting at the front of the plane and I noticed a flight attendant coming quickly down the aisle saying, 'There's smoke on the plane. Leave all of your bags on the plane and come forward in an orderly fashion.' They said it was a Samsung Galaxy. The last they told us while we were waiting was that the fire had burned through the carpet."He has already replaced it with an iPhone 7
Green reported that he had only ever used a wireless induction charger to recharge the device, and that it was about 80 percent charged when the fire occurred. The Verge noted that "Green's Note 7 is in the hands of the Louisville Fire Department's arson unit for investigation. He has already replaced it with an iPhone 7."
Samsung first responded to reports of fires related to its Galaxy phone batteries in early September, and was urged by Consumer Reports to perform an official recall.
It took another two weeks before Samsung announced an official recall with the U.S. Consumer Product Safety Commission, which asked American users to "immediately stop using and power down" the device and seek a replacement or refund. Samsung has issued recalls in other sales regions, including South Korea, but has attracted criticism for not recalling its dangerous product in China.
A report by the Wall Street Journal cited U.S. officials as saying that Samsung "appears to have exacerbated the situation in the way it has communicated with regulators and consumers," initially offering "conflicting information."