Rumored 'Jet White' iPhone 7 mockup shown off in video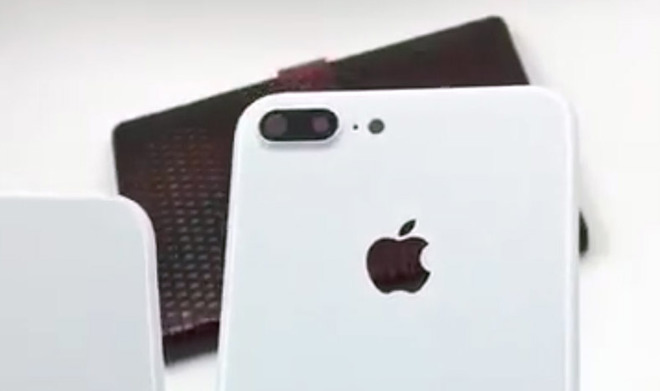 AppleInsider may earn an affiliate commission on purchases made through links on our site.
A video posted to the web on Tuesday shows off glossy white iPhone 7 and iPhone 7 Plus casing mockups, offering a sneak peek at what an official "Jet White" version of the flagship smartphone might resemble.
Posted to Twitter by avid Apple leaker Sonny Dickson on Tuesday, the glossy white casings appear to be custom housings sourced from a third-party vendor, likely snapped up on Alibaba or a similar Asian marketplace.
While both are nearly identical in design to Apple's iPhone 7 series, there are key differences that strongly suggest the casings are mockups and not original hardware. For example, the smaller iPhone 7 model lacks the appropriate Apple logo cutout into which is fitted radio-transparent material.
Less noticeable, but equally important in identifying a fake, is the finish. Both housings in today's video have an eggshell texture that implies the white color was painted or otherwise applied after initial manufacture. By comparison, Apple's Jet Black iPhone achieves its high-gloss finish through a labor-intensive process involving rotational 3D polishing, anodization and an iron particle bath.
Though likely aftermarket parts, the cases offer a glimpse at a supposed "Jet White" iPhone 7 model promised by rumors in November. At the time, sources within Apple's supply chain told Mac Otakara the company was mulling the release of glossy white iPhone 7 and iPhone 7 Plus variants to go along with popular Jet Black models.
No time window was assigned to the questionable rumor, and the website itself noted the information might be unreliable.
Apple introduced the Jet Black iPhone 7 alongside a matte black version in September. With initially limited availability, the glossy option was a hot ticket item and quickly sold out within hours of launch.
There have been no further signs of a "Jet White" iPhone launch beyond the November rumblings. That said, it is at least plausible that Apple might debut a glossy white iPhone next year. As is well known, the first iPods were white before Apple decided to add black, and subsequently a range of colors in anodized aluminum, to the lineup. The same can be said of iPhone, which started out in raw aluminum, then black and white polycarbonate, and now Jet Black, matte black, gold, rose gold and silver aluminum.