Android creator Andy Rubin plans AI-equipped smartphone with edge-to-edge display, ceramic back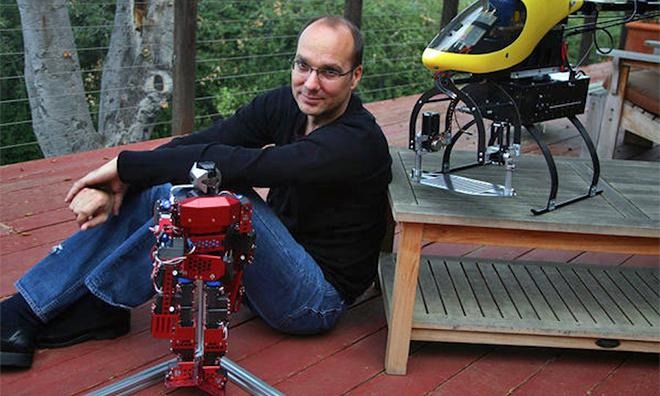 The man behind Google's Android platform, Andy Rubin, is preparing to reveal a company that will field a high-end smartphone with a bezel-free screen, ceramic back, and a heavy focus on AI — posing yet another challenge to Apple's iPhone, a report said on Friday.
Rubin, who has been out of Google for over two years, will soon announce a firm called Essential with himself as CEO, sources informed Bloomberg. He in fact registered "Essential Products Inc." in California in Nov. 2015, and towards the end of 2016 submitted "Essential" to the U.S. Patent and Trademark Office, identifying smartphones, tablets, and mobile OS software among the outfit's goods and services.
The current team is believed to have about 40 people, many of them from recruited from Apple and Google.
The Bloomberg sources suggested that Essential is working on a suite of devices aimed at the mobile and smarthome markets. As for the phone, however, Rubin was allegedly discussing it with carrier executives during the past week's Consumer Electronics Show in Las Vegas, including people at Sprint.
Though the phone is still in the prototype phase, one concept is said have a display bigger than the 5.5-inch iPhone 7 Plus, but a smaller size overall due to its lack of bezels. It could also have a pressure-sensitive interface, akin to Apple's 3D Touch, ceramic back and a unique magnetic connector, enabling not just charging but the addition of accessories like a spherical 360-degree camera Essential engineers are said to be working on.
Ceramic is still a relatively rare feature on smartphones, owing to its cost. Apple uses a ceramic shell on just one product — the Apple Watch Edition — which is also the most expensive model, starting at $1,249.
It's not clear how deeply the phone will incorporate AI, but publicly Rubin has argued that "the next platform" is about "data and people training AI systems to learn." AI is expected to feature through multiple Essential products.
One source indicated that Rubin is aiming to ship the phone as soon as mid-2017, with a price tag close to the iPhone 7's $649. These plans are still evolving, however.
At Google, AI has become a tentpole feature, taking centerstage on its Pixel phones as well as the Google Home smart speaker. Critics of Apple have complained that its efforts have been weak by comparison, with Siri, for instance, being unable to understand context or answer many questions without directing people to a Bing search.