New supply chain reports lend weight to 'wraparound' 5.8-inch 'iPhone 8' with embedded sensors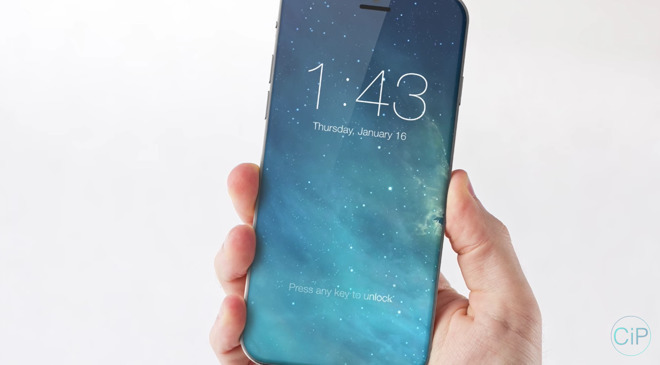 New details on this year's anticipated "iPhone 7s" upgrade and "iPhone 8" redesign have emerged, with a Wall Street analyst claiming the iPhone's 10th anniversary will be celebrated with a new jumbo-sized model featuring a 5.8-inch OLED "fixed flex" screen.
Citing sources in Apple's supply chain, analyst Timothy Arcuri of Cowen and Company sees a "feature-rich launch" of three new iPhone models in late 2017, headlined by what he refers to as an "iPhone X." The details were revealed in a new research note to investors on Wednesday, a copy of which was provided to AppleInsider.
In addition to the 5.8-inch OLED model with a "wraparound" screen design, he also believes Apple will release new 4.7- and 5.5-inch "iPhone 7s" handsets, serving as upgrades to the existing iPhone 7 and iPhone 7 Plus designs.
The Cowen and Company report suggests Apple may yet choose to use OLED screens in the smaller models, dependent on Samsung's ability to supply OLED screens to Apple in the capacity and process that is desired, as well as consumption of Apple's existing LCD inventory. Earlier reports have suggested that the so-called "iPhone 7s" models will stick to LCD panels, leaving OLED exclusive to the completely redesigned flagship model.
A "wraparound" display is expected in the larger "iPhone 8," utilizing the "fixed flex" screen, as seen in several of Samsung's smartphone products, including the ill-fated Galaxy Note 7.
It's also heavily rumored that key components — such as the earpiece, FaceTime camera and Touch ID fingerprint sensor — will be embedded into the OLED display, allowing for a seamless edge-to-edge front panel. Arcuri reiterated those claims, and predicted that Apple may switch to Synaptec's optical-based fingerprint reader for the new Touch ID sensor, citing it as "currently the only workable solution" for detecting a fingerprint through a smartphone screen.
However, Synaptec's technology is still not being sampled to device manufacturers at this time, leaving some question as to whether or not it could appear in massive quantities in a new iPhone this fall. Apple does currently hold a patent on reading fingerprints through a device screen.
Apple is expected to continue sourcing iPhone cellular modems through Intel and Qualcomm, but widely reported speed issues with the Intel modem may cause a shift to more Qualcomm units. This despite the ongoing lawsuit by the U.S. Federal Trade Commission, which alleges that Qualcomm acted improperly when it sold modems to Apple in the past.
Arcuri also expects Apple will add some form of facial and gesture recognition to the flagship "iPhone X," powered by a laser sensor, an infrared sensor near the front-facing camera, and wireless charging. However, no new details on any of these were provided in the latest report.
Cowen and Company also predicts that the 5.8-inch OLED screen, as well as the potential Synaptec in-screen fingerprint reader, could prove problematic, because of part yields and low availability.
Rumors of a 5.8-inch "iPhone 8" screen are not new, but some reports have claimed the usable size of the display will be smaller. For example, analyst Ming-Chi Kuo of KGI Securities has said the screen size will be closer to 5.1 or 5.2 inches, actually making it smaller than a "Plus" iPhone model.
It has also been suggested that Apple could turn to stainless steel for casings for the "iPhone 8," with the durable metal holding together a "glass sandwich" front and back, akin to the iconic iPhone 4 design.