No, an LTE-equipped Apple Watch will not come with a physical SIM card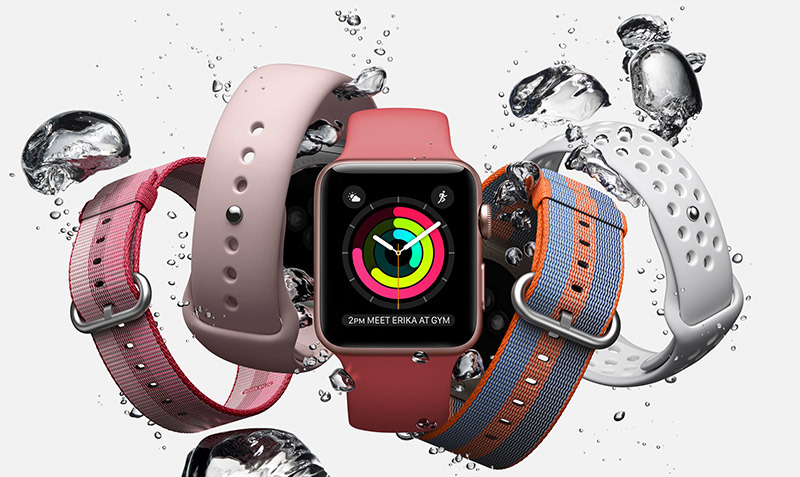 Amidst a lull in Apple hardware releases, an industry analyst on Monday issued a research note claiming Apple's next-generation Apple Watch will use a physical SIM card for standalone LTE connectivity. We explain why that is an unlikely scenario.
Citing checks with Apple's supply chain, Susquehanna Financial Group semiconductor analyst Christopher Rolland said he believes an Apple Watch version slated for release later this year will come with a SIM card, reports Barron's. With a SIM card on board, this future Apple Watch is likely to support the LTE communications standard.
"We understand a model of the next Apple watch will include a SIM card, and therefore is likely to support LTE," Rolland writes. "We understand some issues remain, including battery life and form factor size, but significant progress has been made."
While the presence of a SIM card might presage cellular connectivity on wearables from other manufacturers, Apple is unlikely to turn to such technology for its Watch product.
More likely for a device as small, and with the power limitations, of Apple Watch, Apple will almost certainly use its own SIM technology, called Apple SIM. Available since 2014 in a format identical to chips handed out by cellular providers, Apple SIM's latest variant debuted last year and is the most likely candidate for an LTE Watch.
In fact, the newest Apple SIM iteration is not a card at all.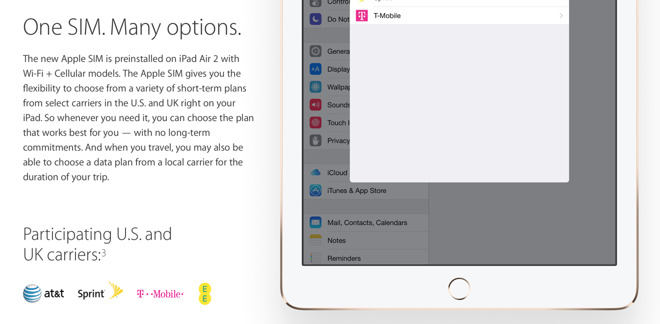 Already in circulation for a year, the embedded Apple SIM was introduced with Wi-Fi + Cellular models of the 9.7-inch iPad Pro last March. Unlike traditional SIM cards, embedded variations are integrated directly onto a host device's logic board, streamlining subscriber-provider linking while at the same time saving on valuable internal space.
Apple has been working on the technology for years. In 2010, the company was rumored to be developing an embedded SIM hardware with Gemalto, the world's largest SIM card manufacturer, for use in future iPhones. Five years later, reports claimed Apple had teamed up with Samsung to push forward an "e-SIM" standard.
The basic premise of Apple SIM is simple. With physical card versions, customers can use a single chip and pick a data service that fits their needs. No contracts, no card swapping, no hassle.
Telcos looking to lock in subscribers blanched at the thought of ceding control to a hardware manufacturer, but Apple slowly won over big names in the industry, at least for iPad. In the U.S., Apple SIM is supported by AT&T, T-Mobile and Sprint, while international support includes the likes of EE in the UK, SoftBank and AU in Japan, and Three in Hong Kong.
Pay-as-you-go provider GigSky hopped on board in 2015 with its large list of supported countries. In all, Apple SIM coverage spans more than 140 countries and regions around the world.
Considering Apple Watch is an always-on, always-with-you device, an embedded SIM that allows users to select their carrier and plan would be the obvious choice over a removable SIM card. The already cumbersome process of swapping out SIM cards on an iPhone or iPad would be even more inconvenient with a wrist-worn wearable, especially when traveling.Considering Apple Watch is an always-on, always-with-you device, an embedded SIM that allows users to select their carrier and plan would be the obvious choice over a removable SIM card.
In addition to added choice, an embedded SIM cuts down drastically on overall device weight, an important consideration for a wearable weighing in at about 30 grams. Without a physical card, a cellular-capable Watch would have no need for a requisite reader, tray and other associated components. Further, a SIM card slot is a point of water ingress, meaning Apple would have to design a proper seal, taking up even more internal headroom.
As for the rest of the research note, most of what Rolland says makes sense. Reiterating rumors from months ago, he claims the device will get its own modem, saying Apple is developing ways to integrate wireless features without sapping battery life.
"Apple may be employing VOIP and data across a CAT-M1 connection for superior battery life," he writes. "Apple will tout interoperability with the companys AirPods (now on back order till May) to make and receive phone calls (perhaps a small win for Maxim with amps in each ear bud)."
Deep AirPods integration would be a boon for a cellular-connected Apple Watch. Apple pushes wearers to use alternative controls when interacting with the small-screened device, from the physical Digital Crown to Siri. Though Watch has always boasted a touch screen, the small form factor makes for a fussy UI experience and user fingers often obscure onscreen assets.
In any case, an LTE Apple Watch is almost undoubtedly in the works. Aside from a wider industry push toward cellular-capable wearables, consumers are clamoring for an enhanced feature set — standalone LTE — after Apple "only" tacked on internal improvements like GPS functionality to the Series 2.
While a concrete launch timeline has yet to surface, noted analyst Ming-Chi Kuo last year said he anticipates a LTE support to land some time in 2017.