First look: Rigiet iPhone camera gimbal is an affordable way to stabilize video recordings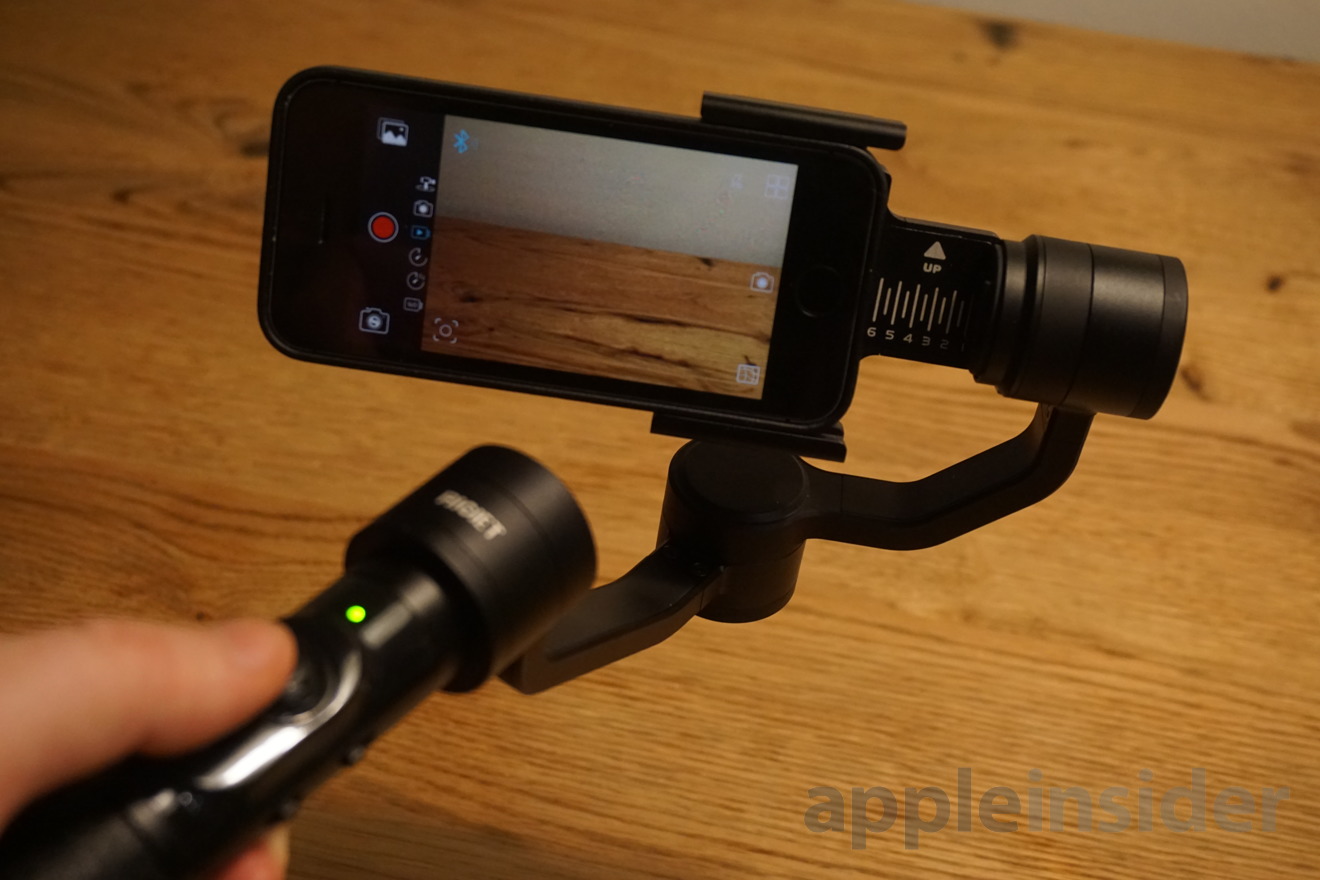 Before its crowdfunding campaign kicked off on Tuesday, AppleInsider had the opportunity to go hands-on with Rigiet, a new iPhone-compatible camera gimbal offering super-smooth video recording at a budget price.
The closest competitor to the Rigiet is the DJI Osmo Mobile, which debuted last fall. But the Osmo Mobile carries a $299 price tag, while Rigiet is planned to cost just $189 at retail.
Starting Tuesday, Rigiet is offering early adopters the chance to get in at an even lower price, as cheap as $129, through its Kickstarter campaign. AppleInsider went hands-on with a fully functional prototype of the Rigiet ahead of the crowdfunding campaign, which aims to raise $30,000 and begin shipping units to backers as soon as May.
The Rigiet works with a wide variety of smartphones, including Apple's entire current iPhone lineup. We tested it with an iPhone SE.
To offset the weight of an iPhone and offer smooth recording, a gimbal must be counterweighted accordingly. On some products, this requires calibration for different models.
The Rigiet gets around this in an interesting way, requiring users to balance the handset themselves across the X axis. This is accomplished with a secure clamp — Â simply press the iPhone as far into the clamp as necessary to ensure it is balanced, then turn on the unit. If inserted properly, you can begin shooting immediately.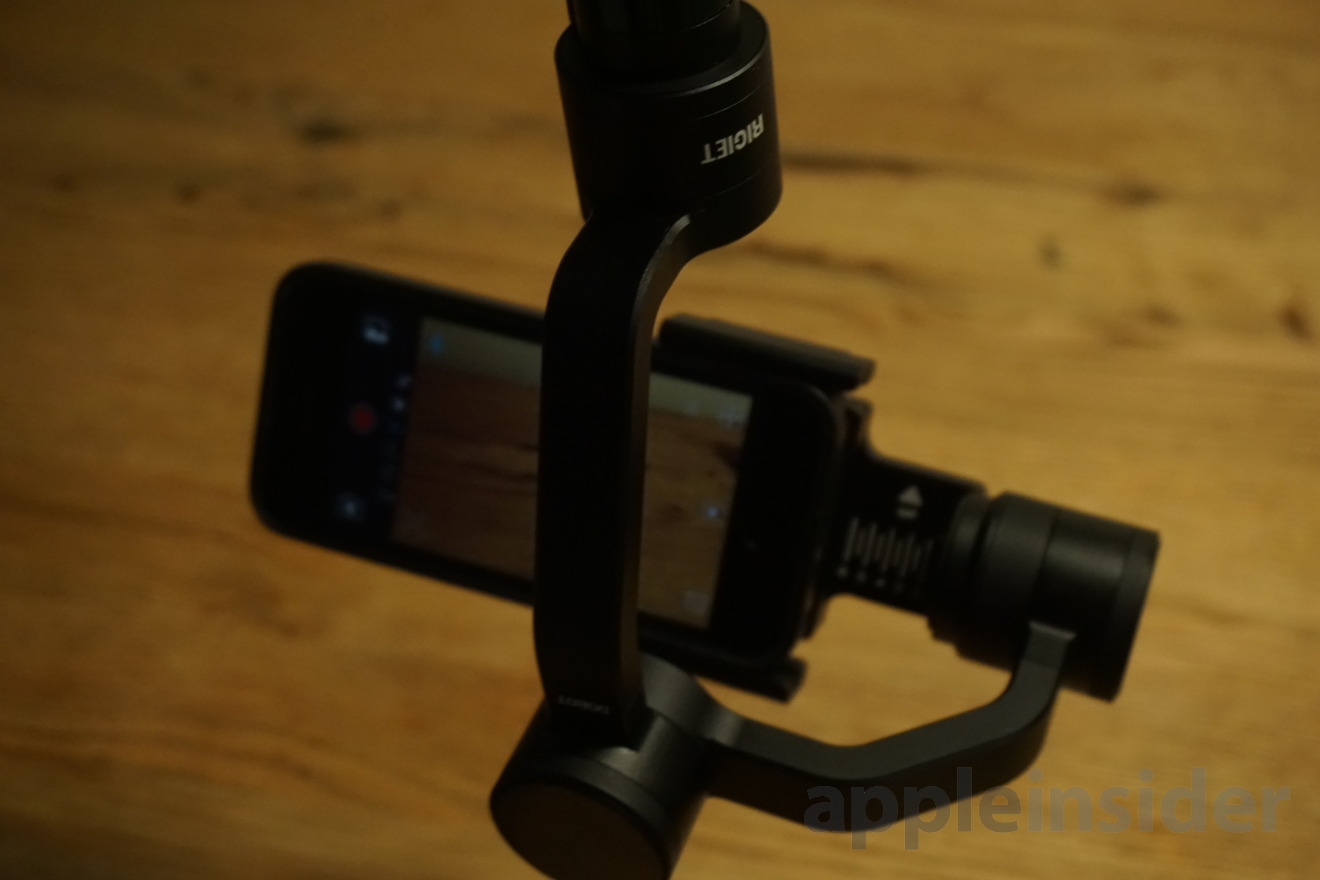 In all, we had no major problems setting up the Rigiet and getting it to operate as you'd expect. In some of our tests, our iPhone SE was stabilized with a slight tilt to the right — something noticeable that we could offset by adjusting the grip. Considering the hardware we tested was a prototype, we hope these minor issues would be sorted out by product launch.
The device also offers iOS integration via a dedicated app, available for free on the App Store. The app connects to the Rigiet via Bluetooth, giving users the option of physical controls while shooting.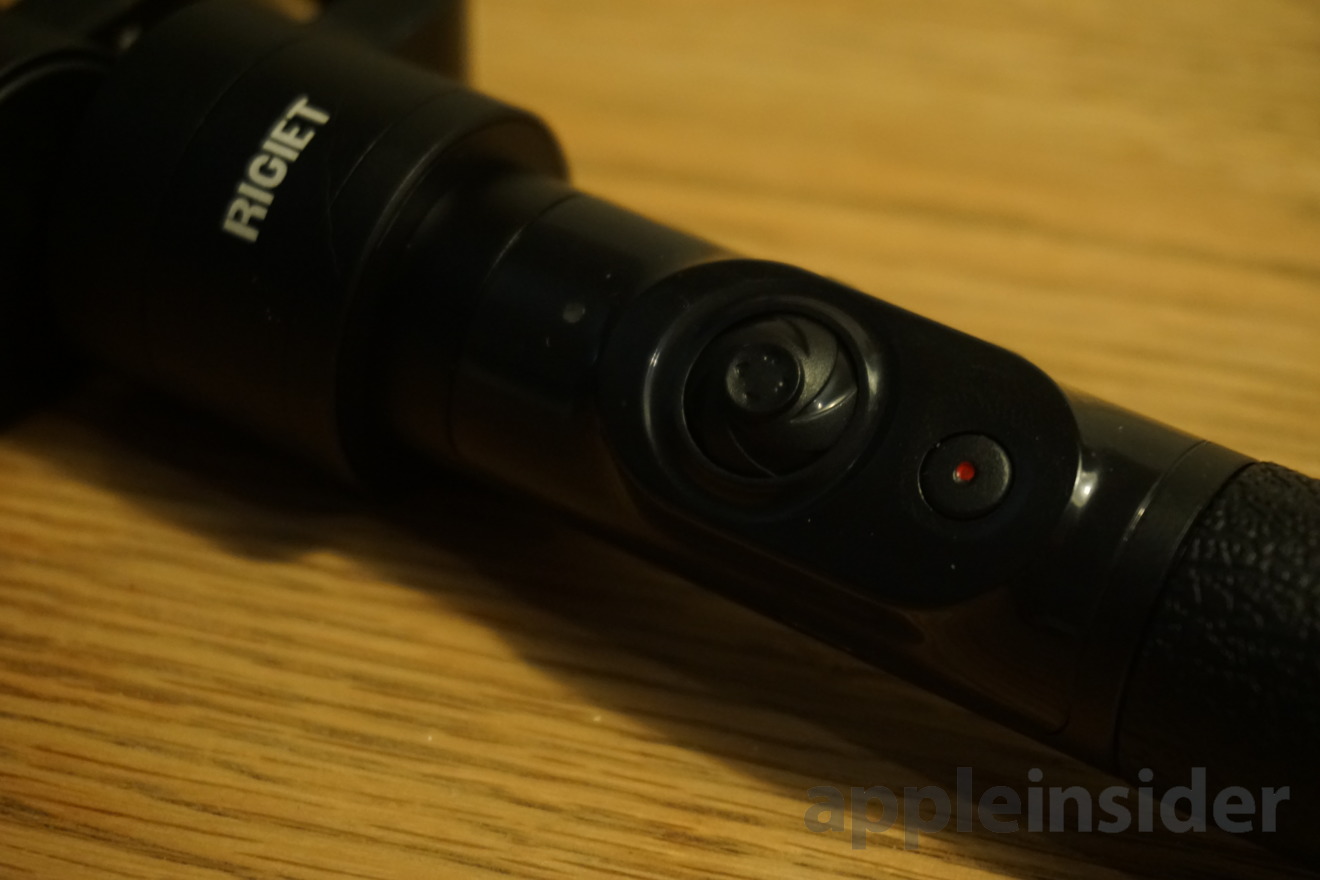 One of the biggest features of the Rigiet is something the company has dubbed "Seamless Position Switch," allowing users to switch between standard, portrait, and underslung mode. This makes it exceptionally easy to move the gimbal around and get the shot you want.
Fine tuning is also available when adjusting the position by hand, which involves simply turning the gimbal itself. In addition, a joystick on the gimbal's handle lets users plan and adjust the phone direction while filming.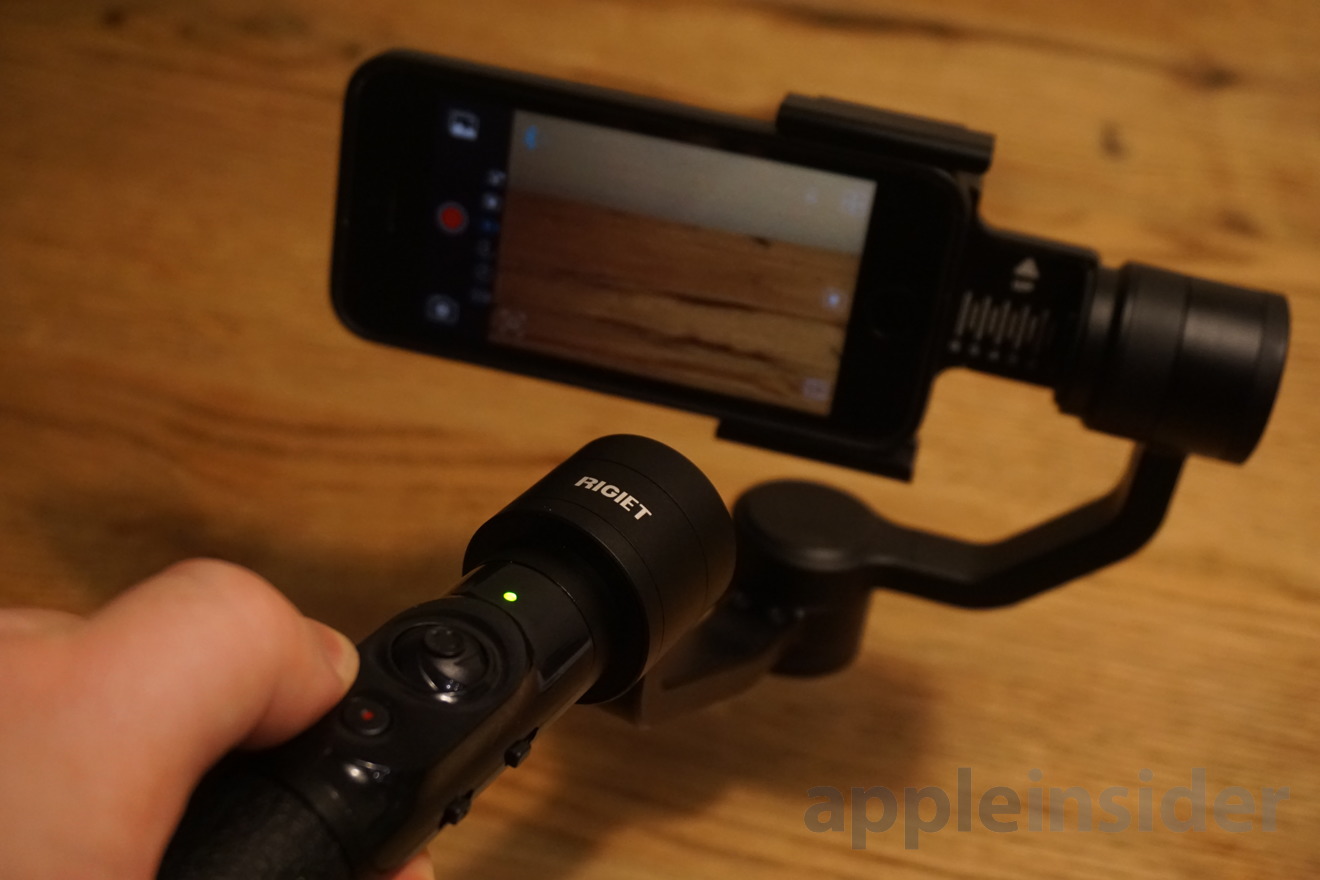 The handle also features a "mode button" that lets users switch between pan and tilt, lock, or pan.
Shooting can also be adjusted through the camera control button, which can be pressed down to switch between various shooting modes. Thanks to the Bluetooth connection, this adjusts the settings accordingly in the Rigiet app, though it should be noted that such controls (including stop-start recording) are not functional with Apple's own Camera app.
We've tested other iPhone camera products that offer good hardware but are hampered by exceptionally poor software. In its current state, Rigiet app is one of the better third-party accessory applications we have tested, though still not as easy to use as Apple's Camera app.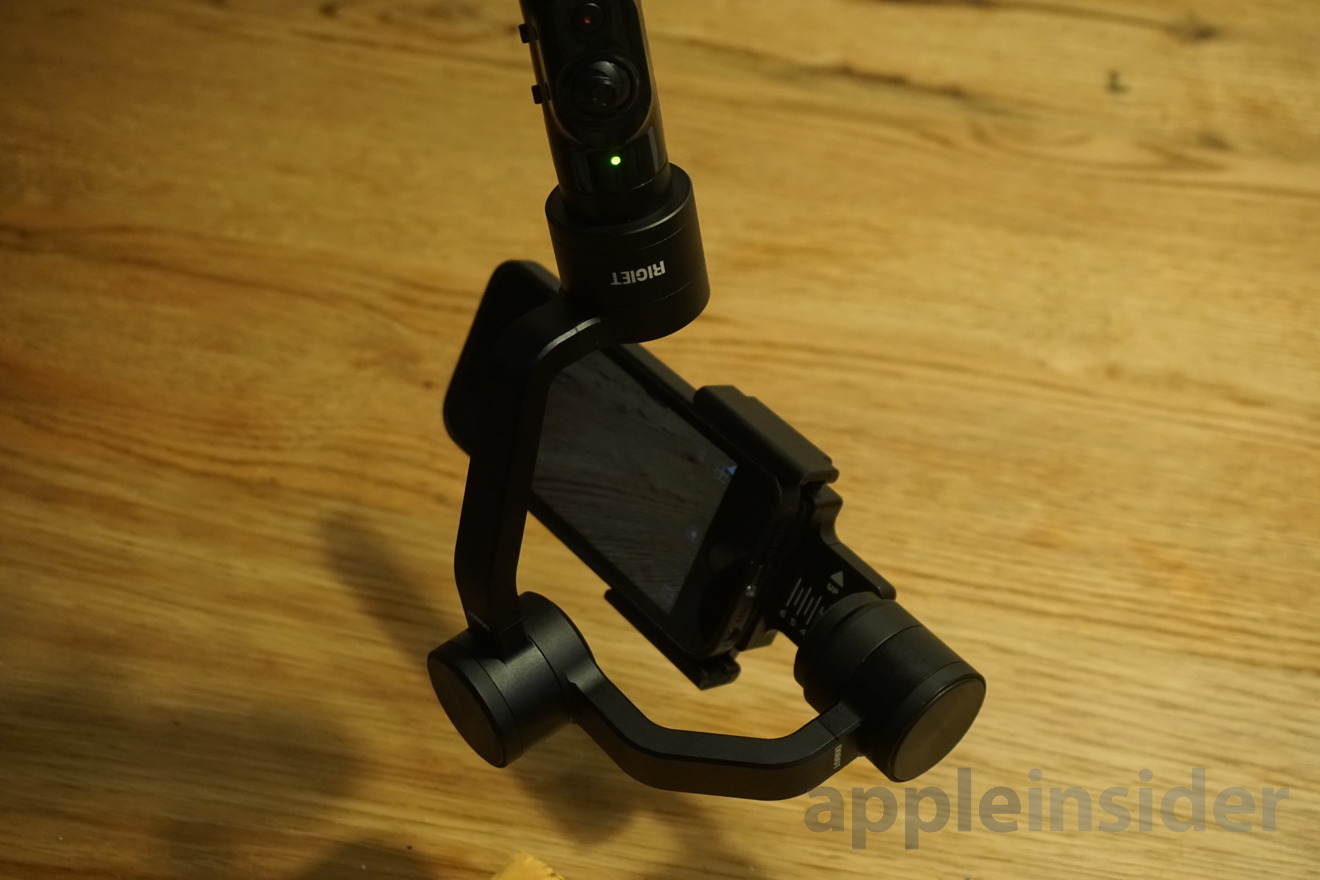 Pressing the camera control button up switches between front and rear camera, holding it up is planned to allow zooming out, and holding down for zooming in. These physical controls are far more favorable than interacting with the iPhone's touchscreen when shooting on the gimbal.
The Rigiet also boasts compatibility with tripods, and even includes a Lightning to micro USB cable that allows an iPhone to be charged while the gimbal itself is charged. It should be noted that the cable received with our prototype had pin connectors on only one side of the Lightning plug.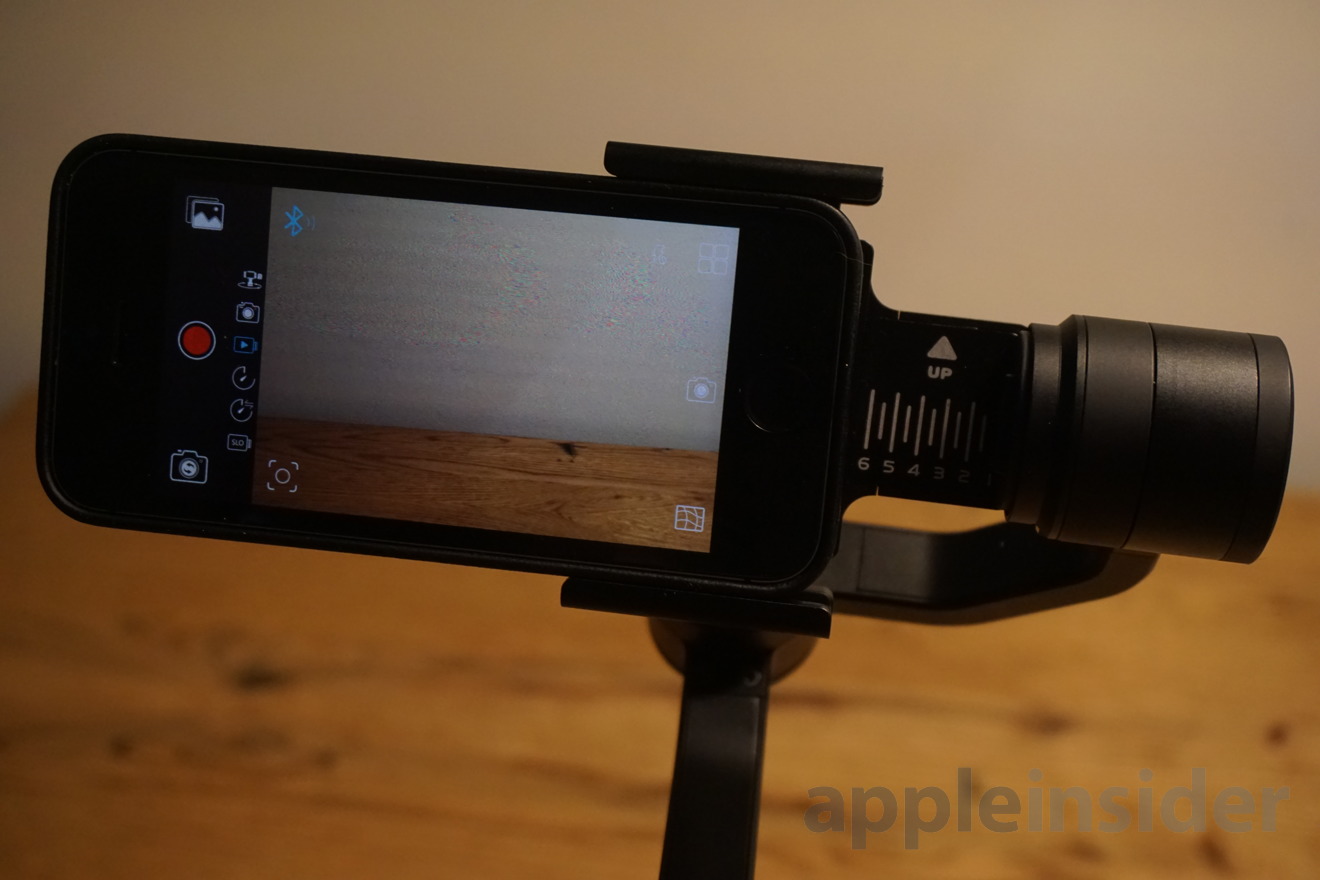 Considering Rigiet is seeking financial backing to come to market, we were pleasantly surprised how functional both the hardware and app are at this point in their pre-release stage. That said, readers should be cautioned that crowdfunding campaigns are known to miss deadlines or sometimes not ship at all. AppleInsider has a policy to only cover crowdfunded products if hands-on time with the hardware is available, as in this case.
In all, we came away impressed with the advance hardware — Â Rigiet looks to deliver a solid accessory and functionality as promised, all in a competitively priced package. Interested parties can back the device on Kickstarter now.